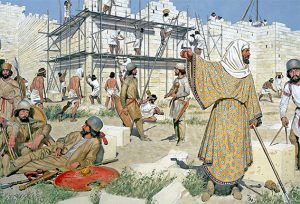 This week's devotional is broadly based on the book of Nehemiah.  This is the book from which Spence Boelter will be taking his text.  All of the texts will also come directly from Nehemiah, rather than from a variety of biblical texts as is usually our custom.  Read from the texts and be ready for Spence's sermon.
Weekly Readings:
Monday, September 5.  Read Nehemiah 1:1-11.  What did Nehemiah hear while he was in Susa that caused him to weep?  What did Nehemiah ask for when he prayed?
Tuesday, September 6.  Read Nehemiah 2:11-20.  What did Nehemiah do first when he got to Jerusalem?  What was his evaluation?  What was his first strategy, and why do you think it was important?
Wednesday, September 7.  Read Nehemiah 4:1-6.  Who was Sanballat, and what did he do?  What did the taunts of Sanballat inspire in the Jews?
Thursday, September 8.  Read Nehemiah  5:1-13.  What was the main complaint of the people (not the rich leaders)?  What did Nehemiah do in response to the complaint?  What do you think we do in our world today that is equivalent to what the Jewish leaders did to the people?
Friday, September 9.  Read Nehemiah 6:1-9.  What did Sanballat and Geshem want Nehemiah to do?  What did Nehemiah say in reply, and what was his view of the work he was doing?
Saturday, September 10.  Read Nehemiah Nehemiah 8:1-12.  After the Jews rebuilt the wall of Jerusalem, what did they ask Ezra to do?  What was the reaction of the people to this action?  What did Nehemiah say about it?
Devotional Article:  Overlooking Nehemiah
by Bill Brant
Nehemiah was a poison detector and that was a job, not a title. He would sip the liquid and if he didn't fall over dead, he would hand it to King Artaxerxes so the king could safely drink it.
Nehemiah was called a "cup bearer" and he made sure that all drinks, water, wine, the hard stuff, did not contain poison before the Persian king would consume it. Nehemiah was a devout Jew living in the royal palace as a slave in the capital city of the Persian Empire, Susa. And while he has his memoir written, the book of Nehemiah of the Old Testament, he was still a poison detector. He was not a spiritual leader.
His biography is very clear; he just wanted to rebuild the walls of the city he had heard stories about. He was just an ordinary guy, who believed in God and asked God to help him. He had no special religious training, wasn't a Levite thus a priest, didn't have a pulpit in which to stand nor had a prophet's training.
If you think about it, a lot of those people of Bible times were just devout individuals seeking to do what God wanted them to do. Abram, Gideon, Zerubbabel, Matthew, Peter, Andrew, Luke, Phillip, Demas, Tychicus to name just a few.
Today we tend to think that only "Spiritual leaders" can talk or tell us about Jesus. That the "professional staff" are the only ones with training and insight to convey the important passages to others. Our religious environment tends to focus on the manuscripts, blogs, and opinions of those leaders without conferring with the sources: God, Jesus, Holy Spirit and the Bible.
Yet the history of Judeo-Christian faith demonstrates that it was the Nehemiahs of the times that most effectively and most often carried the message.
Hymn of the Week:  Work for the Night is Coming by Annie L. Walker, 1854
Work, for the night is coming,
Work thro' the morning hours;
Work while the dew is sparkling,
Work 'mid springing flow'rs.
Work when the day grows brighter,
Under the glowing sun;
Work, for the night is coming,
When man's work is done.
Work for the night is coming,
Work thro' the sunny noon;
Fill brightest hours with labor–
Rest comes sure and soon.
Give every flying minute
Something to keep in store;
Work, for the night is coming,
When man works no more.
Work for the night is coming,
Under the sunset skies:
While their bright tints are glowing,
Work, for daylight flies.
Work till the last beam fadeth,
Fadeth to shine no more;
Work, while the night is dark'ning,
When man's work is o'er.