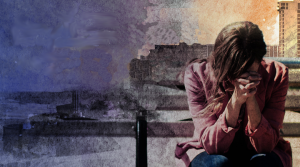 Thy Kingdom Come is this week's sermon, and this devotional guide dives into the issue of God's establishment of His rule on the earth.  In this section of the Lord's Prayer Jesus asks us to pray for God's will to be done on earth in the same way it is done in heaven.  This is a clear indication that what is happening on earth is NOT God's will, and the goal of God and the kingdom is to bring godliness, righteousness, and justice to the earth.
Daily Bible Reading:
Monday, January 30.  Read Romans 8:26-30.  1) What role does the Holy Spirit play in our prayers?  2) When have you felt like Paul did in Romans 8:26?
Tuesday, January 31.  Exodus 20:1-7.  1) How many commandments in the Decalogue address our relationship to God?  2) What specifically are we commanded in these three commands?  3) When do you think you break any of these commands?  4) How do these commands help you to think about the Lord's Prayer?
Wednesday, February 1.  Read Job 40:1-5.  1) What does God say to Job?  2) What is Job's response to God?
Thursday, February 2.  Read Isaiah 6:1-7.  1) What was Isaiah's vision in this text?  2) How did the vision affect him?  3) How is the opening of the Lord's Prayer given greater meaning based on this text?
Friday, February 3.  Revelation 4:6-8.  1) What are the "beings" doing around the throne?  2) What were they saying to the one seated on the throne?  3) How do you think American Christians compare in their reverence and worship of God as compared to these beings?
Saturday, February 4.  Read Matthew 6:7-13.  This is Sunday's sermon text.
Weekly Devotional Article:
We have a tendency to think of kingdoms in terms of property or geography. For Jesus, the Kingdom of God (or "Kingdom of Heaven" as Matthew often puts it) is not about property or geography.

Jesus taught that the Kingdom was about submission to his reign in his disciples' hearts and lives. His goal for them was to be like him in character and obedience. They had to be ready to surrender to him anything that might get in the way of his leadership in their lives. This kind of kingdom requires conquest, but not a conquest of nations or territory.
Instead, it is the conquest of hearts. Peter and Andrew left all to follow him. They wanted Jesus to rule their hearts. For us, there are still some fundamental questions regarding the Kingdom and following Christ: "What do I find most difficult to surrender to the Lordship of Christ? Where do I start? What is that one thing that is most difficult?"

I must let him have rule over that one area—and ultimately over every area. If I will do this, he may very well give it back to me to use, only now it will be for him, through us, by his power.
Weekly Hymn:
Lo, He Comes with Clouds Descending by Charles Wesley et al.

Lo! He comes with clouds descending,
Once for favored sinners, slain;
Thousand thousand saints attending,
Swell the triumph of his train.
Hallelujah! Hallelujah!
God appears on earth to reign.
Every eye shall now behold him,
Robed in dreadful majesty;
Those who set at naught and sold Him,
Pierced and nailed Him to the tree,
Deeply wailing, deeply wailing,
Shall the true Messiah see.
Now, redemption, long expected,
See in solemn pomp appear;
All his saints by man rejected,
Now shall meet him without fear:
Hallelujah, Hallelujah!
See the day of God appear!
Yea, Amen! Let all adore thee,
High on thine eternal throne;
Savior, take the power and glory,
Claim the kingdom for thine own;
O come quickly! O come quickly!
Everlasting God, come down.
Prayer of the Week:
O Lord God, I want Jesus to be Lord of my life. I want to follow him and honor him in every way. Please gently show me the areas of my life that I have not surrendered to his Lordship. I want you and your Kingdom to be the consuming passion of my life. I want to live for you so that I may be used by you to bless others. In the name of the Lord Jesus I pray. Amen.