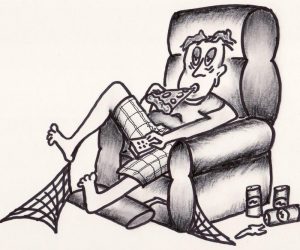 This week's devotional is about Sloth.  Sloth is a lack of any feeling about self or other, a mind-state that gives rise to boredom, rancor, apathy, and a passive or sluggish state. Physically, acedia is associated with a lack of productiveness and an indifference to work; it finds expression in laziness, idleness, and indolence. Two commentators consider the most accurate translation of acedia to be "self-pity," for it "conveys both the melancholy of the condition and self-centeredness upon which it is founded."
Daily Bible Reading:
Monday, October 9.  Read Colossians 3:17.  1) What did Paul tell the Colossians to do with respect to their deeds?  2) Imagine a world in which Christian people live in that manner.  What happens as a result?
Tuesday, October 10.  Read Proverbs 15:19; 26:13-16.  1) What is the path to the house of a lazy person like?  2) Why do you think that is the case?  3) What are some other descriptions of the lazy or indifferent?  4) Why do you think they live in that way?
Wednesday, October 11.  Read 2 Thessalonians 3:6-11.  1) How did Paul describe his ministry to the Thessalonians?  2) Why did he think it was necessary to mention this?  3) What was his advice to the idle?
Thursday, October 12.  Read Romans 12:9-13.  1) In a list of suggestions about how to live in community, what did Paul say to those who "lagged in zeal?"  2) What effect do the lazy and slothful have on the community of faith?
Friday, October 13.  Read Ecclesiastes 10:18.  1) What happens to the house of a slothful person, according to Ecclesiastes?  2) Why do you think this happens?
Saturday, October 14.  Read 2 Thessalonians 3:6-10; Proverbs 26:13,14.  This is Sunday's sermon text.
Prayer for the Week:
O my God, I know that so negligence cannot please You. I know that lukewarmness closes the door to the graces which You want to give on me. O God, do not reject me, as I deserve, but continue to be merciful toward me, and help me and others to become more diligent, full of zeal for your work. In the future, I want to be more passionate for your work and to follow the voice of your Spirit living in my life. May I  never through slothfulness omit my duties, will strive to fulfill them with greater diligence and fidelity. Help me to be pleasing to you in everything I do because of my love and passion for doing your great works.  In Jesus' name I pray this.  Amen.
Hymn of the Week:
Awake my soul, stretch every nerve by Philip Doddridge, 1755
Awake, my soul, stretch every nerve,
and press with vigor on;
A heavenly race demands your zeal,
and an immortal crown,
and an immortal crown.
A cloud of witnesses around
holds you in full survey;
Forget the steps already trod,
and onward urge your way
and onward urge your way.
For God's all-animating voice
still calls us to the race;
And God's own hand still gives the prize
with never-ending grace,
with never-ending grace.
O Savior, shown the way by you,
I have my race begun;
And, crowned with victory, at your feet
I'll lay my honors down,
I'll lay my honors down.
Devotional Article for the Week:
Sloth
One of the "seven deadly sins" may not be what you think it is—and you may be unknowingly falling into its trap.  by Nancy Beach
How many times have you set a goal for yourself that fizzled out and amounted to nothing? We often start with the best of intentions, but over time our fervor begins to wane and our dedication slides. Eventually, we look back and realize we've made little (or maybe no) progress.
What is it that prevents us from following through on our good intentions? It's a sinister, insidious thing that the early Christians listed as one of the seven deadly sins. It doesn't attract as much attention as sins like lust or anger, but many early church leaders considered it to be the breeding ground for all sorts of sinful behaviors. It's the dreaded sin of sloth.
Natural Sluggards?
What is sloth? Sloth is the avoidance of physical or spiritual work. It's knowing what to do and choosing not to do it. It's the desire for ease even at the expense of obeying the will of God. Sloth says to us, Don't strain yourself. What's the big hurry? Sloth hits the snooze alarm, the remote control, and the road when the going gets tough.
Sloth is often associated with laziness, indolence, or lethargy, but it's also closely connected to more common habits and attitudes like indifference, complacency, and procrastination. Sloth is the reason that 50 percent of heart attack victims who intend to follow their doctor's recommendations for diet and exercise don't. It's the reason that 92 percent of enthusiastic weight-loss program participants drop out before they reach their goal. But sloth doesn't only hurt us as individuals; marriages, families, communities, churches, and even nations are in deep trouble when people choose not to follow through with their good intentions.
The Bible has a lot to say about sloth, especially in the Book of Proverbs where the slothful are called "sluggards." Solomon described a sluggard in Proverbs 24:30-34: "I went past the field of a sluggard, past the vineyard of someone who has no sense; thorns had come up everywhere, the ground was covered with weeds, and the stone wall was in ruins. I applied my heart to what I observed and learned a lesson from what I saw: A little sleep, a little slumber, a little folding of the hands to rest—and poverty will come on you like a thief and scarcity like an armed man" (NIV).
A sluggard lacks good judgment or, as other translations describe, has "no common sense" (NLT) and is "void of understanding" (NKJV). The sluggard described in Proverbs 24 had good intentions to run a productive vineyard, but he chose comfort over the necessity of exerting himself and soon the weeds took over. Like this sluggard, we similarly have a natural desire to dodge discomfort or pain. Sometimes we desire it even more than we want to obey God.