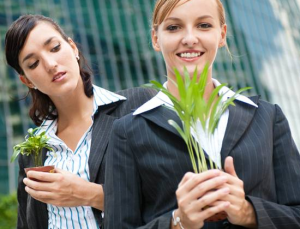 Envy reared its head early in the story of mankind.  Abel, one of the First Brothers, offered a sacrifice with one of his best lambs, and it received God's approval.  When Cain offered his sacrifice of vegetables from his garden, all he got was a frown from God.  We don't know why.  Perhaps it was bruised vegetables.  Perhaps he had been told to offer an animal sacrifice.  Whatever the cause, Cain seethed with both envy and later anger.  "I wish it had been me that God smiled on," you can almost hear him saying.  
Thomas Aquinas said, "Envy is the opposite of charity because charity (love) rejoices in our neighbor's good while envy grieves over it."
This week's devotional focuses on the next of the Seven Deadly Sins – Envy.  Read about Envy in this week's devotional guide.  
Daily Bible Readings:
Monday, September 18.  Read Galatians 5:24-26.  1) What does Paul say that disciples of Jesus have done with respect to the flesh?  2) How does that change our relationships with one another?
Tuesday, September 19.  Read Romans 1:28-29.  1) What happens to humanity when God is not acknowledged?  2) What happens to human relationships?
Wednesday, September 20.  Genesis 30:1-8.  1) What happened when Rachel discovered she could not bear children?  2) What did this lead Rachel to do?
Thursday, September 21.  Read James 3:13-16.  1) How does James describe the wise person?  How does he describe the envious person?
Friday, September 22.  Read James 4:1-3.  1) Where does James say that disputes come from?  2) What would you say is at the center of all desire?
Saturday, September 23.  Read 1 Samuel 18: 5-16.  This is Sunday's sermon text.
Hymn of the Week:
In the Hour of Trial
by James Montgomery (1771-1854)
In the hour of trial,
Jesus, plead for me
Lest by base denial
I unworthy be.
When you see me waver,
With a look recall,
Nor for fear or favor
Ever let me fall.
With forbidden pleasures
Should this vain world charm
Or its tempting treasures
Spread to work me harm,
Bring to my remembrance
Sad Gethsemane
Or, in darker semblance,
Cross-crowned Calvary.
Should your mercy send me
Sorrow, toil, and woe,
Or should pain attend me
On my path below,
Grant that I may never
Fail your cross to view;
Grant that I may ever
Cast my care on you.
When my life is ending,
Though in grief or pain,
When my body changes
Back to dust again,
On your truth relying,
Through that mortal strife,
Jesus, take me, dying,
To eternal life.
Prayer of the Week:
Dear Father, do not allow me to be too firmly attached to this earth, that I should fall in love and crave for too many things.
Guard me from a jealous eye and an envious heart. Save me from the tyranny of possessions.  May I mature me in the choices that I make.
Control my desires for earthly satisfactions, and give me the courage to be content. Keep me back from wanting.
Hold me back from taking. Lead me to find a balance of moderation and a zest for living.
In Jesus' name I pray this.  Amen.
Devotional Article of the Week:
The Evil of Envy
"But the wisdom that comes from heaven is first of all pure; then peace-loving, considerate, submissive, full of mercy and good fruit, impartial and sincere" (v. 17).  – James 3:13–18
The evil fire of the wicked tongue is fueled by the wickedness of the human heart, says James. By way of contrast, the one who has wisdom in his innermost being will demonstrate it by a different use of the tongue (James 3:13–18).
One of the worst ways the tongue is used is to promote envy. Covetousness—the desire to have things God has said we may not have for the present—is a central aspect of original sin. Adam and Eve coveted the forbidden fruit and seized it unlawfully. Envy is connected, says James, to selfish ambition. The ambitious man is unwilling to take the lowest seat and wait to be invited higher. Rather, he seeks by hook or crook to get there as soon as possible.
If all covetousness means is the desire to have something we don't have, then we can earn money and buy it. This is not really covetousness at all, because it is not sinful. Covetousness and envy begin to come into play when we seek to steal what someone else has. Even this, however, does not get at the full depth of envy, because the commandment "Thou shalt not steal" has already covered this sin. What marks envy is this: It is the desire to tear down another person because of who he is or what he has. Envy says, "If I can't have it, nobody can." Envy does not seek to obtain the coveted item; rather, envy seeks to destroy it and its lawful possessor.
Thus, envy leads to "disorder," says James (3:16). We don't think of "disorder" as an important issue, but in God's kingdom it is crucial. God commands that everything be done decently and in order (1 Corinthians 14:33, 40). James links "disorder" with "every evil practice." God hates disorder, and the restoration of true order is a primary goal of His kingdom.
The sinful man uses his tongue enviously to tear down other people, but the wise man uses his tongue to promote peace. Peace is the opposite of disorder. The tongue should be used considerately, says James. It should be used submissively, esteeming the other person, and mercifully, helping other people. It should be used with sincerity, not with hypocrisy and idleness.
Living Before God
Selfish ambition is very dangerous. God has many good things for us, but often He tells us to be patient. We must be careful not to eye jealously what God freely gives to our neighbors. Going about our daily business with delight for the prosperity and well-being of our neighbor is most difficult. How have you been doing?
Passages for Further Study
Proverbs 12:18; 15:2–4
Luke 6:45