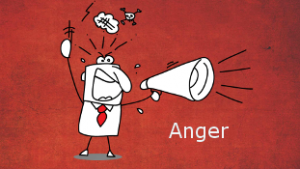 This week's devotional prepares readers for the October 1 sermon, "You'd be mad too."  This sermon takes up the deadly sin of Anger.  
The Domestic Violence Hotline lists ways that excessive anger affects people:  "In the short term, anger can cause headaches, migraines, chest pains, aches and more. Over the long term, anger issues can further complicate pre-existing health conditions. It can also put you at risk for hypertension, high blood pressure, depression, and cardiovascular issues."
Join us on October 1 as we talk about what the Bible says about Anger and why it is, indeed, a Deadly Sin.
Daily Bible Readings:
Monday, September 25.  Read Numbers 20:1-13.  1) Why did Israel grumble in this text?  2) What did God tell Moses to do?  3) What did Moses actually do, and why did he do it?
Tuesday, September 26.  Read Ephesians 4:25-26.  1) What is our obligation to our neighbors?  2) What should we have done by sunset?  3) How does one accomplish that advice?
Wednesday, September 27.  Read Galatians 5:19-21.  1) What does Paul the outcome of our sinful nature is?  2) List the behaviors that have to do with interpersonal communication.  3) When do you find it difficult to control your speech?
Thursday, September 28.  Read James 3:1-13.  1) What does James say about the power of the tongue?  2) What is the tongue capable of doing?
Friday, September 29.  Read Ecclesiastes 5:1-2.  1) What does the writer of Ecclesiastes recommend in regard to the tongue and the ears?  2) How do you think anger might interfere with his advice?
Saturday, September 30.  Read Ephesians 4:17, 25-26, 31-32; James 1:19-21.  This is the text for Sunday's sermon.
Prayer for the Week:
O Lord, holy and righteous are you.  I pray that I will not dishonor you through my speech or life.  I pray that you will shape me into your image.  May I grow in self-control, and may I not display any anger. When I do fail in controlling my self, may I seek to rectify whatever harm I cause and learn to depend more on you.  I know that anger is not reflective of your character, so may I work for peace and justice and honor you in so doing.  Father, please bless my life and inspire it to grow in spiritual stature.  In Jesus' name.  Amen.
Song of the Week:
Angry Words
Horatius Palmer, 1867.
Angry words! oh, let them never
From the tongue unbridled slip;
May the heart's best impulse ever
Check them e'er they soil the lip.
Chorus:
"Love one another," Thus saith the Saviour,
Children, obey the Father's blest command:
"Love one another," Thus saith the Saviour,
Children, obey his blest command.
Love is much too pure and holy,
Friendship is too sacred far,
For a moment's reckless folly
Thus to desolate and mar. [Chorus]
Angry words are lightly spoken;
Bitt'rest tho'ts are rashly stirred
Brightest links of life are broken,
By a single angry word. [Chorus]
Devotional Article of the Week:
Victory Over Loss and Anger
by Muriel Larson
It had been the worst year in her life — a year since Kathy's husband had suddenly died in an automobile accident leaving her full of grief, anger, bitterness, turmoil. At first she couldn't believe her husband had died. Then when she did accept it, she felt angry — angry at the drunken truck driver who had caused David's death, angry at God for letting it happen. Then she had felt guilty. "Why wasn't I more loving toward David when he was alive?" she accused herself.
Grieving set in, and for some reason, she couldn't cry. She would just get the children off to school and sit there like a zombie, staring off into space. "God," she exclaimed angrily one day, "how could you have let this happen? David was such a good man, a good father! Now my children are fatherless and I'm alone. It's not fair!"
Kathy went on with the routine of living, but the anger, bitterness, and depression sat like a heavy burden on her. She resigned her position as Sunday school teacher and dropped out of church completely.
Her pastor came to see her, but she was almost rude to him. Seeing he couldn't talk to her, he finally said, "Well, Kathy, we miss you, and we'll be praying for you." Christian friends called and she brushed them off in similar fashion.
Kathy was troubled by the drop in her children's report card marks. They didn't seem very happy either. She began to realize she would have to pull herself together for their sakes.
Then one day, Kathy went out for lunch with a Christian co-worker. As they talked, she shared with Anne what she had been suffering. "I went through all that, too," Anne said, "when my husband left me for another woman. But I finally got tired of feeling sorry for myself and being full of turmoil. I finally decided to let go of the anger and trust God to resolve it. I forgave Jerry. I forgave myself. And for the first time in a long time, I experienced real peace!"
When Kathy got home that day, she fell to her knees and followed Anne's example — and she too found peace and meaning for her life. It wasn't easy. It was a commitment she had to make again and again, but turning things over to God, really trusting him with her life, was more than just a slogan; it was the way back to life again.
Quite often when we think that we have dealt with our grief over loss, we can be hit by reoccurrences that get us down. After all, we are all only human, and it is easy to backslide into feeling depressed and very sorry for ourselves because of our losses. We quit making that daily commitment to trust God and focus on the future. So how do we climb out of the pit again?
Here are some suggestions.
Quit fretting.  Why? Because fretting interrupts learning and growth.  Replace fretting with faith in God's help.  Visualize a new future that is absent the past's pain and failure.
Remember that God is still with you, even in the midst of pain and loss. Jesus said, "Come to me, all you who are weary and heavily laden, and I will give you rest" (Matthew 11:28).
Don't forget to forgive yourself. Ask for direction in growing in insight and wisdom.
Rejoice in the Lord. Rejoicing in the Lord lifts our spirits, draws us back to Him by thankfulness, reminds us of how much better it is to look forward than backward (Philippians 4:4-9). Again, look up!