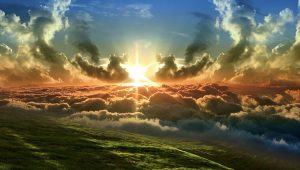 An Announcement of Salvation is the title of this week's sermon, and the text comes from Isaiah 2:1-5.  Any Jew living in Israel at the time of Jesus and before was aware of pilgrimage.  On different occasions, such as Pentecost or Passover, thousands and thousands of people would stream into Jerusalem from all over the nation.  If you came from Nazareth, for example, you would have walked 100 miles – no comfortable car to convey you from one place to the next.
So Isaiah's vision of "the last days" would have been reminiscent of all those pilgrimages to Jerusalem – sitting on a plateau higher than the geography all around it.  But Isaiah's vision was different.  He said "the mountain of the Lord's house was higher than the other hills.  And people would stream there from all over the world, not just Israel."  That is God's vision of the end of time.  A unified kingdom for the whole world.  That is the subject of this week's devotional and the sermon following it.
Daily Bible Readings:
Monday, November 27.  Read Isaiah 1:2-4.  1) What does Isaiah write about the state of Judah?  2) What are the consequences of their state?  3) What was their relationship with God like?
Tuesday, November 28.  Read Luke 24:44-49.  1) What did Jesus say was the central story of the Old Testament?  2) What did he say would happen to that message?  3) How does that seem similar to what Isaiah said in 2:1-5.
Wednesday, November 29.  Read Acts 2:17-21.  1) What did the prophet Joel say about the last days?  2) In verse 21, what did Joel say about the extent of the response to the Good News?  3) How does this seem similar to Isaiah 2:1-5?
Thursday, November 30.  Read Isaiah 55:1-5.  1) What invitation does Isaiah proclaim in this text?  2) What does he say in verse 5 will be the result of this proclamation?  How does this elaborate on the message in Isaiah 2:1-5?
Friday, December 1.  Read Hosea 2:14-20.  1) What does God say he will do about unfaithful Israel?  2) How will he change her?  3) What will the result of this be for the Creation?
Saturday.  December 2.  Read Isaiah 2:1-5.  This is Sunday's sermon text.
Prayer for the Week:
Our heavenly Father, hallowed is your name above all names.  We pledge to worship you only and to have no other gods.  We long for the day when your kingdom will come.  We hope to see the way in which the mountain of your kingdom towers above all other mountains, and people from all over the world see its beauty and flow to it from everywhere.  How good it will be to be taught your ways and to see an end to conflict of every sort, so that nations of the world will no longer fight.  Thank you for the vision of Isaiah 2, and we pray you will bring it soon.  In Jesus' name we pray this.  Amen.
Hymn of the Week:
I love thy kingdom, Lord
by Timothy Dwight, 1880
I love thy kingdom, Lord,
the house of thine abode,
the world our blest Redeemer saved
with his own precious blood.
I love thy kingdom, God.
Her walls before thee stand,
dear as the apple of thine eye,
and graven on thy hand.
For her my tears shall fall;
for her my prayers ascend;
to her my cares and toils be given,
till toils and cares shall end.
Beyond my highest joy
I prize her heavenly ways:
her sweet communion, solemn vows,
her hymns of love and praise.
Sure as thy truth shall last,
to Zion shall be given
the brightest glories earth can yield,
and brighter bliss of heaven.
Devotional Article of the Week
Morning and Evening
by Charles Spurgeon
Here was sovereignty. Impatient spirits may fret and fume because they are not called to the highest places in the ministry, but reader be it thine to rejoice that Jesus calleth whom he wills. If he shall leave me to be a doorkeeper in his house, I will cheerfully bless him for his grace in permitting me to do anything in his service.
The call of Christ's servants comes from above. Jesus stands on the mountain, evermore above the world in holiness, earnestness, love, and power. Those whom he calls must go up the mountain to him, they must seek to rise to his level by living in constant communion with him. They may not be able to mount to classic honors or attain scholastic eminence, but they must like Moses go up into the mount of God and have familiar intercourse with the unseen God, or they will never be fitted to proclaim the gospel of peace.
Jesus went apart to hold high fellowship with the Father, and we must enter into the same divine companionship if we would bless our fellowmen. No wonder that the apostles were clothed with power when they came down fresh from the mountain where Jesus was. This morning we must endeavor to ascend the mount of communion, that there we may be ordained to the lifework for which we are set apart. Let us not see the face of man to-day till we have seen Jesus.
Time spent with him is laid out at blessed interest. We too shall cast out devils and work wonders if we go down into the world girded with that divine energy which Christ alone can give. It is of no use going to the Lord's battle till we are armed with heavenly weapons. We must see Jesus, this is essential. At the mercy-seat, we will linger till he shall manifest himself unto us as he doth not unto the world, and until we can truthfully say, "We were with him in the Holy Mount."