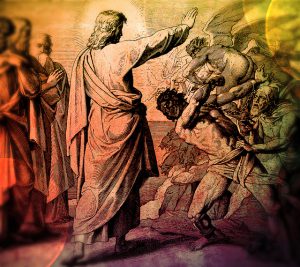 "The Kingdom is near" is the title of next week's sermon.  The Gospel of Mark is preoccupied with the Kingdom of God and opens with its declaration of the Kingdom's centrality in Jesus' teaching and ministry.  This sermon examines the place that Jesus holds in the teaching of the Kingdom and the nature of the Good News.
Daily Bible Readings:
Monday, January 15.  Read Philippians 2:6-8.  1) How did Jesus use his "power" as one 'equal to God'?  2) What form did he use in his incarnation?  3) What does this teach us about the way we are to live and use power?
Tuesday, January 16.  Read Hebrews 1:1-4.  1) What role did the Son play in God's work?  2) What did the Son do for humanity?  3) What cost did the Son play in order to do this?
Wednesday, January 17.  Read Mark 1:7-8.  1) What did John the Baptist say about the one he (John) came to announce?  2) What would this person do?
Thursday, January 18.  Read Matthew 12:25-29.  1) What does Jesus say the result of civil war is?  2) What was Jesus doing that caused the Pharisees to say that he was using demonic power?  3) How was Jesus' work a sign of the Kingdom of God?
Friday, January 19.  Read Hebrews 2:14-15.  1) Why did the Son take human form?  2) What was necessary in order for the Son to break the power of the devil?
Saturday, January 20.  Read Mark 1:9-15.  This is Sunday's sermon text.
Prayer for the Week:
Our Father in heaven, we hallow your name.  You are greater than any god we can imagine or create.  Your work is glorious, and we long to see what it looks like in its finished and perfect form.  We pray for the earth to see, more and more, the evidence of your rule.  We pray for an end to the tyranny of corrupt leaders and for a time when peace and compassion reign in our world.  May hunger end; may there be enough for everyone small and great.  We pray for you to help us to see our sin, and we pray for your cleansing forgiveness.  May we also see human forgiveness prevail throughout our world.  Please end suffering and strife.  May the time for struggle end.  In Jesus' name we pray this.  Amen.
Hymn of the Week:
How Firm a Foundation
by George Keith, 1787
How firm a foundation, ye saints of the Lord,
is laid for your faith in His excellent Word!
What more can He say than to you He hath said,
who unto the Savior for refuge have fled?
"Fear not, I am with thee; O be not dismayed,
for I am thy God and will still give thee aid.
I'll strengthen thee, help thee, and cause thee to stand,
upheld by My righteous, omnipotent hand."
"When through the deep waters I call thee to go,
the rivers of sorrow shall not overflow;
for I will be with thee, thy troubles to bless,
and sanctify to thee thy deepest distress."
"The soul that on Jesus hath leaned for repose
I will not, I will not desert to his foes;
that soul, though all hell should endeavor to shake,
I'll never, no never, no never forsake!"
Devotional Article of the Week:
The Quiet Kingdom
Can you hear the Kingdom advancing?
by Rubel Shelly
… the unfading beauty of a gentle and quiet spirit, which is of great worth in God's sight. (1 Peter 3:4 NIV)
One of the more famous commercial taglines of the late twentieth century was "The Quiet Company." Remember whose it was? It came to the company's National Advertising Director as he was returning home on a train. Richard Haggman coined the slogan for Northwestern Mutual Life.
Jesus could have used the same slogan, with only a slight alteration, to summarize a key fact about his own ministry. The four parables in Mark 4, for example, could be listed under the heading "The Quiet Kingdom." Each of them calls attention to the steady and gentle — though ever-so-productive — the power of the kingdom of heaven at work on Planet Earth.
Our world likes noise, splash, and the tooting of horns — especially our own. We are inclined to favor show over substance and numbers over authenticity. It seems that we cannot get over the ancient temptation to build monuments and make a name for ourselves.
The kingdom of God is more often "The Quiet Kingdom." Its advances are typically without fanfare, as individuals hear, receive, and are redeemed by the almost imperceptible planting, nurturing, growth, and fruition of the gospel in one life after another.
God does more kingdom work through a mother loving and nurturing her children than he can possibly get done through an ego-driven preacher. A man who is faithful to his wife teaches his little girl more about her worth as a human being and does more to protect her against drugs and teen promiscuity than all the school or government programs ever designed to nurture self-esteem.
Somebody on a production line or in a top executive spot who maintains personal integrity day after day, a Sunday School teacher staying with that ministry through tight budgets and tighter room space, a teenager choosing not to follow his peers onto Internet porn sites, a frustrated church member who is fed up with the lack of faith the church's "leaders" demonstrate but stays and continues to pray for them, an alcoholic or sex addict who takes responsibility and begins a lifelong process of recovery — these quiet victories in the power of God are low-profiled and inconspicuous advances of the kingdom.
We have no right to be intrusive and loud in the name of Jesus. Gentleness, after all, is a fruit of the Spirit of God in human lives.