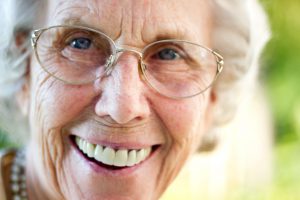 This week's sermon will come from Mark 1:29-39 which is Mark's account of the healing of Peter's mother-in-law.  The sermon looks closely at what Jesus believed his mission was.  A story I tell in the sermon is helpful in looking at how Jesus approached his mission.
There was a young child who loved her grandmother dearly and spent every available time at her grandmother's house.  The young girl noticed how kind and compassionate her grandmother was to everyone – to the poor, ill, alienated, and odd.  Her grandmother did kind deeds for others and spoke encouragingly to everyone who crossed her path.  The little child observed that her grandmother seemed to be specially equipped to see the hidden needs of others. 
Once when talking to her own mother, the little girl said, "I wish I had a pair of glasses like Grandmother."  "Why do you want that," her mother asked.  "Because grandmother sees things that most people don't see.  It must be because of her glasses."
Jesus had similar glasses.  He healed the sick, comforted the afflicted, and freed the ones that sin had enslaved.  The sermon calls us to wear glasses like Jesus wore.  It will make us keener disciples.
Daily Bible Reading:
Monday, January 29.  Read Isaiah 42:1-4.  1) What will the "servant" of this text do?  2) What will his manner be?
Tuesday, January 30.  Read Isaiah 61:1-3.  1) When Jesus spoke at the synagogue in Nazareth, he read this Isaiah text.  How do you think Jesus perceived his ministry based on this text?  2) How do you think this defines ministry for us today?  3) Who become the objects of this ministry?
Wednesday, January 31.  Read Romans 12:9-13.  1) Paul gives this set of instructions to the church in Rome.  What does he instruct them to do?  2) What is the general spirit or character of this set of instructions?  3) How do you think we may have gotten away from this sort of description of God's people?
Thursday, February 1.  Read Matthew 4:23-25.  1) What was the core of Jesus' teaching?  2) Why do you think this message was so magnetic in the way it drew people into Jesus' ministry?  3) Who showed up wherever Jesus was teaching?
Friday, February 2.  Read Isaiah 11:1-4.  1) This text points to a "Branch" that is commonly believed to be Jesus.  What relationship does Branch have with God?  2) How will Branch behave?  3) Who will be the target of his ministry?
Saturday, February 3.  Read Mark 1:29-39.  This is Sunday's sermon text.
Prayer of the Week:
Dear merciful and gracious God, we praise you for your compassion, kindness, and generosity toward us all.  Even when we don't deserve it, you treat us like we do.  You see through our walls and defenses.  You know when we weep and suffer.  At such times you stroll up into our lives and offer what we need.  We pray that we may, like you be people who reach out in need.  We pray for glasses like your's so that we can see like you do.  In Jesus' name I pray this.  Amen.'
Hymn of the Week:
When all thy mercies
by Joseph Addison, 1712
When all thy mercies, O my God,
my rising soul surveys,
transported with the view, I'm lost
in wonder, love, and praise.
Unnumbered comforts to my soul
thy tender care bestowed,
before my infant heart conceived
from whom those comforts flowed.
When in the slippery paths of youth
with heedless steps I ran,
thine arm unseen conveyed me safe,
and led me up to man.
Ten thousand thousand precious gifts
my daily thanks employ,
and not the least a cheerful heart
which tastes those gifts with joy.
Through every period of my life
thy goodness I'll pursue,
and after death in distant worlds
the glorious theme renew.
Through all eternity to thee,
a joyful song I'll raise;
for O, eternity's too short
to utter all thy praise.
Devotional Article of the Week:
Do Our Churches Prefer Cushions over Crosses?
When sports fail to bring us together as one, then what will we do?
by Rubel Shelly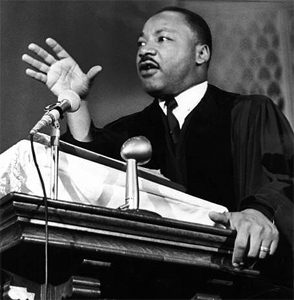 I don't know the writings and sermons of Martin Luther King, Jr. very well. That strikes me as an unfortunate thing, for the little I have read and heard lets me know that he sounded themes that people like me needed to hear in a time when so many of us white folks were excusing ourselves for not listening.
A sermon he preached in May of 1966 was published only recently. That was about two years before he was assassinated. He spoke eloquently about three biblical guidelines for churches to follow for the sake of being "constructive churches" in a world where so much still needs to be put right.
This was his text, straight from Jesus (Luke 4:18-19), who was loosely quoting the great prophet Isaiah (Isaiah 61:1-3):
The Spirit of the Lord is upon me,
because he has anointed me
to bring good news to the poor.
He has sent me to proclaim release to the captives
and recovery of sight to the blind,
to let the oppressed go free,
to proclaim the year of the Lord's favor.
From this text, he allowed that the same mission that Jesus announced for himself is the mission his people are expected to carry forward in the world. We are to give hope to all who are brokenhearted by bringing good news to the poor and proclaiming the year of the Lord's favor.
I especially appreciate what he said about the year of the Lord's favor, or — as translated in some of the older versions — the "acceptable year of the Lord." In quick summary, he listed several specific things this would entail: "The acceptable year of the Lord is not some distant tomorrow, which is beyond history, but the year of the Lord is any year that men decide to do right." So he talked of righteous personal living, all nations abandoning war, our politicians learning to "do justice and love mercy and walk humbly with their God" (Micah 6:8 NASB).
He challenged his hearers to live by the Golden Rule (Matthew 7:12), to recognize that all men on the face of the earth are of one blood (Acts 17:26), to join God's chorus in confessing Jesus Christ is King of kings and Lord of lords (Revelation 7:9-12). No, it won't be easy. No, Satan will not be pleased. No, the world won't applaud. But it is still right. As Dr. King said, too many churches want a cushion instead of a cross.
[Jesus said,] "If any of you wants to be my follower, you must turn from your selfish ways, take up your cross, and follow me" (Mark 8:34 NLT).