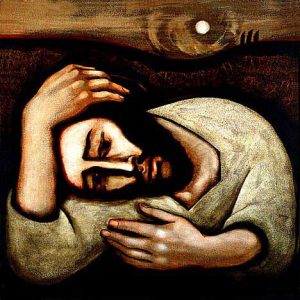 This week's devotional prepares its readers for a sermon called, "The reprimanded him for saying such things."  In the biblical text, the disciples resist his telling them about his impending suffering.  "Get behind me, Satan," is what Jesus told Peter in reply.  This sermon looks at suffering as an integral part of Jesus' ministry and our lives.
Daily Bible Readings:
Monday, February 19.  Read Hebrews 5:7-12.  1) How would you describe Jesus' prayers based on this text?  2) What did Jesus undergo while on earth?  3) What effect did his experience have on him?
Tuesday, February 20.  Read Hebrews 11:32-40.  1) What did the people in this text accomplish in their lives?  2) What happened to their weakness?  3)  What happened to them that some might look at as defeat?  4) Would you say that they saw the full outcome of their faith?
Wednesday, February 21.  Read 1 Peter 1:3-7.  1) What did Peter say they might have to endure?  2) What will the effect of this endurance be?  3) How does God regard suffering?
Thursday, February 22.  Read 2 Timothy 2:1-7.  1) What does Paul tell Timothy to never fear?  2) What did Paul invite Timothy to do with him?  3) Why do you think Paul said this?
Friday, February 23.  Read  Hebrews 2:11-18.  1) How does Jesus regard human beings?  2) What did the fleshly nature of humans require that Jesus do?  3) What happened to him as a result?  And what did it accomplish?
Saturday, February 24.  Read Mark 8:31-38; 10:32-43.  This is Sunday's sermon text.
Prayer of the Week:
Dear Jesus, we give praise to you for the way in which you entered into humanity, suffered in the flesh, and died by execution.  You have set for us the perfect example of how to live in a world beset with sin and darkness, and we ask for your help as we too, try to live in a sacrificial way in this world.  May there be nothing into which we will not venture if it is a pursuit of your purposes for the world.  May your Spirit give us wisdom, perseverance, and endurance as we make our way through life.  May we enjoy the same blessings of being called by your name and live eternally with you.  In your name, we pray this.  Amen.
Song of the Week:
Are Ye Able
Earl Marlatt, 1926
"Are ye able," said the Master,
"to be crucified with me?"
"Yea," the sturdy dreamers answered,
"to the death we follow thee."
Refrain:
Lord, we are able. Our spirits are thine.
Remold them, make us, like thee, divine.
Thy guiding radiance above us shall be
a beacon to God, to love, and loyalty.
Are ye able to remember,
when a thief lifts up his eyes,
that his pardoned soul is worthy
of a place in paradise?
(Refrain)
Are ye able when the shadows
close around you with the sod,
to believe that spirit triumphs,
to commend your soul to God?
(Refrain)
Are ye able? Still the Master
whispers down eternity,
and heroic spirits answer,
now as then in Galilee.
(Refrain)
Devotional Article of the Week:
Suffering for the Lord
by Mike Barres
One summer we went on a mission trip to Honduras. We did a drama as a part of our ministry there. In the drama, Jesus had just been scourged and was carrying the cross. Someone in the crowd reaches out and slaps him. In this drama, my wife played the part of the person slapping Jesus. I played the part of Jesus. When she slapped me, it was so loud that it could be heard all the way in the back of the large church building. It really hurt! I'm sure she was just trying to make the drama look realistic for effect.
I guess I got just a tiny taste of suffering for Christ. If it gave people a glimpse of what Christ did for them, it was worth it. The thing that shames me, even as I say this, is that Christians all around the world that are suffering tremendously for Christ. They lose their jobs, are disowned by their families, are imprisoned, tortured, and even killed.
Some of us really know very little about suffering, especially suffering for Christ. We think that if we live right and are close to the Lord, that we won't suffer. We think that somehow, the Lord will keep us from suffering as some kind of reward if we live right.
In many countries, if a person lives right and is close to the Lord, they will certainly face suffering. An organization called "Voice of the Martyrs" calls the church to pray for the persecuted church worldwide. In a video they produced, a man who had spent many years in prison was speaking about persecution. He said that persecution was good because the more persecution there was, the more people came to Christ. He was glad to suffer if it meant more people coming to the Lord. That challenged me because I honestly couldn't relate to that concept at all.
However, when I look in the New Testament, many of the early Christians did know about suffering. Read the first eight chapters of the book of Acts and see how they suffered, and how the Lord used their suffering to further the spread of the Gospel. Then look at our hero! Jesus reminds us:
"Blessed are those who are persecuted for righteousness' sake, for theirs is the kingdom of heaven. Blessed are you when they revile and persecute you, and say all kinds of evil against you falsely for My sake. Rejoice and be exceedingly glad, for great is your reward in heaven, for so they persecuted the prophets who were before you." (Matthew 5:10-12)"Remember the word that I said to you, 'A servant is not greater than his master.' If they persecuted Me, they will also persecute you." (John 15:20)
Are you willing to suffer for Christ? Will it confuse you if you do suffer and are persecuted?  Peter told Christian slaves, "For to this you were called, because Christ also suffered for us, leaving us an example, that you should follow His steps." (1 Peter 2:21)