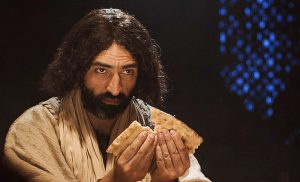 "Examine Yourselves" is the title of next Sunday's sermon, and its text is taken from 1 Corinthians 11:23-34.  This is the second in our Lord's Supper series, and it's purpose is to take a look at the act of discernment in regard to the Lord's Supper.

Daily Bible Reading:  All the readings for this week contain the Greek word diakrino to show some of the nuances of this word's use in the New Testament:
Monday, April 16.  Read Matthew 16:1-3.  1) What illustration does Jesus use here to make his point?  2) Note what Jesus says about their ability to "interpret" the signs.  What processes/skills are needed to "interpret?"
Tuesday, April 17.  Read Matthew 21:20-22.  1) Jesus uses the word diakrino in this text for the idea of "doubt."  2) How are doubt, in this verse, and interpret in the previous reading related as processes?
Wednesday, April 18.  Read Acts 10:19-20.  1) In this text Peter tells some men to go downstairs "without hesitation."  2) What do you think might have been going on in the mind of a person who is hesitating or wavering?
Thursday, April 19.  Read Acts 15:6-11.  1) In verse 9, Peter told the apostles and elders in Jerusalem that God makes no distinction.  2) What happens when a person is engaged in making a distinction?
Friday, April 20.  Read 1 Corinthians 4:6-7.  1) In this text Paul, criticizes the Corinthian church for "making judgements" about him and Apollos.  2) in this final example of the various uses of diakrino what
Saturday, April 21.  Read 1 Corinthians 11:23-34.  This is Sunday's sermon text.
Hymn of the Week:
Another Week
by G.Y. Tickle 1935
Another week with all its cares hath flown,
Another day of rest and peace is here;
Sweet day on which our wearied hearts are drawn
In holy fellowship to Jesus near.
Jesus, our great High Priest, our Sacrifice,
Our passionate, rich gift of love divine,
With Thee we would into the holiest rise,
Communing with Thee in the bread and wine.
O what a feast ineffable is this,
Thy table spread with more than angels' food!
Angels the highest never taste the bliss,
The dear communion of Thy flesh and blood.
May we as servants joy to do Thy will,
As sons the honor of Thy house maintain,
As soldiers stand prepared for conflict still,
And count all suffering borne for Thee as gain.
Prayer of the Week:
Soul of Christ, sanctify me.
Body of Christ, save me.
Blood of Christ, inebriate me.
Water from the side of Christ, wash me.
Passion of Christ, strengthen me.
O good Jesus, hear me.
Within your wounds conceal me.
Do not permit me to be parted from you.
From the evil foe protect me.
At the hour of my death call me.
And bid me come to you,
to praise you with all your saints
for ever and ever.
Amen.
Devotional Article of the Week:
Is there something more to The Supper than just remembering?
by Phil Ware
The Lord's Supper — whether you call it The Supper, The Eucharist, or Holy Communion — is a holy disruption for our homogenized and carefully planned "worship experiences"! In the early church, the first disciples appear to have shared with the Lord in The Supper at least on the first day of the week.*1 They also likely enriched some meals at home to include The Supper with awareness to Jesus' sacrifice and presence in breaking bread.*2
Unfortunately, like baptisms in many churches today (and unlike the practice in the early church*3), the modern disciple's time at the table is stored up for special Sundays. Or, it may be set off to the side for those who want to take The Supper each week, but those leading worship want to keep it from being part of the weekly "flow" of worship. The Supper is also programmed into a set slot and allocated a specific time in our worship orders by some groups. We then can predict where it will fall in the service, how long it will last, and many of the words that will be said.
In other words, we've made The Supper into something like those roadside memorials to fallen heroes or famous battlefields. It's visible, but not vital. It's provided, but not purposeful. It's a commitment, but not connected to living Jesus.
When we enter into The Supper with the Lord's presence real to us, The Supper should have a disruptive effect on the flow of our scripted services. It should shatter our neat, tidy, and regimented ways of "partaking" — using the traditional term which seems so out of phase with the biblical language for The Supper.*4 This disruptive power of The Supper must shine through two dimensions of our sharing: remembering and restoring.
For I received from the Lord what I also passed on to you: The Lord Jesus, on the night he was betrayed, took bread, and when he had given thanks, he broke it and said, "This is my body, which is for you; do this in remembrance of me." In the same way, after supper he took the cup, saying, "This cup is the new covenant in my blood; do this, whenever you drink it, in remembrance of me." For whenever you eat this bread and drink this cup, you proclaim the Lord's death until he comes (1 Corinthians 11:23-26).
The Supper calls me to remember. I remember the betrayal and abandonment of Jesus by his disciples. I remember the unfair trials. I remember the humiliating and sadistic nature of Jesus' crucifixion. I remember the Lord's words on the cross. I remember the mocking and ridicule the Messiah endured while he hung there cursed and humiliated. I remember how alone and abandoned Jesus felt as he hung naked before the mob of gawkers and gave up his spirit.
Communion invites me to remember. However, The Supper's kind of remembering is as disruptive and heartbreaking as it is riveting. The story of God's Son on a cross is agonizingly too true to our cruel and sadistic world of hatred and human suffering. So rather than asking us to put everything of our world out of our minds so we can worship properly and antiseptically, The Supper brings Jesus to our memory in the worst realities of our fallen condition and meets us there.
There is no sterile place to hide from our world in The Supper. Not when it connects us to YAHWEH's Suffering Servant and our Savior, Jesus of Nazareth (Isaiah 53). We enter The Supper with our broken lives. We take The Supper by breaking bread to remind us of our broken world that murdered its Savior. As we do, we find Jesus as God with us. We know this Jesus was part of our broken world in his incarnation, and he joins us once again in our world in The Supper.
Jesus entered our brokenness, shared our brokenness, and suffered our brokenness for us. In The Supper, we are reminded why the Father sent Jesus to our broken world (John 3:16). We also are reminded that Jesus has sent us into this same broken world to continue his mission (John 20:21-24).
Remembering is good. Jesus wanted me to remember. He commanded us to remember. We also are to remember the life Jesus led that preceded his crucifixion — the life he spent reaching out to the lost, the least, and the last people. Remembering is very good. Yet we are called to do far more than just remember. Paul also reminded us of another important principle: as we come to the table we are to restore Jesus' presence to our world as his people, the church:
Is not the cup of thanksgiving for which we give thanks a participation in the blood of Christ? And is not the bread that we break a participation in the body of Christ? Because there is one loaf, we, who are many, are one body, for we all share the one loaf (1 Corinthians 10:16-17).
Think of it. As we share the bread, those of us who share it together are formed into the living Body of Jesus. Through sharing the bread together, we are the Lord's ongoing bodily presence in the world. As we share in that bread, a miracle happens. Yet the miracle is not in the bread, but in the participants — in us, Jesus' people. We become him for our world today. We covenant that just as Jesus was God fully incarnate in the world in real flesh and blood, we commit to being Jesus to our world. When we take the cup, we have the blood of Jesus transfused into our bodies to renew our life that is to be given for the sake of the world this coming week. We are Jesus' presence — his hands, his feet, his eyes, and his heart.
When we take The Supper with a commitment to restore Jesus to the world through our lives, it becomes an explosive device to church as normal. This explosive device detonates in our climate-controlled rooms, crisply performed songs, smoothly orchestrated flow, and carefully time-mapped services. This commiting to restore Jesus to the world as we gather at The Table reminds us that our lives are not about church.
At The Table, we realize that the church is here to help us live our lives for the sake of the world as Jesus did. The Supper is a reminder that if lost, rebellious, struggling, broken people aren't at our table on Sunday, then we haven't been living out the implications of The Supper we took the week before. That's because when we come to The Table each week, the Lord tries to speak to the lost, rebellious, struggling, broken people of our world and say:
This is my body given for you! This is my blood shed for you! These people are my body. My blood flows through them to show my concern and to share my mission in your broken world. They will enter your brokenness as I did. They will search to find you, love you, and bring you back to my Table so that you, too, can receive the Father's grace.
The Lord's Supper — whether you call it The Supper, The Eucharist, or Holy Communion — is to be powerful, holy, and precious. It must be disruptive to our tidy status quo and business as usual approach to our neatly packaged church services. If it is not disruptive, there is no grace to offer the broken people on the pew near you or the person on the pew inside you.
Let the Lord's Table be disruptive so that we can truly remember and restore Jesus to our broken world!
*1 The early church appears to have celebrated The Lord's Supper on the first day of the week, Sunday (Acts 20:7; cf. 1 Corinthians 16:2 ). This is probably how Sunday became known as "the Lord's day" (Revelation1:9-11 ).
*2 The story about the disciples who met Jesus on the road to Emmaus and broke bread with him (Luke 24:13-35) and the practice of sharing of meals in the Jerusalem church (Acts 2:42-47) suggest that all meals could be elevated to have a time of communion if people recognized the presence of the Lord. Paul emphasized that any time this breaking of bread and taking of the cup, we remember the Lord's death until he returns (1 Corinthians 11:26).
*3 I'm sure it wasn't easy to find water to immerse more than 3,000 on the day of Pentecost (Acts 2:36-47) or to baptize the centurion and his household in the middle of the night (Acts 16:22-34). Divorcing immersion into the name of the Lord Jesus from the confession of Christ and the surrendering of one's life to Jesus as Lord is not only strange to New Testament practice, but also sure seems to separate baptism and faith unnecessarily when they are associated together in the New Testament (Galatians 3:26-29; Romans 6:3-7).
*4 Words like "remembrance," "proclaim," "thanksgiving," "blessing" and "participation" each suggest much more than partaking of a small sample of something foreign to us rather than sharing something vital to our memory, message, joy, spiritual health, and fellowship.