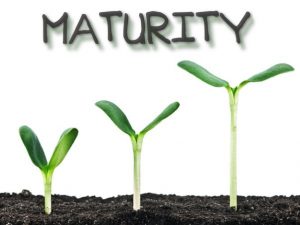 This sermon follows the introductory sermon from Ecclesiastes in which the author states that the only thing that gives meaning to life is to devote one's life to God through obedient living.  "Fear God and keep His commandments, for this is the whole duty of man."  Sunday's sermon, "Grow Up!" follows with a look at how we are called to grow in our maturity.  To give up living as Koheleth in the beginning of his life requires knowledge and insight gained through knowing God's will as revealed in his Word.  That is the emphasis of this sermon.
Monday, May 7.  Read 1 Corinthians 3:1-4.  1) What problem was Paul identifying in this text?  2) How did this problem affect Paul's ministry to Corinth?
Tuesday, May 8.  Read Acts 8:9-25.  1) Who was Simon and what did Simon do as a vocation?  2) How did that vocation shape the way he looked at the Gospel?  3) What did he request from Philip and what was Philip's response to that?  4) Would you say that Simon's response to Philip was mature or immature?  Why?
Wednesday, May 9.  Read 1 Corinthians 4:14-15.  1) Why did Paul say he wrote the Corinthians?  2) What function do mature people play in the life of a church?  3) What danger awaits those who do not find mature people to watch and imitate?
Thursday, May 10.  Read Ephesians 4:14-19.  1) What metaphor does Paul use to describe those who are easily attracted to false teachings?  2) What is the danger of a lie?  3) What function does a mature person play in the body of Christ?
Friday, May 11.  Read Hebrews 5:11-14.  1) Why did the Hebrews writer say that he couldn't say everything he wanted to say to his audience?  2) Where did the Hebrews writer say that his audience SHOULD be in their development?  3) Where were they in reality?  4) What do you think was present in their lives that created such a reality?
Saturday, May 12.  Read Ephesians 4:11-24.  This is Sunday's sermon text.
Prayer of the Week:
Lord God and Father, we thank you for the ways that you have revealed yourself to us.  Through Christ.  Through you Spirit living in us.  And through your word, passed down through the centuries for our growth.  We pray that you will live in us and provoke in us a divine hunger for what is good and holy.  May we grow in wisdom prompted by our knowledge of You.  May we make good decision.  May we be filled with good thoughts which promote great work in your name.  Please help us to grow.  In Jesus' name, I pray this.  Amen.
Hymn of the Week:
I'm Pressing On
by Johnson Oatman, 1926
I'm pressing on the upward way,
New heights I'm gaining every day;
Still praying as I'm onward bound,
"Lord, plant my feet on higher ground."
[Refrain]
Lord, lift me up and let me stand,
By faith, on Heaven's tableland,
A higher plane than I have found;
Lord, plant my feet on higher ground.
[Refrain]
My heart has no desire to stay
Where doubts arise and fears dismay;
Though some may dwell where those abound,
My prayer, my aim, is higher ground.
[Refrain]
I want to live above the world,
Though Satan's darts at me are hurled;
For faith has caught the joyful sound,
The song of saints on higher ground.
[Refrain]
I want to scale the utmost height
And catch a gleam of glory bright;
But still I'll pray till heav'n I've found,
"Lord, plant my feet on higher ground."
[Refrain]
Devotional Article of the Week:
The Means to Growth
Does difficulty really lead to something better?
by Rubel Shelly
Most of us have areas of life in which we need to grow. We need more patience. We want greater self-discipline. We long to strengthen our families, contribute to our friends, and make a difference.
Then come the setbacks. She doesn't get the educational opportunities she had dreamed of and sought. He is seriously hurt in a car wreck. A business fails. There is a chronic illness. Some terrible personal tragedy strikes.
Believe it or not, growth and setbacks seem to be related. All sorts of studies point to it. Most people who survive great personal trauma aren't destroyed by it. They survive. They learn. They develop still-closer personal relationships. They grow from their experience.
Most of us know the term post-traumatic stress, but some experts in the field of mental health are now using the term post-traumatic growth. They point to people who emerge from severe life crises feeling enlarged rather than diminished. They speak of spiritual development, stronger personal relationships, greater personal strength, deeper appreciation of life, and clarity about priorities.
"We're talking about a positive change that comes about as a result of the struggle with something very difficult," Dr. Lawrence Calhoun of the University of North Carolina said. "It's not just some automatic outcome of a bad thing." To be sure, some people bring a fuller sense of security in life to a trauma. They have a better support system. They had already learned to rely more on God than self.
I know people who illustrate this phenomenon. A woman who survived a painful divorce from a cruelly abusive man is doing well in a career she never planned to have and caring for two children who have been protected from what she once had to endure. A man who wasn't supposed to survive widespread cancer seems perfectly healthy seven years after his diagnosis. A woman who didn't think she could survive her husband's death is happily married to a man who felt equally devastated at the loss of his wife two years earlier.
God made body, mind, and spirit to be marvelously resilient. Injury or illness, divorce or bankruptcy, relocation or cherished person's death — each has the capacity to crush or dignify, disorient forever or reorient to the people and things that matter most. Since God gave us the capacity to overcome, we are more likely to do so by consciously seeking him than by fleeing in our confusion.
Tragedy spares no one. God gives grace not only to survive but also to grow.