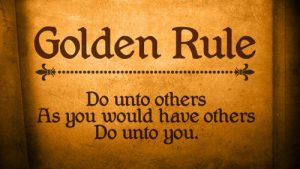 This week's devotional prepares for the June 24 sermon, "…like you'd want to be treated."  The sermon examines "the Golden Rule" and what it is really saying.  In Sunday's text there are 9 imperatives ("do this") and 2 negatives ("don't do this").  Use this week's devotional as a way to open up your thinking about the degree to which you allow the Golden Rule to govern your life as a child of God.
Daily Bible Reading:
Monday, June 18.  Read Hebrews 13:1-3.  1) How does the writer of Hebrews tell his audience to treat each other.  2) How long does he expect them to do this?
Tuesday, June 19.  Read James 5:1-6.  1) Who is James warning in this text?  2) How do you think they may have been violating the Golden Rule?  3) How do you think they were using their resources?
Wednesday, June 20.  Read Galatians 5:19-21.  1) Paul lists several behaviors that he calls what?  2) What is it about this list that violates the Golden Rule?  3) Are there any of these behaviors that is particularly difficult for you?
Thursday, June 21.  Read Ephesians 4:1-13.  1) How does Paul say the Ephesian Christians should treat each other?  2) What would you say is the goal of this behavior?  3) For what purpose has Christ given each of us particular gifts?  4) How do these gifts accord with the Golden Rule?
Friday, June 22.  Read Philippians 2:1-8.  1) How does Paul tell the Philippians that they could make him happy?  2) Who is the model for such behavior?  3) In what ways does Christ model the Golden Rule?
Saturday, June 23.  Read Luke 6:27-42.  This is Sunday's sermon text.
Weekly Devotional Article:
Ten Commandments of Human Relations
How are you doing living up to these commandments?
by Rubel Shelly
The fundamental issue in human ethical behavior is summarized by Jesus in what we have come to call "The Golden Rule." Jesus put it this way:
So in everything, do to others what you would have them do to you, for this sums up the Law and the Prophets (Matthew 7:12 TNIV).
It asks us to test our treatment of others by putting ourselves in their place. Treat others the way you would want them to treat you in the same or similar circumstance.
Somebody took that principle and translated it into Ten Commandments of Human Relations. You may have seen this anonymous piece, for it circulates in a variety of settings. In case you have missed it, I am reproducing it here.
Speak to people. There is nothing as nice as a cheerful word of greeting.
Smile at people. It takes 72 muscles to frown, only 14 to smile.
Call people by name. It is music to anyone's ears to hear the sound of his or her name.
Be friendly and helpful.
Be cordial. Speak and act as if everything you do is genuinely a pleasure. If it isn't, learn to make it so.
Be genuinely interested in people. You can like almost anyone, if you try.
Be generous with praise, cautious with criticism.
Be considerate of the feelings of others. There are usually three sides to a controversy — yours, the other fellow's, and the correct one.
Be alert to serve. What counts most in life is what you do for others.
Live with a good sense of humor, a generous dose of patience, and a dash of humility appropriate to being human.
The great challenge in human experience is not work-skills, but people-skills. That is, research has shown that the majority of people who fail in their vocation do so because they cannot get along with people.
You might think through the meaning of these ten common-sense ideas for your own workplace and personal activity. But what about the larger setting for your daily life? These principles work everywhere you go, for they are about showing respect to the people you meet in all those places.
Made in God's image, all of us have something to be valued, affirmed, and acknowledged by others. But let it begin with us to acknowledge it in them. As the cycle of giving and receiving enlarges, the human community comes alive.
Hymn of the Week:
My Task
by Maude Louise Ray
To love someone more dearly ev'ry day,
To help a wand'ring child to find his way,
To ponder o'er a noble tho't and pray,
And smile when evening falls,
And smile when evening falls,
This is my task.
To follow truth as blind men long for light,
To do my best from dawn of day till night,
To keep my heart fit for His holy sight,
And answer when He calls,
And answer when He calls,
This is my task.
And then my Savior by and by to meet,
When faith hath made her task on earth complete,
And lay my homage at the Master's feet,
Within the jasper walls,
Within the jasper walls,
This crowns my task.
Prayer for the Week:
Dear Lord,
I am coming before you now as one who is overflowing with the grace you have poured abundantly into my life. I pray that you never let me take that for granted or forget it. I know that I haven't followed you well in loving others as you have loved me. Jesus, you said that you didn't come to condemn the world. So why should I, as imperfect as I am? Why should I notice other people's mistakes and inadequacies when I'm loaded with them? Why should I be so reluctant to grace others.
Please forgive my arrogance.
Please renew me and help me to be forgiving like you. Ever willing to give abundant grace to others as you have to me.
I receive Your forgiveness as well as Your cleansing power to transform me from a foe to a follower, from puffed-up to loved-up. From self-important to other-centric. From vain to insanely kind. From a grumbler to one who is humbler. From uppity to one who is abundantly caring. From toxic to philanthropic!
Take my heart to new levels. Make me joyously unaware of other's inadequacies and ever aware of my own.
In Jesus' Name,
Amen!