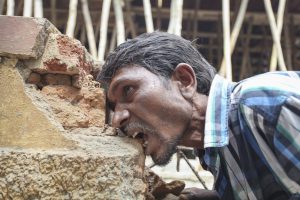 "Chewing on Gravel" is the title of the July 22 sermon, and its theme is taken from Lamentations which is an extended poem of grief about what was befalling Israel because of her rebellion.  Lamentations is a good reminder of what happens when things go badly.  Where is God at those moments?  See Lamentations 3:16, the location of the sermon title.
Daily Bible Reading:
Monday, July 16.  Read Hebrews 10:19-25.  1) What, according to the Hebrews writer, enables us to enter into relationship with God?  2) How does he talk about perseverance in this text?  3) What is our responsibility to one another?
Tuesday, July 17.  Read 2 Timothy 4:6-8.  1) What does Paul say about the end of his life?  2) What does he say God has awaiting for him?  3) Who else has access to this "prize?"
Wednesday, July 18.  Read Romans 4:18-25.  1) What does Paul say about Abraham in regard to his age and future?  2) How did Abraham respond to the future in spite of his age?  3) How did God respond to Abraham?
Thursday, July 19.  Read Exodus 14:10-14,  1) What crisis was Israel facing in this text?  2)  How did they respond to the crisis?  3) What did Moses tell them in response?
Friday, July 20.  Read Psalm 89:1-8.  1) What does the Psalmist say about God's love?  2) What are the implications of God's faithfulness for us during times of stress and difficulty?
Saturday, July 21.  Read Lamentation 3:22-27.  This is Sunday's sermon text.
Prayer for the Week:
Dear Lord, during the trials of life,
I offer up to you my confusion and disorientation.
Please give me clarity so that I can see the way.
I offer up to you my despair and desperation.
Please give me hope so that I can long for the future.
I offer up to you my weakness so that
I can rely on your strength and ability.
I offer up to you my pettiness and triviality.
Please give me a spirit of generosity and mercy.
I offer up to you all my
Negative thoughts and pessimistic attitudes.
When I am tempted to ask, "Where is God now," may I see you at my side.
Please give me the strength to endure the moment's trials
So that I can be victorious though tried.
In Jesus' name, I pray this,
Amen.
Hymn of the Week:
O God, Our Help In Ages Past
Isaac Watts, 1719
Our God, our Help in ages past,
our Hope for years to come,
our Shelter from the stormy blast,
and our eternal Home.
Under the shadow of Thy throne
Thy saints have dwelt secure;
sufficient is Thine arm alone,
and our defense is sure.
Before the hills in order stood
or earth received its frame,
from everlasting Thou art God,
to endless years the same.
A thousand ages in Thy sight
are like an ev'ning gone,
short as the watch that ends the night
before the rising sun.
Time, like an ever-rolling stream,
bears all its sons away;
they fly forgotten, as a dream
dies at the op'ning day.
Our God, our Help in ages past,
our Hope for years to come,
be Thou our Guide while life shall last,
and our eternal Home!
Devotional Article of the Week
Getting It Wrong
Come on, now, 'fess up to the truth — it's liberating!
by Russ Lawson
Have you ever done something and realized (sometimes immediately) that you made the wrong decision? Most probably you have… I think it is part of being human.
Sometimes the bad decisions are obvious — glaring things that stand out for all to see. Sometimes, they are things of which only you are aware.
I started thinking about this when I read an article that told that bubble pack was originally marked as wallpaper. I honestly can't see how they ever thought that would work, but then I'm looking at it from a background that says, "bubble pack is used to pack stuff."
As I do a quick review of my life, I can quickly find many things that I made the wrong decisions about. Now, I could dwell on those things and worry about them and let them control my life and make me miserable, but I'm not going to do that. I choose to focus on the good stuff.
I've known some folks in my life, who have done nothing but remember their wrong decisions. They worry about them to the point that they come to believe that they have no worth; no value even to God. How could God possibly forgive them if they can't forgive themselves?
If you are a fan of the Anne of Green Gables books and movies, you may remember one scene where Anne comments that "Everyday is brand new, free of mistakes." What a wonderful concept and one that is so true.
The old apostle John taught struggling followers of Jesus this important truth:
If we claim we have no sin, we are only fooling ourselves and not living in the truth. But if we confess our sins to him, he is faithful and just to forgive us our sins and to cleanse us from all wickedness (1 John 1:8-9 NLT).
Honestly, this is one of my favorite scriptures in the Bible. We find hope for those times when we make the wrong decisions. We find a promise that we can start over fresh with each new day. What does it take? Admitting we messed up and believing that God will do what he says: that the Father will both "forgive" and "cleanse" us.
It seems sometimes that I work overtime at getting it wrong in my life — I think the wrong things, say the wrong things, and do the wrong things. Yet our God "is faithful and just to forgive us our sins."
You see, it's God's love that brings us forgiveness and cleansing when we get it wrong in life. Our responsibility is to admit our sins and accept that forgiveness, getting on with living for him.