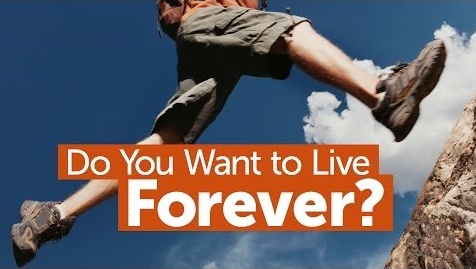 In WWI (1918) a Sargeant Major Daniel Daly is credited with saying to his troop, "SOB's do you want to live forever?"  Of course, the implication of his question was that no one lives forever, so you might as well live with abandon.  Charge the enemy as if there is no tomorrow.
This is the beginning of next week's sermon, "You wanna live forever," and it's text comes from John 6:51-58 in which Jesus says to his disciples, "Anyone who eats this bread will live forever, and this bread…is my flesh."  Read this devotional guide this week, and you will be prepared to think about next Sunday's sermon.
Daily Bible Reading:
Monday, August 13.  Read John 4:1-14.  1) To whom was Jesus talking in this text?  2) What did Jesus ask for?  3) What did Jesus offer?  4) What did he say it would do for her?
Tuesday, August 14.  Read John 6:22-40.  1) Why did Jesus say the crowds were following him?  2) About what did Jesus think they needed to be concerned?  3) What has God historically given to his people?
Wednesday, August 15.  Read 1 Corinthians 11:23-26.  1) What did Paul pass along to the Corinthian church in regard to bread?  2) What did Paul say the purpose of eating the bread and drinking the cup served?  3) How do you think this bread and wine are different in quality from our usual meals?
Thursday, August 16.  Read Matthew 4:1-11.  1) What event does Matthew describe in this text?  2) What was the first thing Jesus was offered?  Why do you think it would be attractive?  3) What does Jesus say in response?  4) Why do you think it was important for Jesus to not take the offer?

Friday, August 17.  Read Exodus 12:14-20.  1) What is the occasion being described in this text?  2) Describe the bread being discussed?  3) What symbolic function did bread serve in this ceremony.  4) What does yeast mean?

Saturday, August 18.  Read John 6:51-58.  This is Sunday's sermon text.
Prayer for the Week:
Dear Father, we want to live forever, but not in the way that people committed to the false promises of the earth want it.  We want to live forever with you, on the earth that you are recreating for all your people.  So we pray that you will live within us and guide us so that we can live forever in the way that you are planning for us.  In Jesus' name I pray this.  Amen.
Hymn of the Week:
Children of the Heavenly King
Children of the Heavenly King
by John Cennick, 1743
Children of the heav'nly King,
as you journey, sweetly sing;
sing your Savior's worthy praise,
glorious in his works and ways.
We are trav'ling home to God
in the way the pilgrims trod;
they are happy now, and we
soon their happiness shall see.
Lift your eyes and see the light;
Zion's city is in sight!
There our endless home shall be;
there our Lord we soon shall see.
Fear not, children, joyful stand
on the borders of your land;
Jesus Christ, your Father's Son,
bids you undismayed go on.
Lord, obediently we go,
gladly leaving all below;
lead us now in all we do
and we still will follow you.
Devotional Article of the Week
Touchable Hope
What the resurrected Jesus gave to his shocked disciples who disbelieved for joy was tangible proof he had risen from the dead!
by Phil Ware
While they were still talking about [the resurrection appearances of Jesus to Peter, John, and the disciples on the road to Emmaus], Jesus himself stood among them and said to them, "Peace be with you."  They were startled and frightened, thinking they saw a ghost. He said to them, "Why are you troubled, and why do doubts arise in your minds? Look at my hands and my feet. It is I myself! Touch me and see; a ghost does not have flesh and bones, as you see I have."
When he had said this, he showed them his hands and feet. And while they still did not believe it because of joy and amazement, he asked them, "Do you have anything here to eat?" They gave him a piece of broiled fish, and he took it and ate it in their presence (Luke 24:36-43).
Reflection:
I love the phrase, "they still did not believe it because of joy and amazement"! The Lord's apostles had lost so much on the night Jesus was betrayed and the day that he was crucified. Hope was gone. Dreams were gone. Their understanding of Jesus' might, identity, and authority was gone. The three years of their lives invested in following Jesus appeared to be wasted. Their future with Jesus was crushed under the weight of despair. Their solidarity as a group was shattered by Judas' betrayal, Peter's denials, and their universal abandonment of Jesus in his hours of need. Now that Jesus appeared to be alive, we understand why they were so full of joy that they couldn't believe. It was too good to be true. They had to be imagining all of this. But they weren't!
On the Sunday night of Jesus' resurrection, the Lord joined his disciples around a table — maybe even the same table they had used a few days earlier for the Last Supper. In their disbelief for joy and amazement, Jesus made clear to them that he was not a figment of their imagination. He was physically present with them. He was alive. He wasn't some vision fashioned from their delusional grief or irrational hope. He gave his disciples tangible proof that he was alive. He gave them touchable proof that their hope for the future was now brighter than ever.
The Supper is a blessing for believers in many ways. We connect with a long heritage of believers from all over the world who have remembered Jesus on the day of his resurrection for centuries. We proclaim that we believe he is coming again. We share in this simple meal together as fellow believers and members of Jesus' one Body. While the bread and wine we share are simple, in the moment of our shared grace they become something beyond bread and wine for us. They are touchable and tasteable reminders of the real body of our Savior who was truly alive again after death. If we allow them, the bread and wine are touchable and tasteable hope. They are our tangible reminders that Jesus died for our sins and rose for our salvation. Even more, Jesus joins us as we share his meal together (Luke 22:16).
Prayer for the Bread:
O Lord Jesus, thank you for your incarnation — for sharing our moral flesh to give us back immortal hope. As we take this bread, it is more than bread for us. We touch it and are reminded of you being with us in human flesh. We break it and are reminded of your sacrifice for us. We taste it and know that you have given us new life that is good. And as we touch, break, and taste this bread, we rejoice that you used the gift of food to show that you were truly raised from death. Thank you for all the grace given us in this bread. Amen.
Prayer for the Cup:
Father, you are gracious and holy. Your grace sent Jesus to conquer sin, death, and hell for us. So as we take this cup, with each swallow we are reminded of the goodness you have given us in Jesus, our sacrificed yet triumphant and living Savior. Thank you for such mercy and love. In the powerful name of Jesus, we offer you our thanks and praise. Amen.
Beyond Bread and Wine is offered in answer to requests from those who celebrate The Supper in their small groups, missional communities, and church groups on a regular basis. Over the next several years, we will add reflections every few weeks so that they can eventually be sent out every Saturday. We believe that "as often as" we share this time with other believers, we deepen our connection to our Lord and prepare ourselves to live for others as Jesus did. We hope these reflections broaden and deepen your approach to The Supper and reflect the many facets of the Lord's grace. As we eat this bread and drink this cup, let's remember Jesus as we wait expectantly for his coming again!