This week's devotional comes from the ideas in Joshua 24:1-2; 14-18 and prepares its readers for the August 26 sermon, "As I promised to Moses.
Daily Bible Readings:
Monday, August 20. Read Genesis 12:1-7.  1) This text occurs in the same location as Joshua 24.  2) Compare the two texts.  What do you find interesting about what God says to Abraham versus what Joshua has to say to Israel?
Tuesday, August 21. Read Exodus 20:1-7.  1) This text is the occasion of the giving of the Ten Commandments to the children of Israel.  2) Why do you think it was necessary for God to say these things to them?  3) How is it contemporary for our own age?
Wednesday, August 22. Read Deuteronomy 28:1-6; 15-19.  1) The speech of Moses in this text is addressed to Israel just prior to their entering the Promised Land.  2) How do you think their past would make it difficult for them to be faithful to Yahweh?  3) How do you think Moses' instructions are relevant to us today?
Thursday, August 23. Read Galatians 1:6-10.  1) Paul wrote this to the straying Christians at Galatia.  2) What do you think was going on there?  3) How do you think it might have been similar in tone to Joshua 24?
Friday, August 24. Read Hebrews 12:1-4.  1) Hebrews was written to a church that was discouraged and giving up.  2) How do you think this text might have been relevant for the Jews that Joshua addressed?  3) What could they learn from each other.
Saturday, August 25. Read Joshua 24:1-2, 14-18.  This is Sunday's sermon text.
Prayer of the Week:
Father, it is our desire to love You without reserve, to never be lacking in zeal, and to keep our spiritual energy as we serve You. We devote ourselves to You only and want to do what is good and right in Your sight so that it may go well with us and we will bring You pleasure. We want to be careful that we do not forget You or fail to observe Your commands You have set forth in Your Word. Otherwise, our hearts will grow proud and we will forget our first love. Keep us on the right path all the days of our life we pray in the name of Jesus. Amen.
Hymn of the Week:
O for a Faith that Will Not Shrink
by William H. Bathurst, 1831
O for a faith that will not shrink,
Though pressed by many a foe,
That will not tremble on the brink
Of any earthly woe,
That will not murmur nor complain
Beneath the chast'ning rod,
But in the hour of grief or pain
Will lean upon its God.
A faith that shines more bright and clear
When tempests rage without,
That, when in danger, knows no fear,
In darkness feels no doubt,
That bears unmoved the world's dread frown,
Nor heeds its scornful smile,
That seas of trouble cannot drown,
Nor Satan's arts beguile,
A faith that keeps the narrow way
Till life's last hour is fled
And with a pure and heav'nly ray
Lights up a dying bed.
Lord, give us such a faith as this,
And then, whate'er may come,
We'll taste e'en here the hallowed bliss
Of an eternal home.
Devotional Article of the Week: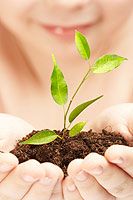 The Quiet Kingdom
Can you hear the Kingdom advancing?
by Rubel Shelly
… the unfading beauty of a gentle and quiet spirit, which is of great worth in God's sight. (1 Peter 3:4 NIV)
One of the more famous commercial tag lines of the late twentieth century was "The Quiet Company." Remember whose it was? It came to the company's National Advertising Director as he was returning home on a train. Richard Haggman coined the slogan for Northwestern Mutual Life.
Jesus could have used the same slogan, with only a slight alteration, to summarize a key fact about his own ministry. The four parables in Mark 4, for example, could be listed under the heading "The Quiet Kingdom." Each of them calls attention to the steady and gentle — though ever-so-productive — power of the kingdom of heaven at work on Planet Earth.
Our world likes noise, splash, and the tooting of horns — especially our own. We are inclined to favor show over substance and numbers over authenticity. It seems that we cannot get over the ancient temptation to build monuments and make a name for ourselves.
The kingdom of God is more often "The Quiet Kingdom." Its advances are typically without fanfare, as individuals hear, receive, and are redeemed by the almost imperceptible planting, nurturing, growth, and fruition of the gospel in one life after another.
God does more kingdom work through a mother loving and nurturing her children than he can possibly get done through an ego-driven preacher. A man who is faithful to his wife teaches his little girl more about her worth as a human being and does more to protect her against drugs and teen promiscuity than all the school or government programs ever designed to nurture self-esteem.
Somebody on a production line or in a top executive spot who maintains personal integrity day after day, a Sunday School teacher staying with that ministry through tight budgets and tighter room space, a teenager choosing not to follow his peers onto Internet porn sites, a frustrated church member who is fed up with the lack of faith the church's "leaders" demonstrate but stays and continues to pray for them, an alcoholic or sex addict who takes responsibility and begins a lifelong process of recovery — these quiet victories in the power of God are low-profiled and inconspicuous advances of the kingdom.
We have no right to be intrusive and loud in the name of Jesus. Gentleness, after all, is a fruit of the Spirit of God in human lives.