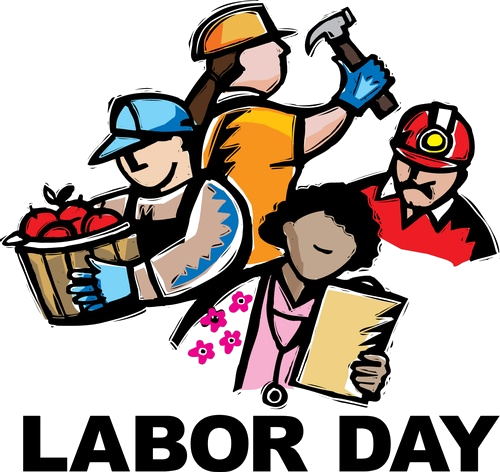 Monday, September 3, is Labor Day. For some Americans, it signals a three-day weekend. For others, It's just another work day. Whatever the case, the day is set aside to recognize the value that American workers bring to our quality of life.  This week's devotional prepares readers for the September 2 sermon, "Noble Work."
Daily Bible Reading
Monday, August 27.  Read John 4:34-38.  1) Where does Jesus say his "nourishment" comes from?  2) What value does doing his work bring?
Tuesday, August 28.  Read 1 Corinthians 15:58.  1) This one-verse text sits inside the longest explanation of the importance of the Resurrection in the New Testament.  2) What does Paul say we should do while we wait for the Lord?  3) What value does this have for the Christ-follower?
Wednesday, August 29.  Read 2 Thessalonians 3:11-13.  1) What does Paul have to say about idleness?  2) What is his instruction to idle people?  3) What should the goal of every disciple be?
Thursday, August 30.  Read Psalm 90:10-12,  1) What does the Psalmist say about the time that humans have?  2) What does he ask God to teach us?  3) How do you think this will affect the way we live?
Friday, August 31.  Read Ephesians 4:11-13.  1) What "gifts" did Christ give to his church and what is the purpose of these gifts?  2) What will the outcome of these gifts be?  3) Would you say you use your gifts for self or for the Christ's people?
Saturday, September 1.  Read 1 Thessalonians 4:9-12.  This is Sunday's sermon text.
Hymn of the Week:
Work, For the Night is Coming
by Annie L. Walker, 1854
Work, for the night is coming,
Work thro' the morning hours;
Work while the dew is sparkling,
Work 'mid springing flow'rs.
Work when the day grows brighter,
Under the glowing sun;
Work, for the night is coming,
When man's work is done.
Work for the night is coming,
Work thro' the sunny noon;
Fill brightest hours with labor–
Rest comes sure and soon.
Give every flying minute
Something to keep in store;
Work, for the night is coming,
When man works no more.
Work for the night is coming,
Under the sunset skies:
While their bright tints are glowing,
Work, for daylight flies.
Work till the last beam fadeth,
Fadeth to shine no more;
Work, while the night is dark'ning,
When man's work is o'er.
Prayer for the Week:
Creator God,
thank you for providing us
with the gift to share our talents.
Provide our community, our nation, our world
the fortitude to provide work for all
which is decent and fair.
Make us faithful stewards
of your creation
to enhance the human dignity
of our global family.
We ask this in the name of Jesus,
who lives and reigns
with you and the Holy Spirit
now and forever.
Amen
Devotional Article of the Week:
Giving Thanks for Work?
Have you ever thought as your job as your primary place of worship?
by Ron Rose
As we celebrate Labor Day, let's do something that may seem a little surprising: let's thank God for our work!
For generations, we have found it convenient, even reassuring, to make a distinction between the sacred and the secular. For many, the church campus is sacred and the workplace is secular. For most, the Bible is sacred and Michael Crichton's novels are secular. That's leaves "grace" and "thoughts to make your heart sing" stuck somewhere in the middle.
Most of us have extended this distinction to vocations, making the work of local preachers and pastors sacred and "Scott the chicken guy" and "Bob the Builder" secular. This attempt at creating two separate worlds is an extension of a worldview that values prayer, worship, Bible study, Sunday School, and evangelism as spiritual activities while viewing work, personal finances, politics, music, education, and sports as secular.
That is a misguided worldview. Just because a church or ministry issues your paycheck doesn't mean your work is more sacred than a mother raising God's children or a person working the register at Safeway. This is God's world and everything in it, especially when done to God's honor and to reflect God's character, is sacred. Everyone works for God, period. Honest, honorable work of any kind is sacred.
INSPIRATION
Tom began his company in Texas and it quickly developed a national presence. His character and competence meshed in a way that grew his reputation in the community and beyond. He was especially pleased to see how God was using his business to grow faith in both employees and customers.
Then a misguided pastor suggested, "Tom, have you ever considered really giving your life to God and working full-time in the kingdom?"
The pastor continued, "There is no doubt that God has used you in amazing ways. But the work you're in is secular; I think God has been preparing you for work on a higher level, a spiritual mission."
Eventually, Tom sold his business and accepted a position as administrative pastor in a local church. This was supposed to be a perfect arrangement. Now Tom could use his abilities for God in "full-time ministry."
It all sounded so right, but someone forgot to tell Tom's heart. Before long, Tom was wandering in a wilderness of depression. Something was missing, but how could that be? He was working for God.
That Thanksgiving, the whole family came to Tom's house to celebrate and feast. After the meal, Tom and his dad took a walk. Along the way, Dad asked, "Son, are you sure you're doing what God wants you to do? You don't seem to be having any fun. Do you enjoy what you are doing?"
Tom thought he had been hiding his anxiety, but his dad could see behind the mask. "Dad, I think God had me where he wanted me in my business. Do you think there is a difference between sacred work and secular work?"
"No! I think the real difference is between sacred and secular people. For believers nothing is secular. We all work for God, regardless of who signs the checks."
The God who made us says, "Whatever you do in word or deed do all in the name of the Lord" (Colossians 3:17 NKJV).
MOTIVATION
So, when you go to work, whatever your official job description is, you are working to bring out the best in people. Our task is not to gain power over others, but to empower them.
Go to work for others, not for yourself. When we have this kind of focus, God shows up. The workplace is the real world and it is sacred. Believe it!
And, new jobs give us fresh beginnings — new people to serve and empower, and an expanded impact on the world just beyond our new doorstep.
Give thanks to God for your work, it is an important and sacred part of your worship!
Work willingly at whatever you do, as though you were working for the Lord rather than for people (Colossians 3:23 NLT).So here's what I want you to do, God helping you: Take your everyday, ordinary life — your sleeping, eating, going-to-work, and walking-around life — and place it before God as an offering (Romans 12:1 MSG).