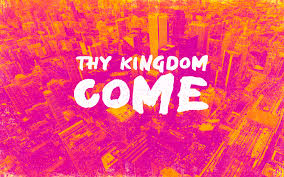 Daily Bible Readings:
Monday, September 24. Read Luke 2:41-52. 1) At age 12, where did Jesus' parents take him? And where did they find him after a search for their lost son? 2) What was Jesus doing when they finally found him? 3) What did Jesus say to them (v.49) about what he was doing? 4) How would you model that in your life?
Tuesday, September 25. Read Matthew 6:7-15. 1) How did Jesus advise that we pray? 2) After hallowing God's name, what is the first request of the Lord's Prayer? 3) How do you think that prayer is being answered today?
Wednesday, September 26. Read Matthew 4:12-20. 1) What does Matthew say was the content of Jesus' preaching? 2) What was happening that made Jesus' central statement true? 3) Where do you see evidence of this in your own life?
Thursday, September 27. Read Matthew 25:31-46. 1) What is happening in this text "when the Son of Man comes in his glory?" 2) What did the people on the right of the King do that received the King's blessing? 3) Similarly, what did those on the King's left do?
Friday, September 28. Read Romans 8:18-22. 1) What does Paul say the Creation is doing? 2) What is the Creation "looking forward to?" 3) What do you think this will look like?
Saturday. September 29. Read Matthew 4:12-20. This is Sunday's sermon text.
Prayer for the Week:
Dear Father, We hallow your name.  Everywhere we see evidence of your presence – in our relationships, in the creation, in deeds of kindness, and in the wonders of life.  We pray that we will see, more-and-more, evidence of your kingdom.  We pray for your good will to be done on the earth.  May righteousness, compassion, and love overwhelm the darkness, so that we will see what you have in store for us throughout eternity.  In Jesus' name I pray this. Amen.
Devotional Article for the Week:
Thy Kingdom Come: The Prayer that Changes the World
The Lord's Prayer can be rote and without thought or true petition of the heart, or it can become a divine force unleashing God's glorious blessing. One may pray "Thy kingdom come" without any regard for the intent of Jesus, or one may pray "Thy kingdom come" and the world itself begins to change. That is the power for daily living I am looking for. But how is "Thy kingdom come" a prayer that literally changes the world?
Pray then like this: "Our Father in heaven, hallowed be your name. Your kingdom come…" (Matthew 6:9-10).
Chasing Armadillos
When I was a boy, I chased armadillos. If you have never seen an armadillo, they look like a possum with a turtle shell. Well, actually, they just look like an armadillo and nothing else. Aunt Eva would ask, "If you were to catch that filthy thing, what would you do with it?"
Praying the Lord's Prayer can be like chasing an armadillo. We all believe that the Lord wants us to pray it, but what if you really understood what you were praying? And what would you do if God began to answer your prayer?
To pray "Your kingdom come" is to be involved in a gospel conspiracy to take over the world! It is a prayer that changes the make-up of the cosmos, beginning from your very heart and moving out in space and time to everything under creation. Are you really ready for that?
Here's something important to remember about the Kingdom of God.
The Kingdom of God Is the Realm of God's Power
The kingdom of God is the reign of God.
The word for kingdom is taken from basileia, the word for king, and simply means "the reign of the king." It means all of the territory of His realm.
The king is God; His territory includes the whole cosmos. But the question of the ages is this: Is your life part of the territory of the reign of this King? It is important to remember that the kingdom of God did not start with Jesus' appearance; it just made a giant leap forward. The kingdom of God has always been. God has always been on the throne.
"The Lord has established his throne in the heavens, and his kingdom rules over all" (Psalms 103:19).
Wherever God is, there is His rule and reign. If you will not submit to His rule and reign, the kingdom of God still exists. If you resist the Spirit of God who is moving upon your heart, the kingdom of God will still exist and the intent and purposes of God Almighty will go forward.
God ruled through creation. The heavens obeyed Him, even when man did not. The beasts of the earth, the winds and waves and the heavenly bodies obeyed Him.
God ruled through providence. God was working all things together for our good and especially preparing a people, to bring forth Messiah for the world.
The person who prays "Your kingdom come" is surrendering his will to the reign of God in his life.
This prayer changes the world through a conviction that God must be glorified in your heart and in the hearts of others.  
Hymn of the Week:
A Charge to Keep I Have
by Charles Wesley, 1762
A charge to keep I have,
A God to glorify,
A never-dying soul to save,
And fit it for the sky.
To serve the present age,
My calling to fulfill:
Oh, may it all my pow'rs engage
To do my Master's will!
Arm me with jealous care,
As in Thy sight to live;
And O Thy servant, Lord, prepare
A strict account to give!
Help me to watch and pray,
And on Thyself rely,
Assured, if I my trust betray,
I shall forever die.