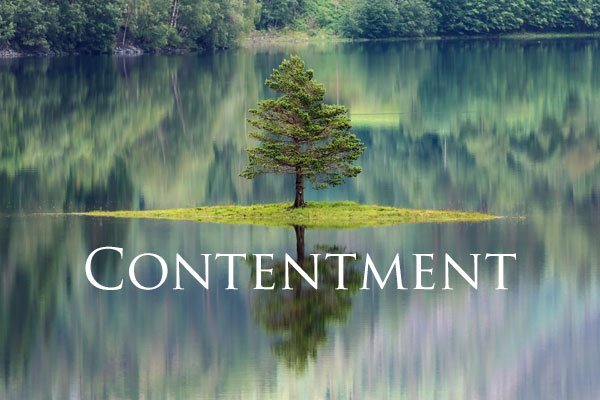 Daily Bible Readings:
Monday, October 1. Read Amos 3:3-6. 1) This is a cause-and-effect text. 2) Why do two people take a walk together? And why does a lion roar in a thicket? 3) Similarly, why does catastrophy come to a society? 4) What should one do to avoid catastrophe or to avoid any bad outcome?
Tuesday, Ocober 2. Read Matthew 6:19-23. 1) What does Jesus say about our human inclination to accumulate wealth? 2) What does he say we should do alternatively?
Wednesday, October 3. Read Matthew 6:24-34. 1) What is the effect of two strong attractions in one's life? 2) According to Jesus, what can we live from the plants and animals?
Thursday, October 4. Read Philippians 4:10-14. 1) What did Paul say about contentment? 2) How did Paul live his life, relative to his possessions?
Friday, October 5. Read 1 Timothy 6:6-8. 1) According to Paul, what is real contentment? 2) What is the fallacy of possesions and wealth?
Saturday, October 6. Read Ecclesiastes 4:4-6. This is Sunday's sermon text.
Prayer for the Week:
Oh Lord, You are my shepherd and I should not be in want,
but so often I struggle to be content and do want;
forgetting that you have graciously provided me with every spiritual blessing in Christ and everything I need for life and godliness.
Thank you for often not giving me what I want
because my desires would draw my heart from being satisfied in You.
Help me to be content in You with what You have given me
and to not be focused on what my flesh wants or the world tells me I should have.
And may I be humbled and changed by the ultimate example of contentment;
of Christ becoming poor in order that I could become rich,
and being content to go to the cross to fulfill the Father's will
to rescue a people for Himself who can be free from discontent and zealous for good works.
In Jesus' name I pray this. Amen.
Hymn of the Week:
It Is Well with My Soul
by Horatio G. Spafford, 1873
When peace, like a river, attendeth my way,
When sorrows like sea billows roll;
Whatever my lot, Thou hast taught me to say,
It is well, it is well with my soul.
Refrain:
It is well with my soul,
It is well, it is well with my soul.
Though Satan should buffet, though trials should come,
Let this blest assurance control,
That Christ hath regarded my helpless estate,
And hath shed His own blood for my soul.
My sin—oh, the bliss of this glorious thought!—
My sin, not in part but the whole,
Is nailed to the cross, and I bear it no more,
Praise the Lord, praise the Lord, O my soul!
For me, be it Christ, be it Christ hence to live:
If Jordan above me shall roll,
No pang shall be mine, for in death as in life
Thou wilt whisper Thy peace to my soul.
But, Lord, 'tis for Thee, for Thy coming we wait,
The sky, not the grave, is our goal;
Oh, trump of the angel! Oh, voice of the Lord!
Blessed hope, blessed rest of my soul!
And Lord, haste the day when the faith shall be sight,
The clouds be rolled back as a scroll;
The trump shall resound, and the Lord shall descend,
Even so, it is well with my soul.
Devotional Article of the Week:
They smiled in full color spread invitingly across two pages. Sophisticated people in high dollar clothing, draped over sleek salon-tanned-health-club bodies, lounging on imported furniture in front of a marble mantel. Her hand holds a glass of collector wine, his pats a quaffed and manicured dog. The stress of the office is far away. They are just hanging out. A picture of luxurious leisure. And — across the bottom, cleverly crafted words imply that if we just buy this or that, we will fit in the picture too!
But Wayne Muller invites us to look behind the picture. The subliminal voice behind this and all consumer ads says, "Until and unless you buy what we are selling, you will never be happy! … You are not enough. You do not have enough. You have not yet achieved the American Dream. … You are not happy!"
The pictures lie, of course. Most of us will never have all that stuff. And even if we do, "it comes into our cluttered houses, into our modest, hurried lives. We are too tired to wear it, drink it, and enjoy it. Now we have to work even harder to pay for something we did not need in the first place." We have gained nothing but another bill to pay. So our anxiety level goes up, and our "happiness quotient" goes further down.
Muller comments further, that we must "recognize our model of civilization is actually designed to produce suffering. If we simply work harder and longer and more efficiently to make it work better — without stopping to see what we have built — we will simply produce suffering more efficiently."
Sabbath however, "is a time to stop, to refrain from being seduced by our desires." Time to stop working. Stop spending. Look around. Listen to life. Be. Just hang out. Actually it's time to do what they do in the picture — without paying for it! Just stop. That is, after all, what is in the picture: people who have stopped. You cannot buy stopped. You simply have to stop. Sometimes God shows up in these still places when we… …nap part of the day …eat leftovers …play a game with the kids …walk …make love …read a good book …pray
The dissatisfaction melts away, and God comes near.
The designer of human-well-being did not intend these words as filler, to merely separate the covers of the Bible: …"be still and know that I am God." …"remember the Sabbath…" …"those who wait upon the Lord will renew their strength, they will mount up on wings like eagles. They will run and not grow weary, they will walk and not faint."
Oh God. This fresh morning, please still my heart so that I might know yours.
---
by Lynn Anderson, San Antonio, Texas