This devotional prepares for the September 9 sermon, What's the Good News?  This is the first of a four-lesson series that takes a hard look at what the Good News is and whether what we as Christians peddle to the world is actually that.   Read this week's devotional to be prepared.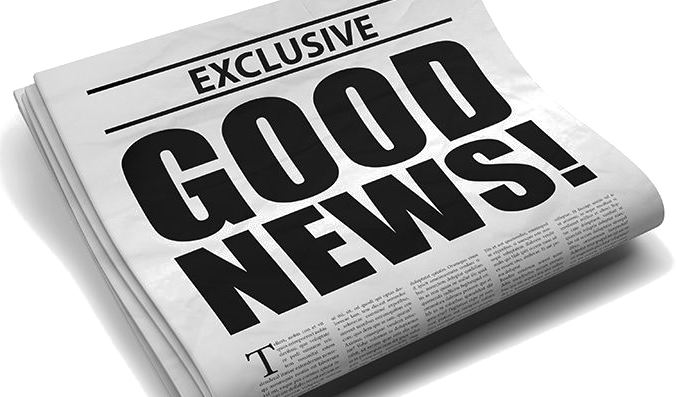 Daily Bible Readings:
Monday, September 3.  Read Mark 1:9-15.  1) This passage is about the opening of Jesus' ministry.  What happened to him in the early stages of his ministry?  2) What was the theme of Jesus' teaching?  3) What do you think he was saying had happened that constituted the good news?
Tuesday, September 4.  Read 1 Corinthians 2:7-9.  1) What was the mystery of God?  2) How does Paul say the "rulers of this world" would have reacted if they knew what was about to happen with Christ?
Wednesday, September 5.  Read Galatians 1:6-16.  1) What had shocked Paul?  2) What do you think the "fake good news" was that the Galatians had adopted.  3) On what basis do you think the real Good News differed from the fake good news?  4) What is the application to your life?
Thursday, September 6.  Read 1 Timothy 1:12-16.  1) What did Paul used to do, and how did Christ change him?  2) What did Paul say was a "trustworthy" saying?  3) Why is that good news?
Friday, September 7.  Read 1 Peter 1:8-12.  1) What does Peter say the prophets what to know more about?  2) Why do you think that would have been good news to those prophets?  3) How is it good news to you today?
Saturday, September 8.  Read 1 Corinthians 2:7-9; 15:3-8.  This is the text for Sunday's sermon.
Prayer for the Week:
Dear Father, hallowed is your name above all other names and all other gods.  Thank you for your wisdom and deep love that led to the conquering of sin and death through the giving of Jesus' life on our behalf.  Thank you for entering into our meager lives in order to show us how to live in the midst of great darkness.  Please help us to recognize and grasp the Good News you have given to us.  In Jesus' name we pray this.  Amen.
Hymn of the Week:
Awake and Sing the Song
by William Hammond, 1745
Awake and sing the song
Of Moses and the Lamb;
Tune ev'ry heart and ev'ry tongue
To praise the Savior's name.
Sing of His dying love,
Sing of His rising pow'r;
Sing how He intercedes above
For those whose sins He bore.
Come, children of His grace,
Do not refuse to sing,
But summon all your pow'rs to praise
Your Savior and your King.
Look back and see the state
Wherein your nature lay
Then wonder at His love so great
Who did your ransom pay.
May Jesus' Word take place
And wisdom is us dwell
That we His miracles of grace
In psalms and hymns may tell.
Tell in angelic strains
What Christ has done for you,
How He has taken off your chains
And formed your hearts anew.
Leave earthly joys below
To those of worldly taste;
Think, speak, and sing of nothing now
But Christ, the first and last.
Sing, for you hear Christ say,
"Your sins are all forgiv'n,"
Go forth, rejoicing all the way,
And singing enter heav'n.
Devotional Article of the Week:
Good News Gospel
Good news is something you get to do.
by Steve Ridgell
Good news: kids under twelve eat free. When I see offers like that, it really doesn't excite me. I think it is more like interesting news. My children are grown, so unless the offer is about old folks eating free, I do not get too excited. Good news is something that I can participate in; interesting news is what other people participate in. The Bible talks about good news. If you believe it, it is the best news ever. If not, it is something interesting to talk about. That good news is gospel.
Christians like that word. It is also a word used in our culture to mean something that is absolutely real and true. But in the Bible it is used to mean good news. Preaching the gospel is preaching good news. Gospel truth is good news truth. Believing the gospel is believing good news. The apostle Paul wrote in the Bible that the good news is what he preached and what is most important. Good news is what saves us. So what is this "good news"?
Paul explains that the good news is that Jesus died for our sins, was buried, and was raised on the third day. Jesus died to pay for my sins, my offenses against God. All the things I did that I should not have done. All the things I should have done and did not. The things that keep me from a holy God have been paid for by God's own son. Not only that, but he came back to life. Jesus, God's son, paid for my sins by his death on the cross and God brought him to life again. That is good news. That is great news.
This good news is not just something for me to intellectually acknowledge, but something I get to participate in. In another one of the books in the Bible, Paul reminds us that our baptism was sharing in the death and burial of Jesus. And just as he was raised from the dead, we are raised to a new life. Because we shared in his death, we will share in his resurrection. I can live with a holy God forever. I am living good news. I was crucified with Christ and the old me died. Now I live for Jesus and someday I will be raised from the dead to live in God's presence forever.
Living good news. That is what we Christians are. If you want good news in your life, if you want to be living good news … I can help you. I can connect you with friends who will assist you in sharing in the death and resurrection of Jesus. Together. Forever.