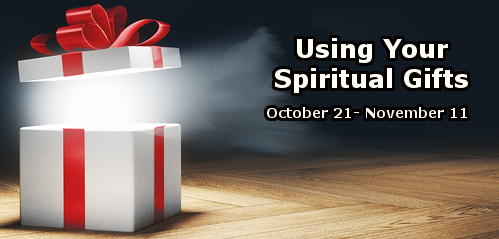 ---
This week's devotional prepares for the October 28 sermon, "Living Sacrifices."  The text for the sermon is Romans 12:1-2 and is the third in a four-lesson series on Spiritual Gifts.
Daily Bible Reading:
Monday, October 22. Read Romans 11:33-12:1. 1) Where does everything have its source, and what is its purpose? 2) What does this call for in terms of how we live today? 3) What does that call for, and how is it difficult?
Tuesday, October 23. Read Philippians 2:6,7. 1) What did Jesus do that was extraordinary? 2) What does it look like to live in that way today?
Wednesday, October 24. Read Matthew 20:24-28. 1) What did James and John ask Jesus? 2) How did James and John miss the point, and is it possible to do that today? How?
Thursday, October 25. Read Matthew 6:7,8. 1) What is Paul's advice about wordy prayers? 2) What is the cause of wordy prayers? 3) What tempts you to offer wordy prayers?
Friday, October 26. Read 1 Corinthians 3:18-19. 1) According to Paul, is it possible to lie to one's self? 2) If so, what do you think the cause of this is. 3) What is Paul's paradoxical advice?
Saturday, October 27. Read Romans 12:1-2. This is Sunday's sermon text.
Hymn for the Week:
There is a Sea
by Lula Klingman Zahn, 1965
There is a sea which day by day
Receives the rippling rills
And streams that spring from wells of God
Or fall from cedared hills
But what it thus receives it gives
With glad unspar ing hand
A stream more wide, with deeper tide
Flows on to lower land
There is a sea which day by day
Receives a fuller tide
But all its store it keeps, nor gives
To shore nor sea beside
It's Jordan stream, now turned to brine
Lies heavy as mol ten lead
It's dreadful name doth e'er proclaim
That sea is waste and dead
Which shall it be for you and me
Who God's good gifts obtain?
Shall we accept for self alone
Or take to give again?
For He who once was rich indeed
Laid all His glo ry down
That by His grace, our ransomed race
Should share His wealth and crown
Prayer for the Week:
Devotion Article for the Week:
The Wise Men
Imitating the magi in 2018
by Tim Archer
So Christmas has come and gone. Or has it? The 12 days of Christmas don't end on December 25. They begin either on the 25th or 26th, depending on which region of the world you are in, and run right through Epiphany.
My wife grew up in Argentina, where Epiphany is celebrated as the Day of the Magi Kings. Preparations are made the night before. Children leave out a pair of shoes, along with grass and water for the kings' camels. They awaken the next day to find the grass and water scattered; in their place are presents which have been carefully left by each child's shoes. This day was always much bigger than Christmas, though that has changed somewhat in recent years.
These traditions have their basis in the story of the wise men from the east, as told in the gospel of Matthew:
After Jesus was born in Bethlehem in Judea, during the time of King Herod, Magi from the east came to Jerusalem and asked, "Where is the one who has been born king of the Jews? We saw his star in the east and have come to worship him"(Matthew 2:1-2).
These men came to find the child, Jesus, who was living in a house there in Bethlehem. When they found him, they worshiped him and presented him with gifts:
After they had heard the king, they went on their way, and the star they had seen in the east went ahead of them until it stopped over the place where the child was. When they saw the star, they were overjoyed. On coming to the house, they saw the child with his mother Mary, and they bowed down and worshiped him. Then they opened their treasures and presented him with gifts of gold and of incense and of myrrh"(Matthew 2:9-11).
Modern society has turned this event. Instead of giving gifts to Jesus, we give them to one another. Instead of looking for a king to worship, we focus our attention on one another.
This year, may I suggest that you follow the example of these men from the east? Rather than choosing one day out of the year to accumulate more presents, why don't you dedicate all of 2015 to the Christ child? Like the wise men, you should:
Seek him: Don't let Jesus merely be part of ancient history; make him a part of your life.
Learn about him: Study the Bible, especially the gospels, to learn about Jesus and what he did for you.
Worship him: Recognize that Jesus isn't just a great moral teacher; he is Lord and Savior.
Give to him: Give him the one gift that only you can give — yourself!
That's the best way to commemorate what was done all those years ago.