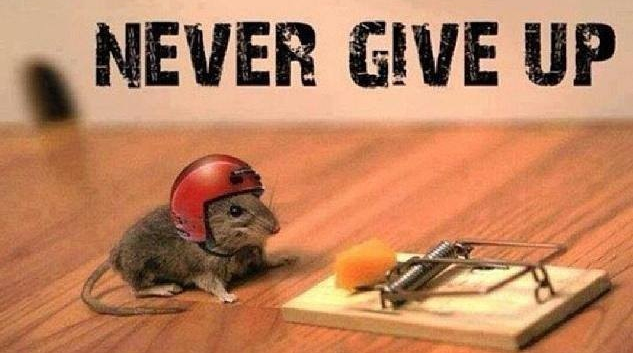 ---
November 18 is the next-to-the-last Sunday in the 2017-2018 liturgical year.  This Sunday we will be taking a look at the exhortation of the writer of Hebrews to persevere in the practice of their faith.  Read this week's devotional to prepare for the sermon, "Don't give up!"
Daily Bible Readings:
Monday, November 12. Read Leviticus 16:29-34. 1) What was Israel told to do on the seventh month of the year? 2) What was the day called? 3) What was the High Priest's responsibility on this day? 4) How often did he do this every year?
Tuesday, November 13. Read Matthew 27:50-51. 1) What event is this describing? 2) What happened in the Temple? 3) What do you think that event was symbolic of?
Wednesday, November 14. Read 1 Timothy 1:6-7. 1) What did Paul tell Timothy to do in this passage? 2) Why do you think that was necessary? 3) What is God's opinion about this?
Thursday, November 15. Read James 1:5-8. 1) How did James say we should ask God for wisdom? 2) What is doubt like? 3) What do you think the people in Hebrews could learn from James?
Friday, November 16. Read Hebrews 4:14-16. 1) Why should we be confident? 2) How should that affect the way we "approach the throne of grace"?
Saturday, November 17. Read Hebrews 10:19-25. This is Sunday's sermon text.
Prayer of the Week:
Dear Father, we bless and thank You for the blessing of a new day and for the fresh opportunities and challenges that this day will bring. Thank You that You mercies are new every morning, and I pray that I will walk worthy of You today and be a faithful witness in everything I do.
Keep me ever-focussed on you Lord and help me to trust you for grace and supply of what is needed to live as a follower. Help me not to rely on my own strength, but in the power of your Spirit. May I stand firm in the truth of the gospel of grace and remain steadfastly looking to Jesus – trusting in Him to supply His sufficient strength for all occasions. 
Teach me all that You would have me to learn today and give me the courage and strength to press on toward the goal for the upward call in Christ Jesus.  In Jesus name I pray this,  Amen.
Hymn of the Week:
Rise up, O men of God!
by William P. Merrill, 1911
Rise up, O men of God!
Have done with lesser things;
Give heart and soul and mind and strength
To serve the King of kings.
Rise up, O men of God!
His kingdom tarries long;
Bring in the day of brotherhood,
And end the night of wrong.
Rise up, O men of God!
The Church for you doth wait,
Her strength unequal to her task;
Rise up and make her great.
Lift high the cross of Christ;
Tread where His feet have trod;
As brothers of the Son of man,
Rise up, O men of God!
Devotional Article of the Week:
Real Perseverance
Do we even know what it means to truly persevere?
by Mike Barres
When many of us think of perseverance, we think of things like saying "Praise the Lord anyway!" when we are having a bad day. Some of us might think about the need to persevere when people make fun of us for being a Christian. Recently, however, I read an email about "real perseverance." This email was from Voice of the Martyrs (www.persecution.com). This is what it said.
A Sudanese Christian boy has his knees and feet nailed to a board and he is left to die. When rescued he says he forgives the man who did this because Jesus was also nailed and forgave him. A Vietnamese pastor is sentenced to two years in prison. When he is offered an early release, he declines stating that he has a group of new Believers in the prison he has to disciple. A Colombian missionary is kidnapped and told she only has two hours to live. She tells her captors that if she only has two hours to live, she wants to spend it telling them about Jesus.
When I compare myself to these people, I don't really know much about perseverance.
Reading recently, I came across a challenging verse:
Therefore do not be ashamed of the testimony of our Lord, nor of me His prisoner, but share with me in the sufferings for the gospel according to the power of God (2 Timothy 1:8 NKJV).
To many of us that sounds almost contradictory. If we are suffering, we might think that God is not paying attention in our time of need. This verse, however, describes suffering "according to the power of God."
In a Bible study we are doing at our church, we focused recently upon a verse Paul sent to the believers in Colossae:
I now rejoice in my sufferings for you,
 and fill up in my flesh what is lacking in the afflictions of Christ, for the sake of His body, which is the church (Colossians 1:24).
Talk about perseverance! Paul was able to rejoice in sufferings.
Some of us are already persevering through sufferings. Others of us need to ask the Lord to help us develop this for the tough times that may be ahead. All of us should pray for our brothers and sisters who are persevering through severe trials and persecutions for the Lord.