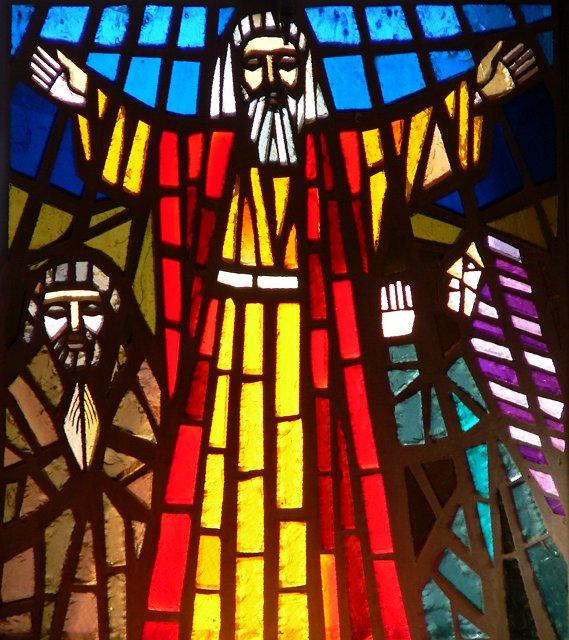 ---
Daily Bible Reading:
Monday, November 19. Read Philippians 2:6-8. 1) What was so extraordinary about Jesus' birth and life in Israel? 2) In what way was Jesus a martyr?
Tuesday, November 20. Read 1 Corinthians 2:6-8. 1) What is the nature of God's wisdom? 2) What did the "rulers of the world" know about what God was doing?
Wednesday, November 21. Read Hebrews 1:5-13. 1) In this text the Hebrews writer tells his reader why Jesus is superior to angels. 2) What are some of the things he says about Jesus in comparison to the angels?
Thursday, November 22. Read Revelation 14:1-8. 1) Who is the Lamb in the Revelation? 2) What position does the Lamb occupy? 3) Who do you think Babylon is, and what has happened to it?
Friday, November 23. Read Habakkuk 3:1-3, 178-19. 1) Habakkuk wrote in a time of upheaval, political and atmospheric. What might such upheaval cause one to feel? 2) What was Habakkuk's reaction to it (vss. 18,19)? 3) How do you think Christians should respond today to the upheaval we see in the world?
Saturday, November 24. Read Revelation 1:4-8. This is Sunday's sermon text.
Prayer of the Week:
Holy One, enthroned in glory over all creation, you are a shepherd to the lost and the least. Teach us to see your face among the poor—feeding the hungry, giving drink to the thirsty, welcoming the stranger, clothing the naked, and visiting those who are sick or in prison—so that we may share in your eternal realm prepared from the foundation of the world; through Jesus Christ, who is coming indeed, to reign with justice, compassion, and love. We pray this in your name. Amen.
Hymn of the Week:
Awake and Sing the Song
by William Hammond, 1745
Awake and sing the song
Of Moses and the Lamb;
Tune ev'ry heart and ev'ry tongue
To praise the Savior's name.
Sing of His dying love,
Sing of His rising pow'r;
Sing how He intercedes above
For those whose sins He bore.
Come, children of His grace,
Do not refuse to sing,
But summon all your pow'rs to praise
Your Savior and your King.
Look back and see the state
Wherein your nature lay
Then wonder at His love so great
Who did your ransom pay.
May Jesus' Word take place
And wisdom is us dwell
That we His miracles of grace
In psalms and hymns may tell.
Tell in angelic strains
What Christ has done for you,
How He has taken off your chains
And formed your hearts anew.
Leave earthly joys below
To those of worldly taste;
Think, speak, and sing of nothing now
But Christ, the first and last.
Sing, for you hear Christ say,
"Your sins are all forgiv'n,"
Go forth, rejoicing all the way,
And singing enter heav'n.
Devotional Article of the Week:
Christ the King
Christ the King
by Charles Spurgeon
Christ's reign in his Church is that of a shepherd-king. He has supremacy, but it is the superiority of a wise and tender shepherd over his needy and loving flock; he commands and receives obedience, but it is the willing obedience of the well-cared-for sheep, rendered joyfully to their beloved Shepherd, whose voice they know so well. He rules by the force of love and the energy of goodness.
His reign is practical in its character. It is said, "He shall stand and feed." The great Head of the Church is actively engaged in providing for his people. He does not sit down upon the throne in empty state, or hold a sceptre without wielding it in government. No, he stands and feeds. The expression "feed," in the original, is like an analogous one in the Greek, which means to shepherdize, to do everything expected of a shepherd: to guide, to watch, to preserve, to restore, to tend, as well as to feed.
His reign is continual in its duration. It is said, "He shall stand and feed"; not "He shall feed now and then, and leave his position"; not, "He shall one day grant a revival, and then next day leave his Church to barrenness." His eyes never slumber, and his hands never rest; his heart never ceases to beat with love, and his shoulders are never weary of carrying his people's burdens.
His reign is effectually powerful in its action; "He shall feed in the strength of Jehovah." Wherever Christ is, there is God; and whatever Christ does is the act of the Most High. Oh! it is a joyful truth to consider that he who stands to-day representing the interests of his people is very God of very God, to whom every knee shall bow. Happy are we who belong to such a shepherd, whose humanity communes with us, and whose divinity protects us. Let us worship and bow down before him as the people of his pasture.