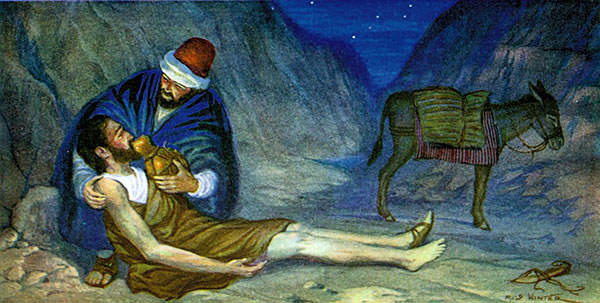 ---
Daily Bible Readings:
Monday, February 18. Read What did God say the responsibility of the Jews to aliens was? What do you think that would look like in our time?
Tuesday, February 19. Read Luke 17:11-19; John 4:7-9. Stereotypes don't work. In these two texts people behaved in uncommon ways. What was that, and what are its implications for us?
Wednesday, February 20. Read Proverbs 14:21; Hosea 6:6; Micah 6:8. What do these texts tell you about the concerns of God? What is God asking for you and me to do, in practical terms?
Thursday, February 21. Read Matthew 23:23-24. What was the focus of the "scribes and Pharisees?" How could you be guilty of the same thing today?
Friday, February 22. Read 1 John 3:16-17. How does love manifest itself? What does John say about someone who refuses to help a "brother or sister?"
Saturday, February 23. Read Luke 10:25-37. This is Sunday's sermon text.
Devotional Article of the Week
And who is my neighbor?
by Mike Cope
"And who is my neighbor?" a legal attorney wanted to know. An innocent enough question. A simple quest for clarification. Jesus had just told him that the focus of God's word is on loving God with all our heart, soul, strength, and mind and on loving our neighbor as ourselves.
But the question isn't as eager and innocent as it first might seem. For the desire to define "neighbor" is an attempt to limit it. Presumably, the expert in the law wanted a response something like this (according to Frederick Buechner):
A neighbor (hereinafter referred to as the party of the first part) to be construed as meaning a person of Jewish descent whose legal residence is within a radius of no more than three statute miles from one's own legal residence unless there is another person of Jewish descent (hereinafter to be referred to as the party of the second part) living closer to the party of the first part than one is oneself, in which case the party of the second part is to be construed as neighbor to the party of the first part and one is oneself relieved of all responsibility of any sort or kind whatsoever.
What is the scope of "neighbor"? How far do my responsibilities extend? And when do they end? These are the questions he was subtly asking.
But Jesus refuses even to answer his question. He knows that the lawyer's quiz implies limits to compassion. It hints at a line that may be drawn with God's approval to distinguish between those who deserve my mercy and those who don't.
Jesus is interested not in Who is my neighbor? but in the question When am I a true neighbor? He knows that the moment you start stapling exceptions to the second great commandment you aren't much interested in obeying it. The reason? Love is the spontaneous overflow of a heart that forgets itself when it sees human need. It is the gracious response of a person who has already experienced the forgiveness and compassion of God through Jesus Christ.
Rather than define the borders of "neighborliness," Jesus told a story. The story has lost a bit of its zip because we've spoiled some of its surprise by calling it "The Parable of the Good Samaritan." We give the punch line before the set-up! Those who listened to Jesus likely weren't expecting a scum-eating, half-breed Samaritan to be the model of godly action. And yet, he is the only one who offers true compassion. He doesn't just love with his head, analyzing the tragedy before him; nor does he love with his heart alone, weeping over the plight of the poor traveler. He shows God's true compassion. And what did his compassion look like? It was:
Unrestricted. After all, what less likely candidate was there for a Samaritan to help? He didn't interview the man to make sure he was worthy of help. He didn't question the man's judgment in traveling on that road.
Translated into action. Fortunately for the man who'd been beaten, the Samaritan didn't just pray for him and promise to call 911. He rolled up his sleeves, pulled out his wallet, and helped.
Costly. "Look after him, and when I return, I will reimburse you for any extra expense you may have," he told the motel manager. It's a story that takes on a whole new life in these in-your-face, Rush-is-right, none-of-this-victimization-crap days. It isn't driven by political rhetoric from the left or the right. Rather, it is the heart of God—a God who is often described in scripture as "full of compassion."
The story of the Good Samaritan is ultimately the story of Jesus Christ whose compassion was poured out on all those around him: on untouchable lepers, on the hungry and poor, on the half-blind disciples, even on the straight-as-an-arrow religious leaders. His compassion didn't limit "neighbor" by color, gender, income, health, or moral history. His compassion didn't just pity. Nor did it endorse sinfulness or foolish choices.
Compassion is a learned behavior that comes from setting our compasses on Jesus Christ. It is a way of looking at faces, seeing both the many destructive forces that have worked on them and the ever-present love of God that has pursued them. It is a way of remembering—that everyone we encounter is made in God's image. It is a way of confessing—that our salvation is a gift of God and not a well-earned perk.
But if we don't define neighbor, then how will we know whom we're to show compassion to? By glancing in the ditches once in a while. That's what the Samaritan did. And Jesus response echoes centuries later: "Go and do likewise
Hymn of the Week:
Where Charity and Love Prevail
Omar Westendorf, 1961
With grateful joy and holy fear
God's charity we learn;
Let us with heart and mind and soul
now love God in return.
Where charity and love prevail,
there God is ever found;
Brought here together by Christ's love,
by love are we thus bound.
Forgive we now each other's faults
as we our faults confess;
And let us love each other well
in Christian holiness.
Let strife among us be unknown,
let all contention cease;
Be God's the glory that we seek,
be ours God's holy peace.
Let us recall that in our midst
dwells God's begotten Son;
As members of his body joined,
we are in Christ made one.
No race or creed can love exclude,
if honored be God's name;
Our family embraces all
whose Father is the same.
Prayer of the Week:
Oh Lord, our Father,
In a world turn apart by fear and suspicion,
Teach us your children that Love is the only means to conquer fear:
The Love we encounter as we search you out,
The Love we encounter as we accept your embrace.
Oh Lord, the Son,
In a world full of anger and frustration,
Teach us, your servants, your friends, your sisters and your brothers,
To overturn the tables and tear down the fences
Which turn away the hungry and homeless:
To feed and house the disciple that knocks on our door
In the guise of the stranger,
And to find the Love we seek in loving others.
Oh Lord, the Holy Spirit,
Mother of Wisdom,
Teach us, your children, to be caring of one another,
To protect one another,
As you gather the nations under the feathers of your wings.
Help us to know peace that steals gently in through quiet acts of kindness.
We pray in Jesus' name. Amen