Since Matt Wolf will be visiting LifeSpring on May 5 with an interest in joining us in our work, it seems appropriate to read some passages about the life of a church as presented in the Letters of the New Testament.  All portions of this week's devotional are instructive about the kind of vigilence needed in church.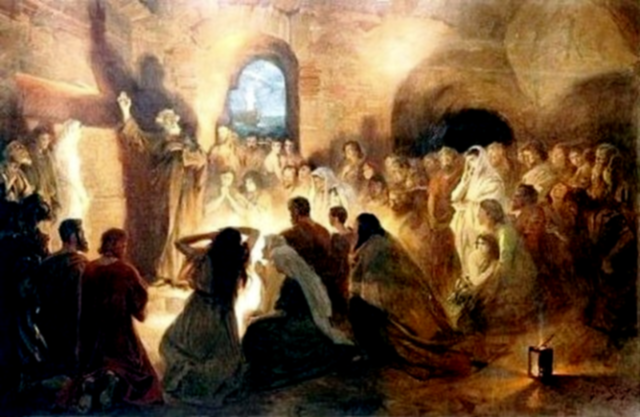 ---
Daily Bible Readings:
Monday, April 29. Read 1 Timothy 3:1-5. 1) This sermon is Paul's instruction to Timothy about the sort of people that should be called "elder" in the church. 2) Why do you think Paul gives this list of qualities to Timothy? 3) How would this set of qualities assist and elder in being a good leader?
Tuesday, April 30. Read 1 Timothy 4:1-5. 1) What does Paul warn about in the "last days"? 2) What do these people do that is false?
Wednesday, May 1. Read 1 Timothy 4:7-13. 1) Why is arguing a waste of time? 2) Where should a Christian focus her/his time?
Thursday, May 2. Read 1 Timothy 6:2b-5. 1) What does Paul tell Timothy to teach? 2) What value does this teaching have?
Friday, May 3. Read 2 Timothy 2:15-18. 1) What work assists a disciple in being a good disciple? 2) what behavior is counter-productive and destructive?
Saturday, May 4. Read Psalm 6. This is Matt Wolf's sermon text.
Prayer for the Week:
Dear Heavenly Father, We thank you for the LifeSpring family and for the ways that we experience your love within this family. For the insights we gain about the nature of your kingdom and its reign in the world. We pray that, as your church, we will be wise, compassionate, loving, and submissive to your will. Help us to protect LifeSpring from every threat and may we be the kind of people you want us to be. In Jesus' name we pray this. Amen.
Devotional Article of the Week:
When a Church Stops Being a Church
When does Jesus close a church's doors?
by Tim Archer
In the New Testament, we read about a church that was very hard-working and careful to defend all the correct teachings. They were quick to expose those that tried to teach mistruths. They had maintained their faith during difficult times. They had done all of these things … yet Jesus told them that if they didn't change, they could no longer be counted as one of his churches!
Jesus said this to the church in Ephesus: "Yet I hold this against you: You have forsaken your first love" (Revelation 2:4). Just as married couples can lose the romance from their relationship, churches can lose their love. They begin to focus on ritual perfection and doctrinal hairsplitting, and they forget their reason for existence. They lose their first love. Instead of being an organism, Christ's body, they become an organization. Rules, regulations, and rituals replace relationships. What gets lost along the way is the loving spirit Christians should have.
Jesus rejects empty rules and hollow rituals. That's not how he envisioned the church, nor what he will allow his churches to be. The church must be a community of love, characterized by a fervent love of God and of fellow man. It is to be an accepting place, not accepting intentional error, but accepting imperfect people.
If you haven't found the church to be this way, don't give up! There are churches out there who remember their first love and continue to live it. There are Christians who work every day at becoming more like Jesus.
If you are a Christian but have forgotten what you are supposed to be about, it's not too late. Jesus said to these Christians in Revelation 2: "Repent and do the things you did at first" (Revelation 2:5). We can go back to our first love, living out that love in our daily lives. We can replace empty ritual with a fulfilling life of love. We can return to being the body of Christ.
The church is an organism, not an organization. It is fueled by love, following the God that is love. We must never forget.
Hymn of the Week:
The church's one foundation
by S. J. Stone, 1866
The church's one foundation
is Jesus Christ, her Lord;
she is his new creation
by water and the Word:
from heav'n he came and sought her
to be his holy bride;
with his own blood he bought her,
and for her life he died.
Elect from ev'ry nation,
yet one o'er all the earth,
her charter of salvation
one Lord, one faith, one birth;
one holy name she blesses,
partakes one holy food,
and to one hope she presses,
with ev'ry grace endued.
Though with a scornful wonder
men see her sore oppressed,
by schisms rent asunder,
by heresies distressed,
yet saints their watch are keeping,
their cry goes up, "How long?"
And soon the night of weeping
shall be the morn of song.
'Mid toil and tribulation,
and tumult of her war,
she waits the consummation
of peace forevermore;
till with the vision glorious
her longing eyes are blest,
and the great church victorious
shall be the church at rest.