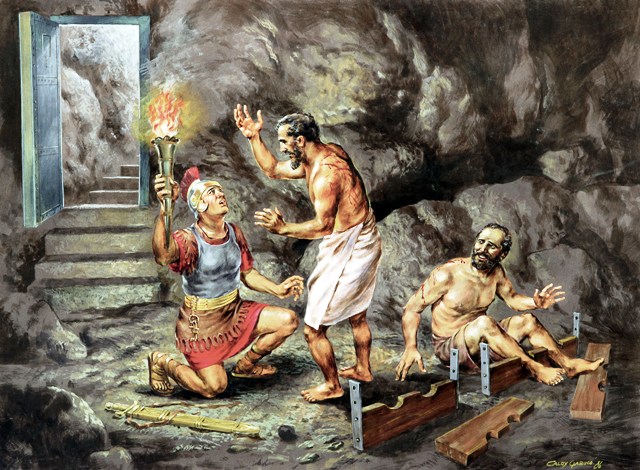 ---
Daily Bible Readings:
Monday, May 27. Read Matthew 6:2,5,16. 1) What are the three practices mentioned in these texts? 2) What is the big human temptation in each case? 3) What outcome can one expect if this human inclination is followed?
Tuesday, May 28. Read Philippians 1:3-6. 1) This letter was written after Paul's visit to Philippi. What did he have to say about that church? 2) What connection did Paul feel in regard to this church? 3) What did Paul say about God's involvement with this church?
Wednesday, May 29. Read James 2:5-7. 1) Who did James say that God favors? 2) Why do you think this is true? 3) According to James, what do the rich do with respect to followers of Jesus? 4) How might this be pertinent to the sermon text for this week?
Thursday, May 30. Read Hebrews 11:32-40. 1) What trials have people of great faith suffered throughout history? 2) What was the outcome of their suffering? 3) How does this pertain to our sermon text?
Friday, May 31. Read 2 Corinthians 11:21b-27. 1) What did Paul say had happened to him? 2)This text does not say anything about this question. However, how do you think that Paul responded through his sufferings?
Saturday, June 1. Read Acts 16:16-34. This is Sunday's sermon text.
Prayer for the Week:
Father of slaves and women and lost jailers.  Please help us to be attentive to the people around us.  To see the things that hold them hostage.  To remain ready to enter their lives and offer our service in the ways needed by them.  May we not be like the slave owners who exploit others for what they can do for us.  Give is the Spirit of your Son, Jesus.  Through whom we pray this  Amen.
Hymn of the Week:
Where cross the crowded ways of life
by Frank Mason North, 1905
Where cross the crowded ways of life,
where sound the cries of race and clan,
above the noise of selfish strife,
we hear your voice, O Son of Man.
In haunts of wretchedness and need,
on shadowed thresholds fraught with fears,
from paths where hide the lures of greed,
we catch the vision of your tears.
From tender childhood's helplessness,
from human grief and burdened toil,
from famished souls, from sorrow's stress,
your heart has never known recoil.
The cup of water given for you
still holds the freshness of your grace;
yet long these multitudes to view
the sweet compassion of your face.
O Master, from the mountainside,
make haste to heal these hearts of pain;
among these restless throngs abide;
O tread the city's streets again;
Till all the world shall learn your love,
and follow where your feet have trod;
till glorious from your heaven above
shall come the city of our God.
Devotional Article of the Week:
Who Sings When They Are in Jail?
Who prays in jail and then does not leave when the doors come open?
by Steve Ridgell
It is one of those stories we know so well that we do not even have to think about it very much in order to teach or preach on it. The story of the Philippian jailer is that familiar. Paul and Silas were in jail, an earthquake happened, they did not escape, and the jailer ended up finding salvation.
But when I really think about this story, there are two things that always surprise me. It just is not the way I expect the story to go. And there are two things that seem natural developments that I am not sure are all that natural to us today.
I am always somewhat surprised when I think about Paul and Silas worshipping in jail. Singing and praying. Were they praying for deliverance? If so, they sure missed their opportunity. Were they singing songs of lament? I don't think so. There was something about what they were doing that was compelling to the other prisoners. I wonder if they were singing songs of praise.
Praising God in the midst of the storm as it were. Realizing they were forgiven by God's grace and choosing to express that by the way they lived. Even in prison. Loving God with everything they had no matter what. Maybe praying for strength and courage. Maybe praying for the other prisoners. Or even praying for their jailers.
They did not leave the jail when they had the opportunity. Is it possible they were thinking about what the consequences would be for the jailer? Did they decide to do what was best for him? Were they loving him as they would love themselves? Is this what believers are expected to do? Love God and love the people in your world, even if that world is a cell?
The prison warden was so convicted by their lives and actions that he immediately wanted to know what to do to be saved. Is that not the reaction we all want from the people that come to know us? They will see our lives of worship, receive our gifts of service, and want to know the reason for our hope. We should expect it to happen.
So Paul and Silas shared Jesus with their jailer and those around him. They shared the word of the Lord and baptized them. Then all joined together in a meal of celebration. We too must be ready to share Jesus when the opportunity arises. Take advantage of opportunities to share our faith.
Live, serve, speak. All in the name of Jesus.
And the kingdom will grow.