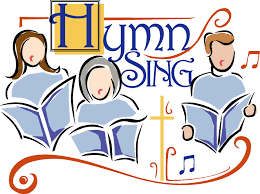 ---
Daily Bible Readings:
Monday, October 7. Read Psalm 95:1-7 1) What does the Psalmist tell the people to do? 2) What do people say when they do this? 3) Why should they do this? 4) How do you think people who do this are affected?
Tuesday, October 8. Read Exodus 15:1-10, 1) What is the occasion of this song? 2) Who is singing it? 3) Who is the object of the song?
Wednesday, October 9. Read Philippians 2:5-11. 1) In order to speak of the attitude that Jesus had, Paul resorts to what is believed to be a song the early church sang. 2) Name five things that Paul says about Jesus? 3) What effect should this have on the singer?
Thursday, October 10. Read Luke 1:68-79. 1) What is the occasion of this song? 2) Who sang it, and what did he say about God? 3) What kind of pronouns is used in this song?
Friday, October 11. Read Luke 1:46-55. 1) Who sings this song, and what is the song's context? 2) What is the attitude of the singer about herself? 3) Why might this song be intimidating to some people?
Saturday, October 12. Read Ephesians 5:15-20; Colossians 3:16-17; Hebrews 13:13-16. This is Sunday's sermon text.
Hymn of the Week
The Doxology
by Isaac Watts, 1719
Before Jehovah's awful throne,
ye nations, bow with sacred joy;
know that the Lord is God alone:
he can create, and he destroy.
His sovereign power, without our aid,
made us of clay, and formed us then;
and, when like wandering sheep we strayed,
he brought us to his fold again.
We'll crowd thy gates with thankful songs,
high as the heavens our voices raise;
and earth, with her ten thousand tongues,
shall fill thy courts with sounding praise.
Wide as the world is thy command,
vast as eternity thy love;
firm as a rock thy truth must stand,
when rolling years shall cease to move.
Prayer for the Week
Father, hear the prayer we offer
by Love M. Willis
Father, hear the prayer we offer;
Nor for ease that prayer shall be,
But for strength that we may ever
Live our lives courageously
Not for ever by still waters
Would we idly, quiet stay:
But would smite the living fountains
From the rocks along our way
Be our strength in hours of weakness
In our wand'rings be our guide;
Thro' endeavor, failure, danger,
Father be Thou at our side.
Let our path be bright or dreary,
Storm or sunshine be our share;
May our souls in hope unweary
Make Thy work our ceaseless prayer. Amen
Devotional Article of the Week
Rise Up Singing
What's your favorite way to sing?
by Bill Sherrill
Are you a singer?
When I was a boy, much of every church service was singing. It was not always harmonious, but it was usually enthusiastic.
I also still remember my grandmother singing hymns as she went about her daily chores.
My mother was often the song leader at the church — though no one would have ever called her that. The man who stood before the congregation would announce the number and then say, "Sister Grace, would you pitch the song for us?" What he meant was for mother to begin singing the first line.
My folks were all singers. You could hear my father's resonant bass voice as he sat with the men at the front, which was the custom in those days.
King David has been called "The Sweet Singer of Israel." It has always been interesting to me that his psalms are so popular, but not as songs — which they were — but as readings. Only a handful have been put to music in our day, yet they were likely the songs of the early church which we seek to emulate.
With the passage of time, church music has changed! There have been losses and gains in those changes, to be sure. But what really concerns me is the fact that so few people sing today.
God's people that we meet in the Bible are constantly singing! Both the Old and New Testaments are filled with songs. Whether it is Israel or the followers of the new path, singing is a constant companion. Jesus sang, Paul could sing even in prison, and church assemblies were filled with song. We are encouraged to both teach and praise in song. (Colossians 3:15; Ephesians 5:19) For those who may feel "less than professional in their vocal endeavors," the Word reminds us that God's music is made in the quality of the heart, not the quality of the voice.
Join the psalmist when he sings:
But as for me, I shall sing of Your strength; Yes, I shall joyfully sing of Your lovingkindness in the morning, For You have been my stronghold And a refuge in the day of my distress. O my strength, I will sing praises to You; For God is my stronghold, the God who shows me lovingkindness. (Psalm 59:16-17 NASB)
© Bill Sherrill's Thought for the Week. Used by permission.