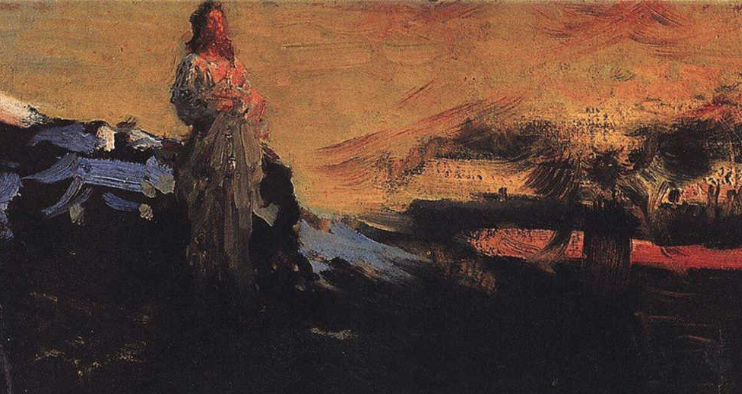 Daily Bible Readings:
Monday, June 1. Read Genesis 3:6-7. 1) What was it about the fruit that was so attractive to Eve? 2) Who do you think was most responsible for the Fall, the humans or Satan?
Tuesday, June 2. Read Matthew 4:1-11. 1) What happened to Jesus in this passage? 2) What possibilities did Satan offer to Jesus? 3) What was Jesus' reply to these offers?
Wednesday, June 3. Read 1 John 2:15-17. 1) What did John advise about worldly things? 2) Who or what does John say offers these cravings? 3) How is verse 3 of this text similar to the text regarding Adam and Eve's fall?
Thursday, June 4. Read James 4:7-10. 1) What does James say to do to Satan? 2) What will happen if we do this.
Friday, June 5. Read 1 Peter 2:11-12; 2:21-25. 1) What did Peter warn his readers about? 2) What do worldly desires do to us?
Saturday, June 6. Read 1 Peter 5:6-11. This is Sunday's sermon text.
Hymn of the Week:
Only in Thee
By T. O. Chisholm, 1905
Only in Thee, O Savior mine,
Dwelleth my soul in peace divine,
Peace that the world, though all combine,
Never can take from me.
Pleasures of earth, so seemingly sweet,
Fail at the last my longings to meet;
Only in Thee my bliss is complete,
Only, dear Lord, in Thee!
Only in Thee a radiance bright,
Shines like a beacon in the night,
Guiding my pilgrim bark aright,
Over life's trackless sea.
Only in Thee, when troubles molest,
When with temptation I am oppressed,
There is a sweet pavilion of rest,
Only, dear Lord, in Thee!
Only in Thee, when days are drear,
When neither sun nor stars appear,
Still I can trust and feel no fear,
Sing when I cannot see.
Only in Thee, whatever betide,
All of my need is freely supplied;
There is no help nor helper beside,
Only, dear Lord, in Thee!
Only in Thee, dear Savior, slain,
Losing Thy life my own to gain,
Trusting, I'm cleansed from every stain;
Thou art my only plea.
Only in Thee my heart will delight,
Till in that land where cometh no night
Faith will be lost in heavenly sight,
Only, dear Lord, in Thee!
Prayer for the Week:
Dear Father, I do not deserve mercy, but the blood which You have shed encourages me and causes me to hope for it. How often I have offended You, repented, and yet have I again fallen into the same sin. O my God, I place all my confidence in You.
Until now, I have trusted in my own promises and resolutions and have neglected to recommend myself to You in my temptations. This has been the cause of my repeated failures. From this day forward, be You, O Lord, my strength, and thus shall I be able to do all things. In Jesus' name I pray this. Amen.
Devotional Article of the Week:
Temptation
In an age that has lost any sense of sin, why worry about temptation?
by Brian McCutchen
C.S. Lewis in his book, Mere Christianity, makes the case that resisting temptation is not easy for Christians:
A silly idea is current that good people do not know what temptation means. This is an obvious lie. Only those who try to resist temptation know how strong it is… A man who gives in to temptation after five minutes simply does not know what it would have been like an hour later. That is why bad people, in one sense, know very little about badness. They have lived a sheltered life by always giving in.
Being tempted does not mean that you have sinned, nor does it mean that you will. Jesus' temptations Luke 4:1-14) are proof that one is not sinning when he/she is being tempted. It is important, however, to have strategies for dealing with all the temptations we will face in our lives. There are practical ways to deal with temptations that will leave each of us feeling better about ourselves without having to deal with the aftermath of guilt.
Stay away from Situations That Make Us Vulnerable
We must stay away from people and situations that will cause us to compromise our convictions. Will Rogers was right when he said, "The road to success is dotted with many tempting parking spaces." Keeping ourselves out of parking spaces that will affect our vulnerability is crucial for our success in saying no to whatever is tempting us.
Pray Throughout the Temptation
During Jesus' closing words in the Lord's Prayer, the Lord taught us to pray, "And don't let us yield to temptation, but rescue us from the evil one" (Matthew 6:13 NLT). A prayerful lifestyle will help divert our sinful desires away from doing wrong. Our prayers help us keep our spiritual convictions and commitments in focus. On the other hand, Oscar Wilde said, "The only way to get rid of temptation is to yield to it… I can resist everything but temptation."
A person with such an attitude will never experience the triumph to overcome and resist those things in our lives that can ultimately destroy relationships, jobs, friendships, or integrity. Prayer is one the best method to keep from yielding to temptation because it keeps our focus on God's priorities and asks for God's help for our situations.
Take Temptation Seriously
Temptation is serious. It must never be taken lightly. It is important to resist any desire that would rob our relationship with God, Jesus, and Spirit. Jesus' brother James reminds us of the ultimate outcome of temptation when we choose to go with our sinful desires:
Temptation comes from our own desires, which entice us and drag us away. These desires give birth to sinful actions. And when sin is allowed to grow, it gives birth to death(James 1:14-15 NLT)
James also teaches us how to resist these temptations:
Submit yourselves, then to God. Resist the devil, and he will flee from you. Come near to God and he will come near to you…(James 4:7-8).
The moment we let our guard down, is the very moment we become vulnerable and more likely we give in to the temptation. Temptation is serious and we must choose to draw near to God for help.
While it is extremely important to read and know Scripture, to pray for God's help, and to resist temptation's pull, we need human help. We all need someone who we will let hold us accountable.
Someone who will be "straight up" and honest with us and our life as Jesus' disciple. We need to know this person has our best interest at heart. And, we need to invite them to help us with our temptations.
At the same time, we must stay focused on God's will and stay away from those things that will harm us! We must never keep God out of any part of life! We need to keep Jesus on the center stage of our hearts. We must allow the Holy Spirit to do the convincing that God's way is the right way and help us stay far away from what could tempt us to do wrong.
Remember, be God Controlled!