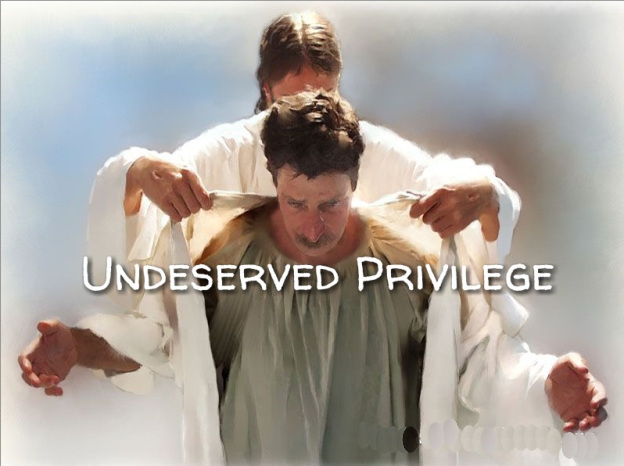 ---
Bible Readings for the Week:
Monday, March 9. Read 2 Corinthians 5:18-21. 1) Look at verse 17. What does Paul mean when he says, "All this" is a gift from God? 2) Where was God when Christ was doing the work of reconciling humanity? 3) How are we made right?
Tuesday, March 10. Read Colossians 1:21-22. 1) What was our condition when we were/are away from God? 2) What did God do to rectify this condition?
Wednesday, March 11. Read 1 John 1:5-7. 1) What does John say is the message we've been given? 2) What happens when we "live in the light"?
Thursday, March 12. Read 1 Peter 3:13-18. 1) What does Peter think about being harmed for doing good? 2) What remindear dos he give his readers?
Friday, March 13. Read James 1:2-4. 1) What opportunity does suffering create? 2) What happens when a Christian allows endurance to grow? 3) Why do you think that is true?
Saturday, March 14. Read Romans 5:1-11. This is Sunday's sermon text.
Prayer of the Week:
Dear Father, we want to be rejoicing people. Rejoicing about the hope laid out for us. Rejoicing in the way we imitate your sacrificial love for us. Gaining endurance and above all Hope as we live this life we have. May we not be distracted or let other people or things take your place in our hearts. In Jesus' name. Amen.
Hymn of the Week:
'Tis My Happiness Below:
by William Cowper, 1773
'Tis my happiness below
Not to live without the cross;
But the Savior's pow'r to know,
Sanctifying every loss:
Trials must and will befall;
But with humble faith to see
Love inscrib'd upon them all.
This is happiness to me.
God in Israel sows the seeds,
Of afflictions, pain and toil;
These spring up, and choke the weeds,
Which would else o'erspread the soil;
Trials make the promise sweet,
Trials give ne life to pray'r;
Trials bring me to his feet,
Lay me low, and keep me there.
Did I meet no trials here,
No chastisement by the way;
Might I not, with reason fear,
I should be a cast away:
Aliens may escape the rod,
Sunk in earthly vain delight;
But the true born son of God,
Must not, would not, if he might.
Devotional Article of the Week:
Did I Get Everything Right?
Better check those tax forms one more time
by Tim Archer
I don't like paying taxes. I especially don't like the whole process of filing taxes here in the United States. It's amazing how complicated our tax code has gotten. In 1913, the tax code was just over 400 pages long. The instructions for filing consisted of two pages. In 2008, the code had grown to over 67,000 pages; the instructions for filling out the basic form, the 1040, had grown to 155 pages. The complexity of accurately filing taxes fuels an entire tax-preparation industry. Because of that, most of us feel a bit of anxiety when filing taxes: Did I get everything right?
Some people feel a similar anxiety when they think about God. Did I get everything right? Have I made amends for all the bad things I've done? Have I done enough good things? Did I say the right words, go to the right places, think the right thoughts? Even though the Bible isn't as long as the U.S. tax code, the consequences of being wrong can fill anyone's heart with fear.
If you feel nervous when you think about standing before God on the Day of Judgment, you might be surprised at something the apostle Paul wrote, "Therefore, since we have been justified through faith, we have peace with God through our Lord Jesus Christ" (Romans 5:1). Peace? Peace with God?
How can we have peace with God when we have to constantly worry about getting everything right in order to please him? The answer to that question is, we can't. If our being right with God depends on us and what we've done, we'll never be at peace. But look at the first part of what Paul says: "Since we have been justified through faith." We can have peace with God because our future doesn't depend on us doing everything right.
Writing to the church in Ephesus, Paul wrote, "For it is by grace you have been saved, through faith — and this not from yourselves, it is the gift of God — not by works, so that no one can boast" (Ephesians 2:8-9). It's not about what we've done; it's about being saved through faith in the gift that God has to offer us.
God expects us to respond to him in faith, committing ourselves to change our lives, washing away our sins in baptism. But none of that is done as a work, none of that is done to earn salvation. Salvation is a free gift from God, and we can rest assured that God wants to give it to us. We might worry when we mail in our taxes, but when it comes to being right with God, peace should be all we feel.