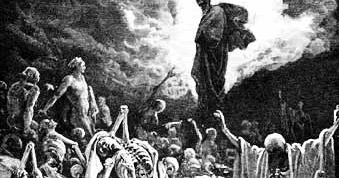 ---
Daily Bible Readings
Monday, March 23. Read Genesis 6:9-22. 1) What was happening in the world? 2) How did God judge the world? 3) How was building the Ark a hopeful act?
Tuesday, March 24. Read Exodus 3:1-15. 1) What happened at the burning bush? 2) What was God proposing to Moses and God's people?
Wednesday, March 25. Read 1 Samuel 1:9-18. 1) Why was Hannah at Shiloh and why was she praying? 2) What did Eli say to her, and what was the result for Hannah?
Thursday, March 26. Read Luke 1:26-38. 1) Who was Gabriel and what was his message? 2) How did Mary respond?
Friday, March 27. Read Romans 8:1-11. 1) What would you say are the benefits of living according to the Spirit? 2) How would you describe the work and influence of the Spirit?
Saturday, March 28. Read Ezekiel 37:1-14. This is Sunday's sermon text.
Prayer for the Week:
Dear Father, we want to be people of hope. Hope is the nest in which lay the vision of the future, the mission of the church, and the shape of our lives as hope-people. Please fill us with your Spirit of Hope. In Jesus' name we pray this. Amen.
Hymn of the Week:
Will Your Anchor Hold?
by Priscilla J. Owens, 1898
Will your anchor hold in the storms of life,
when the clouds unfold their wings of strife?
When the strong tides lift, and the cables strain,
will your anchor drift, or firm remain?
[Refrain:]
We have an anchor that keeps the soul
steadfast and sure while the billows roll;
fastened to the Rock which cannot move,
grounded firm and deep in the Saviour's love!
Will your anchor hold in the straits of fear,
when the breakers roar and the reef is near?
While the surges rave, and the wild winds blow,
shall the angry waves then your bark o'erflow? [Refrain]
Will your anchor hold in the floods of death,
when the waters cold chill your latest breath?
On the rising tide you can never fail,
while your anchor holds within the veil. [Refrain]
Will your eyes behold through the morning light
the city of gold and the harbour bright?
Will you anchor safe by the heavenly shore,
when life's storms are past for evermore? [Refrain]
Devotional Article of the Week:
Great Hope
What kind of hope do you have?
by Alan Smith
The ninety-five-year old woman at the nursing home received a visit from one of her fellow church members.
"How are you feeling?" the visitor asked.
"Oh," said the lady, "I'm just worried sick!"
"What are you worried about, dear?" her friend asked. "You look like you're in good health. They are taking care of you, aren't they?"
"Yes, they are taking very good care of me."
"Well, what are you worried about?" her friend asked again.
The lady leaned back in her rocking chair and slowly explained her major worry. "Every close friend I ever had has already died and gone on to heaven. I'm afraid they're all wondering where I went!"
The fear this woman experienced was just the opposite of the Thessalonian Christians' fear. She was afraid those who had died were worrying about her. The Thessalonians were worrying about their Christian friends who had died. Specifically, they were worried that they would miss out on the opportunity to be with Jesus at his triumphant return in glory.
There was one important truth they had overlooked — the assurance that the resurrection of Jesus Christ gives us.
"But I do not want you to be ignorant, brethren, concerning those who have fallen asleep, lest you sorrow as others who have no hope. For if we believe that Jesus died and rose again, even so God will bring with Him those who sleep in Jesus." (I Thessalonians 4:13-14)
What a difference that empty tomb makes in our lives … even on our worst Fridays! It is our very source of hope. Praise God that because of that great manifestation of His power, we are not counted among that number of people who "have no hope"! No, we are those who have great hope!