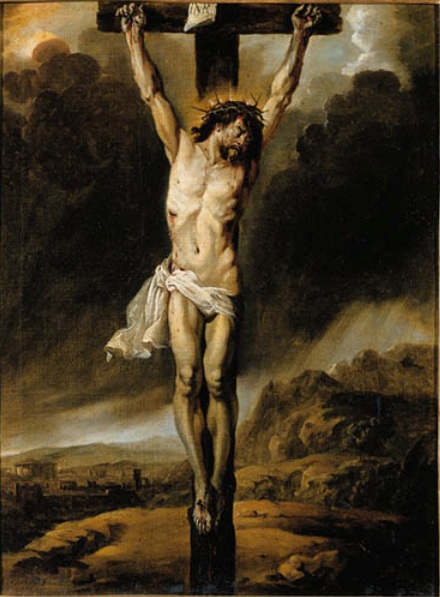 ---
Daily Bible Readings
Monday, April 6. Read 1 Corinthians 1:18-25. 1) What two groups does Paul identify here? 2) How is their thinking different? 3) What did Paul say about how people viewed the crucifixion?
Tuesday, April 7. Read 1 Corinthians 1:26-31. 1) What did Paul say about the background or "calling" of the Corinthians? 2) What did he say about the way that God does his work? 3) Who is the principle expression of God's work?
Wednesday, April 8. Read 1 Corinthians 2:1-5. 1) How did Paul compare his message to that of the Jews and Gentiles? 2) If you boiled down all that Paul said, WHO would you be left with? 3) What goal did Paul have for the faith of his readers?
Thursday, April 9. Read Romans 5:6-11. 1) At what time did Christ act on behalf of humankind? 2) How did God prove his love for us? 3) On what can we base our boasting?
Friday, April 10. Read Galatians 1:3-5. 1) For what purpose did Christ give himself? 2) What do you think being "set free" means? 3) Did Christ do this alone, or was there someone else involved in his plan?
Saturday, April 11. Read 1 Corinthians 1:18-2:5. This is Sunday's sermon text.
Prayer for the Week:
Lord God, You loved this world so much,
That you gave your one and only Son
So that we might be called your children too.
Lord, help us to live in the gladness and grace
Of the Resurrection, everyday.
Let us have hearts of thankfulness
For your sacrifice.
Let us have eyes that look upon
Your grace and rejoice in our salvation.
Help us to walk in that mighty grace
And tell your good news to the world.
All for your glory do we pray, Lord,
In Jesus' name. Amen.
Hymn for the Week:
In the Cross of Christ I Glory
by John Bowring, 1825
In the cross of Christ I glory,
towering o'er the wrecks of time;
all the light of sacred story
gathers round its head sublime.
When the woes of life o'ertake me,
hopes deceive, and fears annoy,
never shall the cross forsake me.
Lo! it glows with peace and joy.
When the sun of bliss is beaming
light and love upon my way,
from the cross the radiance streaming
adds more luster to the day.
Bane and blessing, pain and pleasure,
by the cross are sanctified;
peace is there that knows no measure,
joys that through all time abide.
In the cross of Christ I glory,
towering o'er the wrecks of time;
all the light of sacred story
gathers round its head sublime.
Devotional Article of the Week:
Easter is Still with Us?
When we're done with leftovers and eggs, Easter will still remain!
by Rubel Shelly
Easter Sunday is a day for big crowds in churches, ham dinners at home, and egg hunts in the park. But, there is much more to Easter than a one Sunday celebration.
Easter declares what happened in history; Jesus of Nazareth was raised from the dead by the power of the Holy Spirit.
Easter invites the rest of us into new creation; the same power that raised Jesus heals our brokenness and empowers our righteousness.
Easter bears witness to the world; the Spirit's power is free to all who will receive it.
We can argue ourselves blue in the face about the historical event of resurrection. There will still be people who say, "All the tests and measures we know deny it." There is no arguing, however, with joy and gentleness, kindness and patience, concern and generosity. Hearts yield to such gentle virtues.
To say it another way, the church is God's embodied witness to the world. It announces and models new life… or at least it should.
The world needs to be made whole. By "made whole," I simply mean that all of us want a better life, a sense of genuine peace, and courage to deal with painful realities. We have lots of technology and gadgets. We live longer and are generally healthier. Yet our hearts yearn for something more than 80 years, the Internet, hip replacements, and HD television.
We want to be connected with people by mutual respect and concern. We all want to love and be loved. We want an authentically spiritual life. The Bible has a couple of words to describe it. In the Hebrew Bible, it is shalom; in the language of Jesus, it is eternal life.
We celebrated the fact and faith of Easter this past Sunday. We told the story of a little band of Jesus' followers who were, as one writer put it, "gathered at the place of impossibility, the tomb." But the Holy Spirit moved, and he was alive again. The world has never been the same.
Now we live the reality of resurrection. Jesus did not triumph over death so the church could have a doctrinal tenet to declare. He defeated death for the sake of the human race in its hopelessness and despair.
When Easter Sunday is past, you are stil part of God's purpose to put hope on display. And that is a lifestyle, not just an annual day to circle on the calendar.
I pray that your hearts will be flooded with light so that you can understand the confident hope God has given to those God called — God's holy people who are God's rich and glorious inheritance. I also pray that you will understand the incredible greatness of God's power for us who believe him. This is the same mighty power that raised Christ from the dead and seated him in the place of honor at God's right hand in the heavenly realms (Ephesians 1:18-20 NLT).