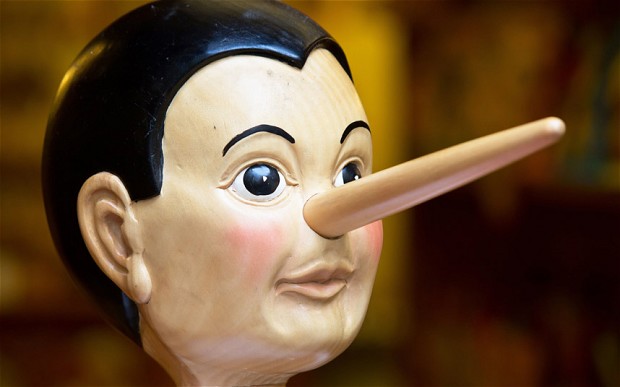 ---
Daily Bible Readings
Monday, April 13. Read Exodus 20:16. 1) Commonly called the Ten Commandments, these were God's instructions for how Israel would conduct its life. 2) Why do you think bearing false witness was included in the Ten? 3) How would lying impact the nation?
Tuesday, April 14. Read Psalm 5:6; 12:2-3. 1) What did the Psalmist say God would do to liars? 2) How, in this text, do neighbors behave toward one another? 3) What does the Psalmist pray about such people?
Wednesday, April 15. Read Proverbs 12:19-22. 1) What quality does truthfulness have? 2) Where does deceit dwell? 3) How does God feel about liars?
Thursday, April 16. Read Colossians 3:9-10. 1) What did Paul tell the Colossian church in regard to lying? 2) What effect do you think lying and other forms of bad speech has on the church?
Friday, April 17. Read Revelation 21:7-8. 1) God said that He is creating something new in 21:5. 2) In verse 8 He lists those who will not have a part in what he is creating. Why?
Saturday, April 18. Read Numbers 23:17-26. This is Sunday's sermon text.
Hymn of the Week:
Purer in Heart
by Fannie E. Davison,
Purer in heart, O God,
Help me to be;
May I devote my life
Wholly to Thee.
Watch Thou my wayward feet.
Guide me with counsel sweet;
Purer in heart,
Help me to be.
Purer in heart, O God,
Help me to be;
Teach me to do Thy will
Most lovingly.
Be Thou my friend and guide,
Let me with Thee abide;
Purer in heart,
Help me to be.
Purer in heart, O God,
Help me to be;
Until Thy holy face
One day I see.
Keep me from secret sin,
Reign Thou my soul within;
Purer in heart,
Help me to be.
Prayer for the Week:
Dear Jesus, You are the keeper of truth, and all your words are eternal! You have commanded us to be truth-tellers as well. We know that truth is the power against all deceptions.
We pray you will direct Your Spirit to keep us in the path of honesty and truth in all we do. May we live in a way that is unstained by lies. Guide our daily thoughts, words, and actions so that we may join those living by the Spirit of truth.
The truth You give us yields harmony and loyalty, and it enriches all human relationships. Through the power of Your Spirit we know that honesty will make a home in our lives. Through you, Jesus, we make this petition. Amen.
Devotional Article of the Week:
Bribery, Cursing, and Lying
What do you see around Jesus?
by Brian McCutchen
Betrayal.
Denial.
Money.
Judas sells loyalty for nearly $10,000 dollars. Peter curses and swore that he didn't know Jesus.
U – n – b – e – l – i – e – v – a – b – l – e!
Does friendship have more value than money?
Does cowering trump courage?
How about the so-called, "religious" leaders? They were … abusers, liars, and haters. Spitting and punching Jesus in the face were acts of disrespect. Their hatred toward Jesus was a driving force persuading Governor Pilate to trade a prisoner in exchange for Jesus. The trade was the guilty for innocent.
Jesus receives the death penalty by crucifixion.
Jesus' death sentence was a crushing blow to his mother and all those who loved him. The death penalty Jesus faced was cruel and unusual punishment by our standards today. The entire death scene was a circus show. Hate filled the air. Anger overshadowed sanity.
People swarming to the scene to get a good look at the one they called "The King of the Jews"! Followers in shock to see the man called Jesus being nailed to planks of wood while the mob shouts insults and soldiers gamble for his clothes.
Finally, it happened. The crowd silenced. The insults stopped.
He is dead!
Dead?
Yes, DEAD!
The mood is somber around the death scene. Shame and regret filled the emotions of those who were his friends. Disappointment. Sadness. Loss.
He's gone.
On crucifixion day, the body was laid to rest and the entrance to Jesus' gravesite was securely wedged into place. The family and friends left the gravesite in tremendous sorrow.
I imagine the weekend conversations went something like this:
"Hey, remember when Jesus walked on the water?"
"Yeah, I remember, I tried to walk on water, too."
"How about the time Jesus fed thousands with a little bit of fish and bread."
"Anyone remember the time Jesus washed our feet?"
"Oh, yes! He was a great teacher, friend, and servant."
"I got one, remember our last meal together?"
"He tried to tell us about his imminent death, but we were too busy denying everything he was telling us. If only we could go back in time."
"Then there was prayer time in Gethsemane. All he wanted was for us to stay awake and keep watch for him."
"Why didn't we If only we had a little more time with him!"
It's Sunday and most are still in a state of shock. A couple of ladies decided that they were going to visit Jesus' gravesite. As they arrived, nothing prepared them for what they were about to encounter. Fear ran up and down their spine. They were almost speechless.
And what comes next will blow your mind!