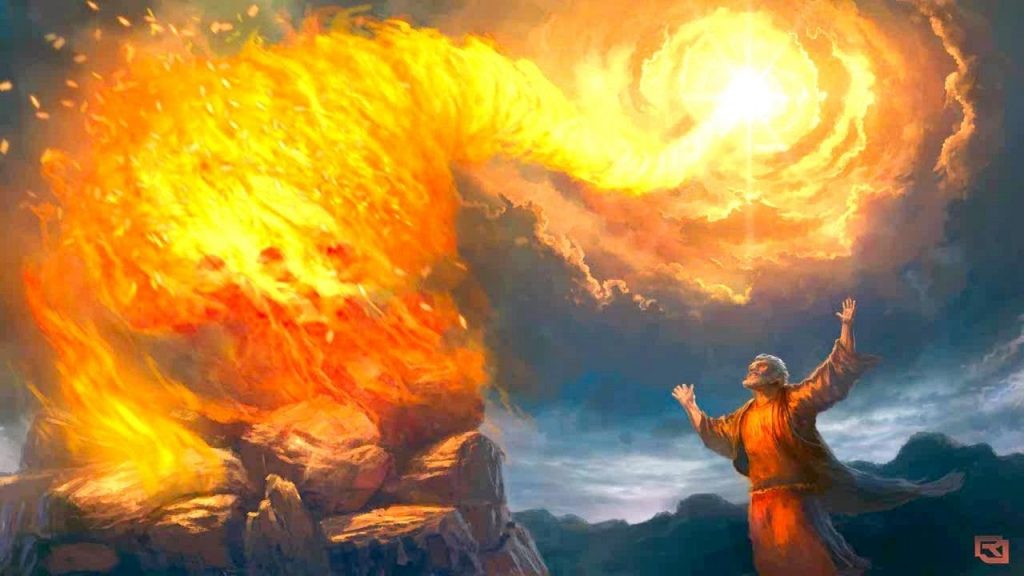 ---
Daily Bible Readings:
Monday, February 17. Read 1 Kings 18:18-40. 1) What is the contexts of this passage? 2) What was Elijah asking the prophets of Baal to do? 3) How did Elijah conduct the sacrifice in order to remove any doubt about its validity?
Tuesday, February 18. Read Matthew 6:5-15. 1) What did Jesus teach his desciples about prayer? 2) What did he ask them to pray in regard to the Kingdom? 3) How do you think the sermon text for 1/23 might have some bearing on the Lord's Prayer.
Wednesday, Feburary 19. Read Matthew 3:13-17. 1) What did Jesus ask John the Baptist to do for him? 2) What did the heavenly voice say after this request was completed?
Thursday, February 20. Read Matthew 16:5-12. 1) What did Jesus warn the disciples about? 2) How did Jesus have to clarify the warning to the disciples? 3) What did Jesus say he was talking about?
Friday, February 21. Read Matthew 16:21-28. 1) What disturbing thing did Jesus say to his disciples. 2) What did Peter say? 3) What did Jesus say in reply? Is that surprising to you?
Saturday, February 22. Read Matthew 17:1-9. This is Sunday's sermon text.
Prayer for the Week:
Dear Father.  We pray, "thy kingdom come and thy will be done on earth as in heaven."  And in this event of Jesus with his three disciples we see clearly what that Kingdom looks like and what it's claim on our lives is.  Please help us to be faithful to the ideas of the Transfiguration and Jesus' desires for his Kingdom and for us.  In Jesus' name I pray this.  Amen.
Hymn of the Week:
A Mighty Fortress
by Martin Luther,1529
A mighty fortress is our God,
a bulwark never failing;
our helper he, amid the flood
of mortal ills prevailing.
For still our ancient foe
does seek to work us woe;
his craft and power are great,
and armed with cruel hate,
on earth is not his equal.
Did we in our own strength confide,
our striving would be losing,
were not the right Man on our side,
the Man of God's own choosing.
You ask who that may be?
Christ Jesus, it is he;
Lord Sabaoth his name,
from age to age the same;
and he must win the battle.
And though this world, with devils filled,
should threaten to undo us,
we will not fear, for God has willed
his truth to triumph through us.
The prince of darkness grim,
we tremble not for him;
his rage we can endure,
for lo! his doom is sure;
one little word shall fell him.
That Word above all earthly powers
no thanks to them abideth;
the Spirit and the gifts are ours
through him who with us sideth.
Let goods and kindred go,
this mortal life also;
the body they may kill:
God's truth abideth still;
his kingdom is forever!
Devotional Article of the Week:
Coming Down from the Mountain
Can you be as faithful at the foot of the mountain as you are at the summit?
by Mike Barres
The time on the mountain was such an exciting event. Elijah stood toe to toe against 850 false prophets. He was bold and powerfully anointed by God. He even taunted the false prophets when they could not get their gods to bring down fire from heaven to consume the sacrifice. God received all the glory when fire came down from heaven in response to Elijah's prayer.
When all the people saw it, they fell on their faces; and they said, "The LORD, He is God; the LORD, He is God." (1 Kings 18:39 NAS)
Elijah was so full of victory that he ran from Carmel to Jezreel. Hallelujah! Victory is sweet! However, when things returned to normal, Jezebel said that she was going to have Elijah killed. He ran for his life and actually wanted to die. The big events are exciting and energizing, but daily life can be a drag.
Peter witnessed the transfiguration of Jesus, Elijah and Moses. (Matthew 17:1-8) It was so glorious that Peter wanted to build three tabernacles in honor of the three. Later, when they had come down from the mountain, they encountered a young man with a demon. (Matthew 17:14-21) The disciples had not been able to help him.
Jesus had to take care of the matter for them. The transfiguration of Jesus on the mountain was so glorious; real life with real people and real disciples when they came down from the mountain was a bit more difficult and not nearly as exciting.
Oswald Chambers reminded us, "After every time of exaltation, we are brought down with a sudden rush into things as they really are, where it is neither beautiful, poetic, nor thrilling. The height of the mountaintop is measured by the dismal drudgery of the valley, but it is in the valley that we have to live for the glory of God."
As Christians, we should not always be looking for some thrilling and exciting new thing. People quit jobs, churches, and relationships just because they become routine or hard. We should be led by the Spirit of God about what we do; not quit something just because it bores us. Character, holiness, perseverance, and faithfulness can often only be developed when we come down off the mountain and face the grind of the daily world below. Daily prayer, daily Bible study, and being a daily witness where we are is vitally important.
Consider it all joy, my brethren, when you encounter various trials, knowing that the testing of your faith produces endurance. And let endurance have its perfect result, so that you may be perfect and complete, lacking in nothing. (James 1:2-4)