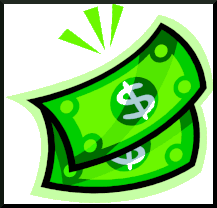 Covid has produced some interesting consequences, including not being able to be together physically, not being able to enjoy the LifeSpring 5-Minute Break, and not being top of mind with regard to contribution.
Recently a LifeSpringer made the observation that mailing her contribution to the LifeSpring mailing address causes unnecessary inconvenience in the process of picking it up to getting it to the bank, and so had decided to use our PayPal account to avoid all that.
The problem with PayPal is that it does not make it possible to create a regularly recurring payment.  To use PayPal, LifeSpringers would have to remember every week or once a month to make their contribution.  So I asked Nancy to do some research on this.
She is in the process of testing a payment option that is available through our financial management software.  The research is not complete yet, however I would like to invite you to think about whether this would help you out. 
We have lost some of your contributions, and I am sure it must be because we do not meet physically and thus remind each other of this important gift.  The beauty of an electronic contribution is that you can set the amount and frequency of your contribution, so that neither LifeSpring nor you will suffer through forgetfulness.
Remember that you are a part of LifeSpring, and we need you both physically and financially.  Our expenses are modest, but not so modest that we can do this for free.  I'll have more information in a week or two.