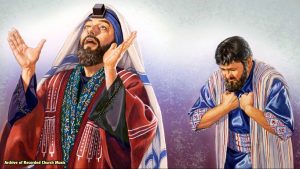 Daily Bible Readings:
Monday, June 15.  Read Luke 18:9-17.  1) What is occurring in this parable of Jesus?  2) In what principle way are the Pharisee and the Publican different?
Tuesday, June 16. Read Psalm 22:17.  1) This text is used in the NT to refer to the crucifixion.  How might it have also been expressive for the Psalmist who wrote it centuries before?  2) How is the Psalmist feeling in verse 11?
Wednesday, June 17.  Read Hosea 11:1-7.  1) How did God feel about his children in the opening verses of this text.  2) How might Israel have taken God for granted?  3) And how might God have surprised Israel by his reaction?
Thursday, June 18.  Read Deuteronomy 4:8-12.  1) What view does one get of God and his character in these verses?  2) How might Psalm 77:10 have been upsetting to a Psalmist who knows Deuteronomy 4:8-12?
Friday, June 19.  Read Isaiah 55:6-9.  1)  What does this text say about God?  2) What is the possible impact on someone who thinks they have God figured out?
Saturday, June 20.  Read Psalm 77.  This is Sunday's sermon text.
Prayer for the Week:
You, holy, faithful, merciful God,
have called us into being,
given us names, faces, and vocations, and
we live them out in freedom.
In our freedom, we notice only sometimes, that
we cannot cope with all that comes at us,
we cannot finally outflank the forces that address us, and
we cannot by ourselves deal with the grief, trouble, and anger
that well up in us.
After our imagined autonomy,
we glady turn back to you.
After we have said "I" for a very long time,
we fall back to "Thou";
we utter the "Thou" who inhabits our memories,
memories of rescue, healing, and forgiveness,
we utter the "thou" who occupies our best hopes,
as we hope for peace, wellbeing, and justice
in the world.
We move back into faithful dialogue with you:
we say "thou" as we thank and praise you;
we say "I" as we act out our freedom and accept
our responsibility.
Just now, in the face of the virus, we find our best "I" without force,
and so we say "thou,"
"thou" in power,
"thou" in mercy,
"thou" in faithfulness,
finally "Thou"!
We remember all your wonders and then, in gladness
we remember who we are as yours;
we recover our gratitude, our hope, our resolve, and
our confidence.
Amen.
Hymn of the Week:
Lord of All Being, Throned Afar
Oliver Wendell Holmes, 1848
Lord of all being, throned afar,
thy glory flames from sun and star;
centre and soul of every sphere,
yet to each loving heart how near!
Sun of our life, thy quickening ray
sheds on our path the glow of day;
Star of our hope, thy softened light
cheers the long watches of the night.
Our midnight is thy smile withdrawn,
our noontide is thy gracious dawn,
our rainbow arch thy mercy's sign;
all, save the clouds of sin, are thine.
Lord of all life, below, above,
whose light is truth, whose warmth is love,
before thy ever-blazing throne
we ask no lustre of our own.
Grant us thy truth to make us free,
and kindling hearts that burn for thee,
till all thy living altars claim
one holy light, one heavenly flame.
Devotional Article of the Week
When Your Heart Hurts
Is there anything to really hold on to?
by Russ Lawson
This has been a couple of tough weeks for my family and me! First my father was rushed to the hospital in the middle of the night in a coma with very erratic life signs. He is still in a coma (10 days now) and on a respirator with lots of intravenous tubes. The family is spending lots of time in the hospital setting, watching and waiting. Five days ago, my mother had to see her doctor because of chest pains, but thankfully it was determined it was the result of stress; medication should ease the problem.
Yesterday, I received a call from our oldest son telling me he had just lost his job due to "company restructuring." It doesn't matter that "they hated to let him go," they still did. So house payments and other expenses suddenly seem more daunting than before.
I talked to a friend this weekend and he asked, "So, how are you doing?"
My response was, "Not so good right now. It seems like we are on an emotional 'see saw' just going up and down."
I know mentally that "this too shall pass" and that with God's help things will eventually get better. I also know that this is something that many of you have gone through yourselves. The cards, letters, and phone calls have been a real blessing. Emotionally though, sometimes my heart hurts.
My heart hurts not just for myself, but for my dad and my mom who have been together for almost 60 years. It hurts for my sister, brother, brother-in-law, and all of the nieces, nephews, grandchildren, and great grandchildren that also wait and watch. But, I think I hurt most because I have trouble letting go and letting God handle things, even though intellectually I know that he can.
This morning in my devotional reading, I was reading Psalms 118. After I read that wonderful proclamation of God's love and power, I felt refreshed in my spirit. The Psalm was written in praise of God for delivering the Israelite nation from Babylonian captivity. The writer has a theme to his message found in these words: "You are my God, and I will give you thanks; you are my God, and I will exalt you. Give thanks to the LORD, for he is good; his love endures forever" (Psalm 118:28-29 NIV).
Even if we lose jobs or even if death visits us, "He is good and his love endures forever." God has promised us that everything will work out to the good (Romans 8:28), even if we can't see it right now. So I ask you along with asking myself, "Do you really believe God's word?"
I'm not afraid of death, whether it be my father's or my own. I love Paul's simple, yet meaningful quote of an Old Testament description of heaven shared with the Corinthians:
But as it is written,
Eye hath not seen, nor ear heard,
neither have entered into the heart of man,
the things which God hath prepared for them that love him (1 Corinthians 2:9).
I love that description and promise! This is especially true because we get a glimpse of these great blessings because of God's Spirit (1 Corinthians 2:10).
What it all boils down to is that I truly hate the empty place that makes your heart hurt when you think about the separation, even temporarily, from one you love. I hate the sinking feeling that you get when the boss says, "Sorry, but you've been downsized."
The bottom line is that I hate the uncertainty that Satan tries to shove into that empty place that says, "You can't rely upon anything or anyone in this life." That's really what happens, isn't it? Whenever there is an empty spot in our lives, Satan jumps in to fill it with his lies!
There is an old hymn that goes something like this:
Into my heart,
Into my heart,
Come into my heart Lord Jesus,
Come in today,
Come in to stay,
Come into my heart Lord Jesus.
That is what I want! I want Jesus there today and to stay!
My prayer is that no matter what happens in this life, even when my heart hurts, that I can fill my heart with Jesus. When I can do that, I know that the hurt will be lessened and I will be reminded that all of this hurt is only temporary. I join the psalmist in saying,
"You are my God, and I will give you thanks; you are my God, and I will exalt you. Give thanks to the LORD, for he is good; his love endures forever!"