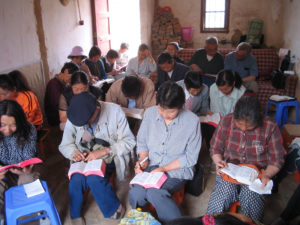 Bible Reading for the Week:
This week there is no daily division of the readings, but rather only one passage to consider every day of this week. Pray over it. Meditate on it. And consider what its demand on your life looks like and takes shape as.
Read: Acts 2:43-47; 13:1-3. Questions to think about? 1) As the earliest disciples began to meet and work out what their discipleship would look like, what were their practices? 2) In Acts 13 we get a glimpse of the determination and focus of the new Gentile church in Antioch. What did they do in response to Jesus' call?
Prayer for the Week:
O God of the Lost. God who has pursued mankind throughout the ages and in these last days has sent your beloved Son to wage war against the Enemy of mankind. We pray for you to enlarge the vision of LifeSpring and to send workers to aid in the mission of bringing the truth of your Kingdom to those who hunger for it in Merced, California. Give us passion for your work. Give us persistence, courage, and durability as we undertake to enact the spirit of your son Jesus. May the kingdom prosper in the lives of LifeSpringers. In Jesus' name we pray this. Amen.
Hymn of the Week:
O Zion, Haste
by Mary Ann Thomson, 1868
O Zion, haste, your mission high fulfilling,
to tell to all the world that God is light;
that he who made all nations is not willing
one soul should perish, lost in shades of night.
Refrain:
Publish glad tidings, tidings of peace;
tidings of Jesus, redemption, and release.
Behold how many thousands still are lying,
bound in the darksome prison-house of sin,
with none to tell them of the Savior's dying,
or of the life he died for them to win. [Refrain]
Proclaim to ev'ry people, tongue, and nation
that God, in whom they live and move, is love:
tell how he stooped to save his lost creation,
and died on earth that we might live above. [Refrain]
Give of your own to bear the message glorious;
give of your wealth to speed them on their way;
pour out your soul for them in pray'r victorious;
and all your spending Jesus will repay. [Refrain]
Devotional Article of the Week:
(This article comes from Rex Butts of Mission Alive, and it concerns the idea of God's redemptive work through small churches.)
A Work of Art: Leadership and the Faith Formation of the Church
by K. Rex Butts, Mission Alive
There it was on Facebook, an advertisement for a book on how to begin and grow a church from zero to one hundred in a year. Hmmm, I think to myself. Have I not seen this book before? Have I not read this book before?
Well, no. I've not this particular book, so my judging a book by its cover may be way off. Yet just based on the summary, it sure seemed like many other books I've encountered and my cynical reaction is always the same… If only it were so simple. I'm sure there are some helpful insights but in our post-Christendom society, where more and more people are skeptical of churches. Whether leading in an established church or a new church plant, the challenge is not about any formula for growth but tending to the gospel story — the good news of Jesus Christ.
The gospel story was the framework and foundation for the ministry of the apostle Paul. He understood salvation was promised as a blessing from God through the faithfulness of Christ and therefore a blessing the church entrusted God with as participants made alive in Christ. Faith, an embodied participation in the gospel, opened space for the church to portray this good news through good works.
What we have is the story of the redemptive work of God, centered in Jesus Christ and oriented towards the kingdom of God. It's a story that involves grace, faith, and good works, and not good works to earn salvation but as participation in the salvation already received. The apostle Paul expresses the idea in Ephesians 2:8-10, "For it is by grace you have been saved, through faith—and this is not from yourselves, it is the gift of God—not by works, so that no one can boast. For we are God's handiwork, created in Christ Jesus to do good works, which God prepared in advance for us to do."
This text has been very formative in my theological formation, especially as it pertains to ecclesiology and particularly how the church participates in the mission of God. One keyword that I want to emphasize is "handiwork" (v. 10), which comes from the Greek word poiēma and is where our English words "poem" and "poetry" derive from (Hiebert, 1994, 117). It's a word that describes a piece of art, like a sculpture, a painting, or even a poem. That's why the New Jerusalem Bible renders v. 10 saying, "We are God's work of art, created in Christ Jesus for the good works which God has already designated to make up our way of life." (italics mine).
God's intention for the church, both universal and every local church, is to be a living portrait of the new creation he is bringing about in Christ. The church, as followers of Jesus, live as a community participating in the mission of God so that the future, the fulfillment of God's redemptive work in Christ is visible. This is the embodied gospel of the church in Christ. Hence, the church is "God's handiwork" or "God's work of art."
We might think of the church as a canvas upon which God is painting a picture. This painting is a proleptic portrait of the future, which simply means the church is portraying the future within the present as an already accomplished reality. Now because the church consists of people who still sin at times, sometimes egregiously, we might think of the portrait as still awaiting its completion and sometimes is in need of correction. That is, God needs to repaint or restore some aspect of the canvas so that the picture will reflect the work of art he is painting. However, since the portrait reflects the future, the embodied gospel is not about restoring the past. Attempting to recreate the first century, sixteenth century, etc… embodiment of the gospel is not how the church participates in the mission of God. Rather the portrait is embodying the future of God's kingdom in fresh ways that are contextualized to the present.
As the onset of a post-Christendom society become more and more apparent, the challenge of leading churches will most most likely defy any cookie-cutter approach. They already do. Some churches will thrive and some will struggle. Some church plants will lead many to follow Jesus and even plant new churches themselves, while other church plants will struggle and may even have a short life. There are too many variables beyond the control of any church leader to say what will guarantee success. However, if leaders will focus on the faith-formation of the church, cultivating the gospel in people so that they learn to follow Jesus as participants in the mission of God, then God has a work of art to display among society. That's an attractive church to others seeking something beyond the mundane life of old creation and what they'll find is a masterpiece that only God can create.
~ K. Rex Butts