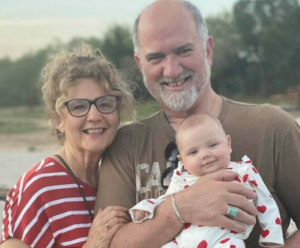 Randy Couchman is a pastor in San Luis Obispo that LifeSpring is currently talking to about possibly joining us in our work here. As you will see in the bio, he actually grew up in Modesto/Turlock even though he spent most of his life in Texas. This bio will give you an good idea of who he is.
Randy will tell you he's a Calibornian, raised in Modesto/Turlock by a single mother "who dragged her 5 kids to church every time the door was open." He also attended Merced College in 1975-1976 and played on the Blue Devil state champion baseball team.
He completed professional, pastoral education in Lubbock, Texas at Sunset School of Preaching, also a BA from Lubbock Christian University in Missions and Bible. This was followed by a Masters of Science in Biblical Studies at Austin Graduate School of Theology in Austin, Texas.
Randy is married to Tanja, and they have three children: Brent 38 of San Francisco, Amy Jo 35 of Austin, and Bryan of Oklahoma City. They also have four grandchildren and one on the way. His grandchildren call him gRandy. What a great name!
Of Tanja, Randy writes, "I love my wife deeply, and we often see the world very differently. She has been my quiet partner through our years, has her own life, and is a servant and believer in Jesus. She would love for our next place to live to be a place where she can flourish as a Christian person."
As pastimes, Randy says he likes the outdoors, including hiking, walking, building, fishing, and hunting. He also enjoys reading and "good, long conversations" with other people still curious about life with God and others. He enjoys playing guitar and singing along, but confesses, "I'm not as good as I once was."
About preaching:
"I don't consider myself a dazzling preacher, but I am a serious bible student and teacher, and I relate well to those, both in and out of the church. I love to question just about everything and think about if there are different ways to see a thing, an idea, teaching, possibility, person, or solution. My centering passage most of my adult life comes from Phil. 3: "I want to know Christ…"
"I've learned that, no matter what the size of a church is, their concerns, challenges, joys, and ambitions in the Spirit are all the same. Bonhoeffer warns that what would destroy a community of faith is a wish for some mental-ideal kind of community instead of seeking the real community that we experience in the rough and tumble of life. I believe this is true."
"Over forty years of ministry has taught me more about what I don't know and increased my humility about what I think I know."
About life in general:
"I like some stability in my life because it is the foundation on which I'm able to be a creative, imaginative, and a "what-if' thinker."
"I love people, they give me energy, but I must have occasional breaks to refresh and draw in new energy."
"It took Tanja and me a while, but we've found relational equilibrium in SLO. This came after a huge transition from Texas, where we spent most of our life raising our children and serving our church."
"I have learned in the last ten years that I had missed a critical piece of theology that is crucial to understanding the Biblical story and living as a Christian now. This missing piece is the way in which Christ will bring everything God is doing to completion. I am thankful to many, but N.T. Wright helped me most. His 'How God Became King' changed everything for me, as well as so many others (still working on his big volumes)."
"I'd love to see God's people in California spiritually healthy, courageous, mission-focused and faithful to the call of God who makes his people a sign of his good reign in the world."