We've been working our way through the Chronicles of Narnia at bedtime. Tonight we read the chapter where Aslan is captured, tortured, and killed – as well as the following chapter where he returns.
Chava was a little confused.    –Erin Piepgrass, mom.
——————————————————–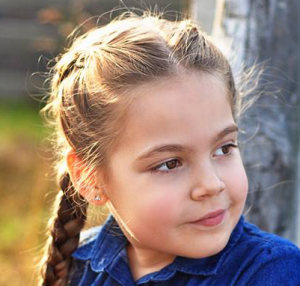 "If he was only pretending to be dead, why did he let the girls cry over him all night? Was he worried spies were watching?"
"He wasn't pretending. He was dead. The witch killed him."
"But he said he wasn't a ghost – it was really him."
"Yep."
**crickets**
"That makes no sense."
Then I explained to her that the author was actually a theologian, not just a children's author – that he wrote the Narnia stories to help children better understand God.
And her eyes lit up, as the lightbulb went on.
"So Aslan is supposed to be Jesus! And God. And the Spirit all wrapped up together…because in the other book, he created Narnia with his voice!
And he died on the Stone Table like the cross.
And the girls cried while they watched him die, and were so confused when he was back alive – but then they touched him so they knew he was really real….woooowwwwww. That's cool.
So that means the White Witch is Satan.
And that's why she never let Christmas come.
And she tricked people into wanting things they can't have, and made them her slaves.
And Aslan forgave Edmund, and told the others to forgive him, too.
And Peter knew it was a little bit his fault, because of how he treated Edmund, too. Wow….that's so amazing."
"Pretty cool, huh?"
"Yeah. But I feel a little embarrassed about the part where the girls just starting playing with Aslan, like he was just one of the kids. Like, it's Aslan. How do they just play with him like that? Especially if Aslan is supposed to be like God?"
"Well what did Jesus tell the disciples about children?"
"To let them come to….oooooohhh. Cause even though he's God, he's like Jesus, too. Like, sorta like one of us, even though he's God. Wow. I can't imagine getting to just play with God like that in the middle of all the terrible stuff."
"You know you can play with God like that, too. Any time you sing, or pray, or use your other gifts to serve Him and you feel joy – that's exactly what you're doing."
"Wow. I never thought of it like that. My mind is sorta blown a little right now."