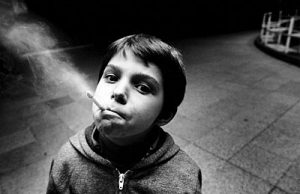 The image is offensive and obscene.  A little boy lighting a cigarette.
At the same time, it is a grim reminder of the impact of adult behaviors.  What if you thought that your behaviors was going to cause your child to start up the habit?  What would you do if your behavior was going to lead to lung or throat cancer in your child?
That is the impact of an article written by Joel Schwartz of the University of Washington.  Twelve-year-0lds whose parents smoked were more than twice as likely to begin smoking cigarettes on a daily basis between the ages 13 and 21 than the children of those who parents didn't smoke.
The research indicates that behavior, not parent attitudes or instruction was the key factor.  In other words, you can say, "don't smoke," all you want, but it's what you model that really counts.
Other important facts were 1) consistency in family rules, 2) family bonding and strong emotional attachment, and 3) involving children in positive behaviors.  In other words, you have to walk the walk.
It's important for parents to be mature and to be willing to make personal sacrifices on behalf of their children.  Parenting isn't for sissies.