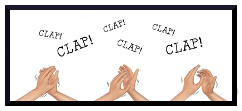 LifeSpringers are encouragers, to be sure!  Especially to our children.
Unlike many places, we don't send our kiddos off or schedule social events without them.  And we love it when they participate actively in our worship assemblies.  What a great place for children.
We've struggled with a way to encourage our children when they read scripture and such. Clapping or applauding is such an American way of encouraging. You often hear a clap here or thereafter one of our kids reads the Bible to us.
Clapping is good at a play or a sports event when a teammate makes a phenomenal play. But clapping doesn't work everywhere. Especially at church where God is the audience and we are the folks on the stage.
And clapping is so focused on what is perceived as "good" performance in most of its expressions. A violin played in a lovely fashion. A standing ovation at a theatre performance. And of course when a kid gets a big award at the school assembly.
But what do you do when a child reads scripture? Or what if a child leads a sweet prayer? That is more difficult because you have to think about what you want to convey in your response. Clapping is human approval. Reading scripture or praying should not be based on that. It doesn't matter whether a person likes the reading or not. What matters is if s/he was changed by the passage read, inspired by the sincere prayer, or simply wants to encourage a child to do it again.
How do you encourage a child, or anyone for that matter, when you've just heard a biblical text read? I'd like to suggest a couple of ways to respond.
During the 5-minute break, put your hand on the child's shoulder and say, "I love that text you read. I wanted you to know it really inspired me." The child is helped to understand that the purpose of the reading is not human approval but conveying truth.
Can't wait until the 5-minute break? Then you can break out in "Amen" or "Praise the Lord" or "Thank you for that reading." It shifts the thinking from getting approval to understanding the value of what was just done. It's good training for life.
We should be generous in our encouragement. Let it break out everytime a child participates as well as every adult. But let us think intentionally about what we want to say in the form of expression our encouragement takes.  We don't want to create human-approval junkies, but rather folks who seek to honor God and win His approval.
Remember that God is our audience.