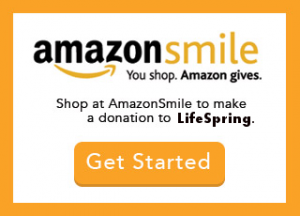 How To Designate LifeSpring Church as an Amazon Charity
Thank you for considering LifeSpring as your preferred charity in Amazon's "Smile" program.  By designating us as your preferred charity we will receive from Amazon a half percent of everything you purchase from Amazon.  LifeSpring benefits, and it costs you nothing.  Signing up is very easy.  Just follow these simple steps.
Go to Smile.Amazon.com.
Select "Your Account"
A drop down box will open, and you will see "Change your charity," which is item #6 in the list.
Choose "Change your charity" and in the box that opens type "LifeSpring Church Merced" and click select.
That's all you have to do.  From that point on, all you have to do is go to Smile.Amazon.com to make your purchases (Amazon will remind you to do that).  Nothing changes for you, but LifeSpring becomes the beneficiary of your Amazon purchasing.
Tell your friends about LifeSpring too, so that they can make us their charity as well.
Thank you!