Continued from Front Page.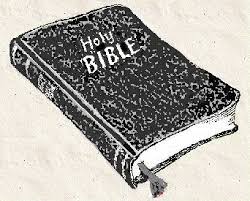 With the rise of electronic copies of the Bible, it has become easier to leave the ole copy of God's word gathering dust on the end table.  It's convenient, requires no recollection of "I need to make sure I have my Bible," and certainly is incredible in its capacity – different translations, search features, etc.  So what's not to like about the Good News on your cell phone.
Basically, a hard copy of the Bible sends a message, and it's this.  "We are people of the Word."
Guests and children get a quick lesson in the importance and centrality of God's word.  There it is, in the hands of the reader.  A dedicated, conscientious copy of God's word.  Not a device that happens to be a phone and, incidentally, containing an electronic copy or copies of the Bible.  It takes dedication to pick up the Word and bring it.  A cell phone – not so much.
So when you read scripture, don't use your phone.  If you leave your Bible at home, borrow the Greeter's Booth copy and send a loud message.