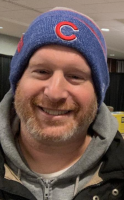 Matt Wolf is from Joliet, Illinois (about 35 miles southeast of Chicago, and he is the pastor of the Cherry Hill Church.
Matt is a native of Merion, PA, a quick drive from Philadelphia. He attended Arizona State University and earned a B.A. in Broadcast Journalism. After receiving a Master's in Education in 2000, he worked as a 5th-grade teacher for 12 years.
Feeling called to ministry, he completed his Master's of Divinity program at Amridge University. Since completing his degree, Matt spent 2013-2016 serving as the minister at the King of Prussia Church (near Philadelphia) and the Kandiyohi Church (in west-central Minnesota).
His wife is Michele, and he has two children. His conversation with Bruce began after a conversation with Tod Vogt in Dallas, a friend of Bruce.