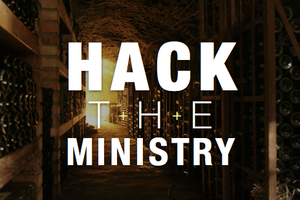 Taking Ministry Public?
For as long as I've known him my friend Jim Henderson has been taking ministry public
Heck one time he bought an atheists soul on eBay just to make friends with him
Instead of waiting for people to come to him, he's been taking his ministry ideas out into his world, into real life situations, to see which ones worked or didn't (a bunch didn't :-).
On October 12th he's gathering some of his fellow explorers (including me) together for a one-day intensive called Hack The Ministry.
Borrowing a term from tech culture – hacking is a way of saying – we aren't going to settle for the status quo – we aren't going to accept that we're helpless – we don't accept that we cant find new solutions to old problems. We're going to take ministry public – give it away – find out what people respond to – discover what we can do instead of what we cant do.
Here's what's interesting about this event. You might think from the title that it's a bunch of disgruntled church haters, but as you know hackers operate both inside and outside the institution. Mark Zuckerberg is famous for telling his employees at Facebook to "move fast and break things" And when it comes to tech, Facebook is about as institutional as you can get.
The same is true with this event. Some of the hackers are pastors, bishops, denominational leaders and Para-church leaders – they practice ministry within the institutional church – these churchmen and churchwomen believe the church's best days are ahead of it.
Other presenters at this event have been exploring what ministry looks like outside the bounds of the traditional church. These men and women have hacked out new ways of practicing ministry. They're authors, schoolteachers, musicians, chaplains, professors, Karaoke singers, gardeners, producers, Uber drivers, social workers, filmmakers and political operatives.
The one thing all these hackers have in common? They're all interested in taking ministry public.
Who's this event for?
Young leaders wondering about their professional ministry future
Women who wonder if there are leadership opportunities for them
Sr. pastors looking for new and creative ways to take ministry public
Leaders who feel alone
Leaders who need a safe place to bounce ideas around with co-explorers
Denominational leaders wondering how to attract young leaders
Seminary and Bible School leaders wondering the same thing
Movement leaders wondering the same thing
Leaders who feel alone
Or as Jim puts it "For me, this event is a labor of love. It's my gift to spiritual leaders and influencers who desire to serve their world in partnership with Jesus. I want to bring together ministry sages, mentors and peers to share what they've learned about taking ministry public so they can steal each other's best ideas."
Hack the Ministry Schedule:
HtM is scheduled for October 12 from 10am-10pm.  Twelve hours of jam-packed useful ideas tailor made for ministry.
You'll hear short, provocative talks from some of the best ministry hackers we know.
You'll have time to ask lots of questions
We'll laugh together, eat together, and trade stories of how you take ministry public and (if you want) trade contact info with folks ahead of you, behind you, and right where you are.
You'll be in a space where you're welcome to be who you are — introvert or extrovert; internal or external processor; linear or lateral thinker; scholar, seeker, mystic, doubter
You'll feel connected and discover that you, in fact, are not alone
Tickets
Tickets cost $49 for a solo ticket.   If you want to bring a friend, tickets will cost you $99.
Oh… plus lunch and dinner are included in the price of the ticket.
Make your reservation today.  We want to meet you in Seattle.