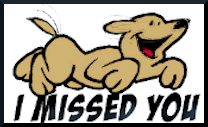 I know. It sounds trite, doesn't it. "I missed you." We say it so glibly, don't we?
Nevertheless, I will say it and hope that you take it to be more than elevator conversation, or something said in passing during LifeSpring Five-Minute Break. Maybe it would be helpful to redefine "miss."
---
MISS /mis/ verb, transitive
1. common useage – fail to hit, reach, or come into contact with (something aimed at). "a laser-guided bomb missed its target"
2. (LifeSpring useage) – failure to contact or communicate with. Especially with a sense of regret "I missed you terribly"
2b. failure to receive some benefit from contact "I missed your hug and encouraging word"
---
I missed you because I derive value from your presence and company. I love the way Mario engages us all to tell us about his latest exploits. Jennifer's insights and honesty inspire me. Jeana and Taylor's desire to be contributors to the LifeSpring fabric is so encouraging. I could go on, but you get the idea.
I missed you because of the ways you embody for me my membership in the body of Christ – during the Lord's Supper, during the five-minute-break, and as I listen to your voices during worship. Over the past month I missed all that and felt diminished by its lack. I look forward to the next Sunday when I can see you.
And I missed you because I know that my disconnection from you hurts me in invisible, spiritual ways. It's sorta like the medical disciplines I must keep in order to completely recover from my surgery this past month.
Above all, I missed you because I love you. You are not just another civic meeting for me. You are family. My family. And I happy to be back in the swing of things.