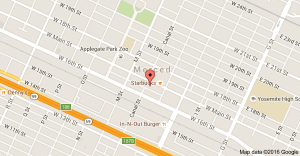 LifeSpring Church meets at Playhouse Merced, 452 W. Main Street in Merced.  Parking and entry is actually on the 16th Street side of the building and the 2-block-long parking lot there.  The entry to the Playhouse is well-marked with a marquee and also with the LifeSpring banner.
Please do not attempt to enter on the Main Street side because that door is locked.  Additionally, at about 10:10 we lock the 16th Street door as a security measure.  Please arrive by 10:00 am.
Dress is casual, and the coffee pot is on.  We'd love to see you.