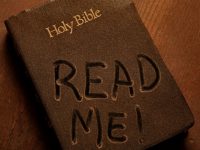 Why are there so many differing opinions on what is binding in Scripture and what is not binding?
The simple answer is that it depends on the beginning assumption about what the Bible is.  This makes scripture potentially dangerous as people make decisions about how to interpret the Bible.
In June we will be taking a look at this thorny issue in three lessons.
In lesson one we will talk about the danger of cherry-picking scripture.
In lesson two we will consider the power of Scripture to change lives when fully considered.
In the last lesson we will look at the complexity of scripture, including the problem that worshiping Scripture instead of God causes.
Join us for a provocative look at the usefulness of Scripture when examined in a healthy way.