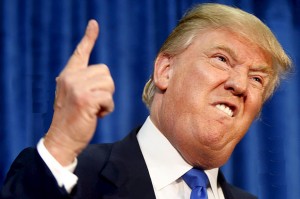 I have been horrified by the rhetoric that I've heard The Donald spewing in his run for President of the United States.  What has been even more horrifying has been the support that Trump has gotten from the evangelical community, ostensibly a community of people who espouse the values and ethics of Jesus.
In a recent Christianity Today article (March 16, 2016) Michael Horton quotes evangelical leaders who are lending their support to Trump with no apparent concern about the lack of decency in his campaign.  These supporters include Liberty University president Jerry Falwell Jr. who hailed Trump as "one of the greatest visionaries of our time" and a wonderful Christian brother "who reminds me of my dad."
Likewise, Pat Robertson told Trump that, "You inspire us all."   And Robert Jeffress, pastor of First Baptist Church in Dallas, said, "We need a strong leader and a problem-solver, hence many Christians are open to a more secular candidate."  A more recent exponent of Trump's feel-good gospel is Joel Osteen, who called Donald Trump "a friend of our ministry" and "a good man."
What is disturbing about this is not that these individuals have a political point of view or a favorite candidate, but rather the connection they make between him and being a disciple of Jesus.  The contrasts could not be greater!
Trump was contemptuous toward John McCain because he was captured in the Vietnam War.  "I like the people who weren't captured," he said.
Trump, commenting about Carly Fiorina said, "Look at that face…..Can you imagine that, the face of your next president."
About women on The Apprentice he said, "All the women on the Apprentice flirted with me, consciously or unconsciously.  That's to be expected."
It would be more honest if evangelical leaders said that they liked Trump because of his kick-butt, unapologetic, sexy,  condemning manner of governing.  If that's what they believe, that's what they should say.  But trying to hang the moniker of Christian around his neck is dishonest beyond description.  And therein is my problem with Trump supporters.
Just call a spade a spade.  It will make it easier for us voters to decide what we have the stomach for when election day rolls around.
(Inspiration for this article came from a Michael Horton article at Christianity Today.)