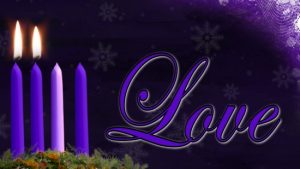 Text – 1 John 4:7-21
7 Beloved, let us love one another, because love is from God; everyone who loves is born of God and knows God. 8 Whoever does not love does not know God, for God is love. 9 God's love was revealed among us in this way: God sent his only Son into the world so that we might live through him. 10 In this is love, not that we loved God but that he loved us and sent his Son to be the atoning sacrifice for our sins. 11 Beloved, since God loved us so much, we also ought to love one another. 12 No one has ever seen God; if we love one another, God lives in us, and his love is perfected in us.
13 By this we know that we abide in him and he in us, because he has given us of his Spirit. 14 And we have seen and do testify that the Father has sent his Son as the Savior of the world. 15 God abides in those who confess that Jesus is the Son of God, and they abide in God. 16 So we have known and believe the love that God has for us.
God is love, and those who abide in love abide in God, and God abides in them. 17 Love has been perfected among us in this: that we may have boldness on the day of judgment, because as he is, so are we in this world. 18 There is no fear in love, but perfect love casts out fear; for fear has to do with punishment, and whoever fears has not reached perfection in love. 19 We love because he first loved us. 20 Those who say, "I love God," and hate their brothers or sisters, are liars; for those who do not love a brother or sister whom they have seen, cannot love God whom they have not seen. 21 The commandment we have from him is this: those who love God must love their brothers and sisters also.
Meditation:
1 John uses agapan, "to love" 28 times. Of that usage, 18 uses occur in this text. John really wants to drive home the importance of love to the ethos of the Kingdom of God. This love originates from God who gave his Son in order to wage war against sin and death as well as to model what it looks like to love Another, 1 John 4:10, 11.
This is Christmas Eve, and on this night we dwell on the Incarnation of Jesus who was the physical expression of the Love of God. The Incarnation is meaningless to anyone who does not understand this important point. The Incarnation also points forward to the time when God brings the Kingdom to us and a redeemed Creation. We wait for that, and as we do we practice love and learn love. It is what God has asked us to do.
Poetry:
How Sweet, How Heavenly, is the Sight
by Joseph Swain, 1792
How sweet and heavenly is the sight
When those who love the Lord
In one another's peace delight,
And so fulfill his word!
Oh! may we feel each brother's sigh,
And with him bear a part;
May sorrows flow from eye to eye,
And joy from heart to heart.
Let love, in one delightful stream,
Through every bosom flow,
Let union sweet and dear esteem
In every action glow.
Love is the golden chain that binds
The happy souls above;
And he's an heir of heaven who finds
His bosom glow with love.
Prayer:
Dear Father, We know that love is the linchpin of all relationships in your Kingdom. It is the mortar that holds together the stones of the temple of which we are all a part and in which you dwell. To not love is to have no basis for participating in your Kingdom. And Jesus is the great model of what loving others looks like. Sacrificial, generous, and obedient. We now wait for the time when we will be united with You in the eternal kingdom where you are the light, love, and the truth. Please help us to persevere and to never forget what it means to be a loving person. In Jesus' name I pray this. Amen.
Activity:
Make a list of the 3 people that are the most difficult for you to love. Pray for them and write a short description of what you must do in order to love them. This is a logical activity given that tonight is Christmas Eve before which we celebrate the coming of Jesus into the world to rescue people who were not living according to his will. "While we were yet sinners, Christ died for the ungodly…" Romans 5:8.