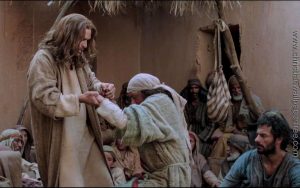 Daily Bible Readings:
Monday, April 12. Read Exodus 40:34-38. 1) What covered and filled the Tabernacle? 2) What did that covering stand for? 3) What happened when the cloud left the Tabernacle?
Tuesday, April 13. Read Luke 2:8-14. 1) What is the occasion of this text? 2) What phenomenon did the shepherds experience? 3) What response did it create?
Wednesday, April 14. Read Exodus 25:8-9. 1) What did God asked Moses to do? 2) What would that "tabernacle" stand for?
Thursday, April 15. Read Hosea 5:5-7. 1) What condition was Israel, Ephraim, and Judah in? 2) What would happen as a result of that? How is this result opposite of when happened when God came to the Tabernacle?
Friday, April 16. Read John 1:14-18. 1) What did "the Word" become? 2) How did humanity experience that? 3) What did "the Word" resemble? (Verse 18)
Saturday, April 17. Read Acts 3:12-19. This is Sunday's sermon text.
Prayer for the Week:
Father of the seeing and the staring. Of those who are able to see the extraordinary nature of your presence among us. May we, like the lame man recognize your presence and repent. In Jesus' name we pray this. Amen
Hymn for the Week:
At Even, When the Sun Was Set
by Henry Twells, 1868
At even, ere the sun was set,
the sick, O Lord, around thee lay;
O in what divers pains they met!
O with what joy they went away!
Once more 'tis eventide, and we
oppressed with various ills draw near;
what if thy form we cannot see?
we know and feel that thou art here.
O Saviour Christ, our woes dispel;
for some are sick, and some are sad,
and some have never loved thee well,
and some have lost the love they had;
And some have found the world is vain,
yet from the world they break not free;
and some have friends who give them pain,
yet have not sought a friend in thee;
And none, O Lord, have perfect rest,
for none are wholly free from sin;
and they who fain would serve thee best
are conscious most of wrong within.
O Saviour Christ, thou too art man;
thou hast been troubled, tempted, tried;
thy kind but searching glance can scan
the very wounds that shame would hide.
Thy touch has still its ancient power;
no word from thee can fruitless fall:
Hear, in this solemn evening hour,
and in thy mercy heal us all.
Devotional Article for the Week:
The Healing
She still couldn't walk, but she was healed in the way that counts
by Tim Archer
It was a Sunday, and I at the island of Cuba, speaking at a church service in the town of Matanzas. I used the text that I had chosen beforehand, Mark 2:1-12. The first part of the text seemed very appropriate. Verse 2 says, "So many gathered that there was no room left."
We were speaking to a group of well over 400 people when there were only seats for about 300. However, I was a bit uncomfortable with other parts of the text. As I read about Jesus healing a paralyzed man, I was acutely aware of the people in wheelchairs at the back of the audience.
I couldn't help but wonder how they felt. Like other times when I've spoken on this passage, I talked about how Jesus put more emphasis on forgiving the man's sins than He did on healing his handicap. I explained that our physical needs can't begin to compare with our spiritual needs. As I preached, I couldn't help but wonder how my words were being received by these people whose physical needs were obviously great.
After the sermon, one of the local members invited any who wanted to respond to the message to do so. Nine people came to be baptized, one of which caught my attention. She was one of the people in wheelchairs, much like the paralyzed man in the story had been helped by his friends. This woman was connected to an IV bag. She was in the wheelchair because she only had one leg. It was obvious that she had major physical needs.
She was the first to be baptized. As I stood in the water, I baptized her. When she came out of the water, no one looked at her leg. Instead, all eyes were drawn to her face. Seldom had any of us seen such joy, such pure and unrestrained joy.
She was still unable to walk. She was still a sick woman. But her sins had been forgiven. My sermon about the importance of the forgiveness of sins versus physical healing was probably soon forgotten. But her sermon will long be remembered, even though it was preached without words. She knew. She understood. Her physical infirmities remained, but she had been healed in the way that mattered.
I've received the same healing.