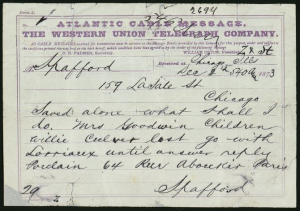 On Sunday, March 12, Rich included a hymn that has been around for a long time – It is well with my soul. It is an old and spiritually rich hymn, and the story of it's creation is inspiring.
Horatio Spafford penned the words to this song, and the music for the hymn was composed by Philip Bliss and published in a hymnal in 1876.
Spafford's first son died at the age of 2.  After that the Great Chicago Fire occurred which ruined lawyer Spafford financially. The economic downturn of 1873 compounded his financial problems.  Spafford had intended to travel to Europe with his family but, instead, sent them ahead.
The ship on which they were traveling sank, and all four Spafford daughters perished in the disaster.  In a telegram to Horatio, wife Anne sent the now famous message, "Saved alone…"  Spafford traveled by ship to attend to his grieving wife and while on the ship penned the words to the famous song as it passed over the site where his children were lost at sea.
The Spaffords later had three more children, but on February 11, 1880, their 4-year-old son, Horatio Goertner Spafford, died of scarlet fever. Their Presbyterian church regarded their tragedy as divine punishment. In response, the Spaffords formed their own Messianic group, dubbed "the Overcomers" by American press.
In 1881, the Spaffords, including baby Bertha and newborn Grace, set sail for Ottoman-Turkish Palestine. They settled in Jerusalem and helped found a group called the American Colony. Colony members, later joined by Swedish Christians, engaged in philanthropic work among the people of Jerusalem regardless of their religious affiliation and without proselytizing motives—thereby gaining the trust of the local Muslim, Jewish, and Christian communities.
During and immediately after World War I, the American Colony played a critical role in supporting these communities through the great suffering and deprivations by running soup kitchens, hospitals, orphanages and other charitable ventures.
When peace, like a river, attendeth my way,
When sorrows like sea billows roll;
Whatever my lot, Thou hast taught me to say,
It is well, it is well with my soul.
Refrain:
It is well with my soul,
It is well, it is well with my soul.
Though Satan should buffet, though trials should come,
Let this blest assurance control,
That Christ hath regarded my helpless estate,
And hath shed His own blood for my soul.
My sin, oh the bliss of this glorious thought!—
My sin, not in part but the whole,
Is nailed to the cross, and I bear it no more,
Praise the Lord, praise the Lord, O my soul!
And Lord, haste the day when the faith shall be sight,
The clouds be rolled back as a scroll;
The trump shall resound, and the Lord shall descend,
Even so, it is well with my soul.